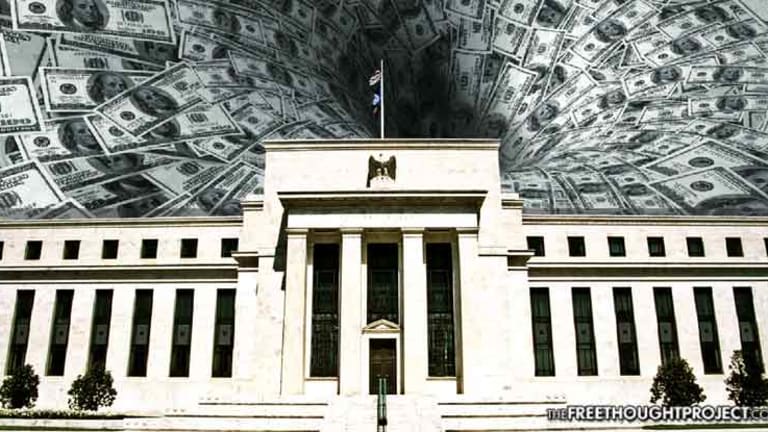 State Passes Landmark Bill To End Federal Reserve's Monopoly on Money
Sound money advocates scored a major victory when a state senate voted to remove all income taxation of precious metals at the state level.
(ZeroHedge) Sound money advocates scored a major victory on Wednesday, when the Arizona state senate voted 16-13 to remove all income taxation of precious metals at the state level. The measure heads to Governor Doug Ducey, who is expected to sign it into law.
Under House Bill 2014, introduced by Representative Mark Finchem (R-Tucson), Arizona taxpayers will simply back out all precious metals "gains" and "losses" reported on their federal tax returns from the calculation of their Arizona adjusted gross income (AGI).
If taxpayers own gold to protect themselves against the devaluation of America's paper currency, they frequently end up with a "gain" when exchanging those metals back into dollars. However, this is not necessarily a real gain in terms of a gain in actual purchasing power. This "gain" is often a nominal gain because of the slow but steady devaluation of the dollar. Yet the government nevertheless assesses a tax.
Sound Money Defense League, former presidential candidate Congressman Ron Paul, and Campaign for Liberty helped secure passage of HB 2014 because "it begins to dismantle the Federal Reserve's monopoly on money" according to JP Cortez, an alumnus of Mises University.
Ron Paul noted, "HB 2014 is a very important and timely piece of legislation. The Federal Reserve's failure to reignite the economy with record-low interest rates since the last crash is a sign that we may soon see the dollar's collapse. It is therefore imperative that the law protect people's right to use alternatives to what may soon be virtually worthless Federal Reserve Notes." n early March, Dr. Paul appeared before the state Senate committee that was considering the proposal.
"We ought not to tax money, and that's a good idea. It makes no sense to tax money," Paul told the state senators. "Paper is not money, it's a substitute for money and it's fraud," he added, referring to the fractional-reserve banking practiced by the Federal Reserve and other central banks.
After the committee voted to pass the bill on to the full body of the Senate, Dr. Paul held a rally on the grounds of the state legislature, congratulating supporters of the measure and of sound money.
Paul told the crowd that "they were on the right side of history" and that even though those working to restore constitutional liberty to Arizona and all the states "had a great burden to bear," there are "more than you know" working toward the same goal.
Referring to the bill's elimination of capital gains taxes on gold and silver, the sponsor of the bill, State Representative Mark Finchem, said, "What the IRS has figured out at the federal level is to target inflation as a gain. They call it capital gains."
Shortly after the vote in the state Senate, the Sound Money Defense League, an organization working to bring back gold and silver as America's constitutional money, issued a press release announcing the good news.
"Arizona is helping lead the way in defending sound money and making it less difficult for citizens to protect themselves from the inflation and financial turmoil that flows from the abusive Federal Reserve System," said Stefan Gleason, the organization's director
As a reminder, in 1813 Thomas Jefferson warned, "paper money is liable to be abused, has been, is, and forever will be abused, in every country in which it is permitted." This is also why the men who drafted the Constitution empowered Congress to mint gold and silver, sound money, and why they included not a single syllable authorizing the legislature to "surrender that critical power to a plutocracy with a penchant for printing fiat money."
Slowly, states may be summoning back the days when money was actually worth something. At least 20 states are currently considering doing as Arizona is about to do and remove the income tax on the capital gains from the buying and selling of precious metals: some state legislatures, including Utah and Idaho, have taken steps toward eliminating income taxation on the monetary metals. Other states are rolling back sales taxes on gold and silver or setting up precious metals depositories to help citizens save and transact in gold and silver bullion.