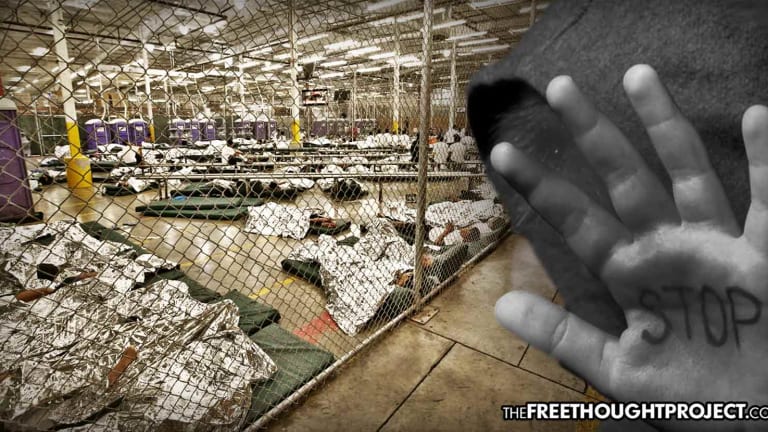 Rampant Child Rape Exposed at Detention Centers as HIV Positive Worker Caught Raping Kids
Disturbing reports of immigrant children being sexually abused by workers at detention centers in the U.S. are surfacing and raising massive red flags.
After hundreds of immigrant children were separated from their parents and forced to spend weeks in detention centers, and the horrific stories of abuse from the workers who were supposed to be caring for the children are finally coming to light.
An HIV-positive man, who was a youth worker responsible for caring for immigrant children in Phoenix, was charged with sexually abusing at least eight teenage boys detained over a one-year period between 2016 and 2017.
Levian Pacheco is accused of performing sex acts on two boys who were 15 to 17 years of age at the time they were assaulted. According to Time, several of the boys have elected to be tested for the virus as a result.
Pacheco's arrest is the second such case involving Phoenix area Southwest Key facilities. As The Free Thought Project has reported, Southwest Key is a non-profit organization with a federal contract to run the detention facilities to house immigrant children who have been separated from their parents or arrived in the U.S. as unaccompanied minors.
In June, we reported Southwest Key's detention facility in Brownsville, TX had denied entry to U.S. Senator Jeff Merkley (D-OR). Now, Southwest Key is once again in the news, this time for hiring numerous individuals who have already been convicted of molesting kids, or who now stand accused of sexually abusing the teens and children they were supposed to be protecting.
Unfortunately, Pacheco is not the only Southwest Key employee arrested for taking advantage of the most vulnerable members of our society. Fernando Magaz Negrete was arrested on Tuesday, also in Maricopa County (Phoenix), and charged with abusing a 14-year-old immigrant girl.
The girl's 16-year-old roommate told authorities she witnessed an encounter whereby Negrete is accused of kissing and fondling the girl. Video surveillance reportedly shows Negrete approaching the room several times throughout the night, although the entrance to the room was outside of the camera's view.
Another Southwest Key employee who has a disturbing record is Ernesto Padron. He worked as a U.S. Border Patrol agent for 13 years, up until he was arrested on second-degree felony charges for possession and promotion of child pornography. Yet he was given direct access to children when he was hired by an immigration shelter, according to reports.
Anyone tempted to believe these cases of abuse are isolated should read ProPublica's investigative report, which found that there have been at least 125 calls to report sexual abuse taking place in the shelters since 2014. ProPublica writes:
At other Southwest Key facilities, police reports and call logs from the last five years detail inappropriate relationships with staff, dozens of runaways, sexual contact among kids at the shelters and other allegations of molestation by employees. In one case, ProPublica found, a 46-year-old youth care worker in Tucson was convicted of groping a 15-year-old boy who had just arrived in the United States five days earlier.
While pundits on the left may want to paint the sexual abuse in a political light to implicate the Trump Administration, it is important to note the practice of housing children and teens began long before Trump ever took office. However, the Trump Administration has done nothing to close Southwest Key facilities. Shockingly, hundreds of parents have already been deported without their children.