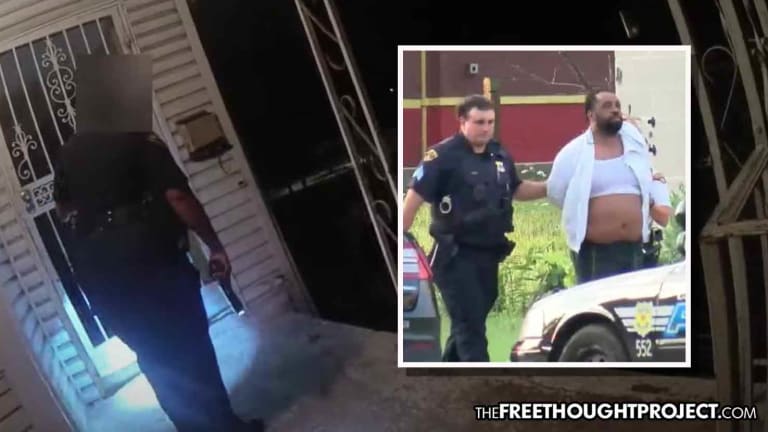 Murder Charges Dropped Against Man After Forensics Found Cop Was Shot By Fellow Cop
A mentally ill man was facing murder charges for shooting a cop, but those charges were dropped once it was determined the cop's partner shot her.
Cleveland, OH — Up until recently, Darryl Borden was facing charges consisting of two counts of attempted murder of a police officer and three counts of felonious assault of a police officer. However, thanks to ballistics tests by forensics, Borden is no longer facing the possibility of spending the rest of his life in prison for shooting a cop. The cop who was shot was shot by her partner.
The incident unfolded in July of 2020 as police responded to a complaint at a boarding home. Borden was mentally ill and according to the woman who called 911, he was acting strange and fired a bullet into the floor.
According to investigators, Borden likely ingested synthetic drugs like K2 or PCP and had a bad reaction. These drugs, as TFTP has reported, are a direct product of the American war on drugs and have become increasing dangerous over the last decade as their safer counterparts continue to be sought out by drug warriors.
When officers Jennifer Kilnapp and Bailey Gannon showed up on the scene, Borden was up in his room at the boarding home and refused to come down. Kilnapp led the way into the house and when she got there, other residents informed the officers again that Borden was armed.
As the body camera footage shows, when Kilnapp rounded the corner, a gun shot rang out — presumably from Borden's gun and most likely into the ground. This sent Gannon into a panicked frenzy and he starts blindly firing in the direction of the gun fire.
During the melee, Gannon shot his partner through the arm and the bullet lodged in her back.
The incident was then resolved without further violence after a SWAT team showed up.
After surgeons removed the bullet from Kilnapp's back, they gave it over to forensics who determined the bullet was not from Borden's gun. It had come from officer Gannon's service pistol.
This revelation was made in April but not made public until this month. In a particular egregious manner, despite knowing that Gannon was the one who shot Kilnapp in April, officials continued with the narrative that Borden was the shooter, all the way through May. Cleveland19.com has yet to retract their story claiming Borden "pleaded guilty to shooting police officer several times," which was a complete fabrication.
The charges Borden originally faced for losing his mind on PCP and randomly firing a gun could have put him away for decades. However, after it was determined that Kilnapp was shot by her own partner, those charges were dropped.
Borden pleaded guilty to a single count of attempted felonious assault of a police officer in May, a month after ballistics results showed he was not the one who shot Kilnapp. According to Cleveland.com, Cuyahoga County Common Pleas Court Judge Michael Russo sentenced Borden on Wednesday to a range of 7 to 10 years in prison.
Russo said he would set his sentence to run alongside a federal prison sentence he will serve after pleading guilty to a charge of being a felon in possession of a weapon. Sentencing in U.S. District Court in Cleveland on that charge is set for September.
Assistant Cuyahoga County Prosecutor Andrew Rigalski was pleased with the charges pointing out that even though Borden was not the person who shot Kilnapp, it was his firing of the gun which led to Gannon returning fire.
"But for his actions with a firearm, officer Kilnapp would not have suffered those injuries," Rigalski said.
"We are asking that Mr. Borden is only punished for his role, and not the lies that were reported on him at the beginning of this event, and even after his indictment," Borden's defense attorney, Deanna Robertson, said.
And that is exactly what happened after the lies were exposed. During court on Wednesday, Borden took full responsibility and apologized to Kilnapp, noting he was on drugs and off his medication when the incident happened.
"I apologize. I take full responsibility for what happened that day, and I know I have to be punished," he said.