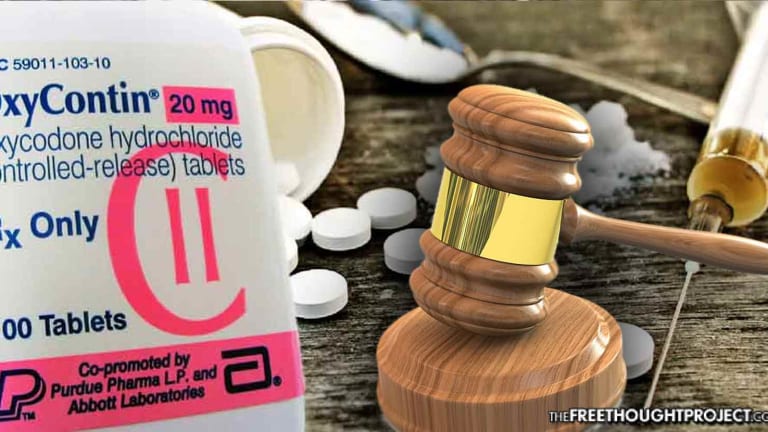 New York Sues Big Pharma 'To Make Them Pay' for Deliberately Fueling Opioid Epidemic
Mayor Bill de Blasio said he supports the lawsuit because it is "time for Big Pharma to pay for what they've done. It's time that they are held accountable."
New York City has become the latest city to hold Big Pharma accountable for the role it has played in the Opioid Epidemic. Mayor Bill de Blasio announced that the city has filed a $500 million lawsuit against eight major drug companies that distribute prescription opioids because it is "time for Big Pharma to pay for what they've done. It's time that they are held accountable."
The companies named in the lawsuit include manufacturers Allergan Plc, Endo International Plc, Johnson & Johnson, Purdue Pharma LP and Teva Pharmaceutical Industries Ltd, and distributors AmerisourceBergen Corp, Cardinal Health Inc. and McKesson Corp.
In a statement, de Blasio noted that he feels the lawsuit is necessary because deaths from opioid overdoses have reached unbearable heights in recent years, and now occur more often than deaths from car crashes and homicides—combined.
"More New Yorkers have died from opioid overdoses than car crashes and homicides combined in recent years. Big Pharma helped to fuel this epidemic by deceptively peddling these dangerous drugs and hooking millions of Americans in exchange for profit. It's time for hold the companies accountable for what they've done to our City, and help save more lives."
The lawsuit is accusing manufacturers of misleading consumers and hiding the dangers of highly addictive prescription opioids, and it is accusing distributors of oversupplying the drugs, ignoring suspicious orders, and helping illegal suppliers. As Reuters reported, more than 42,000 Americans died from opioid-induced overdoses in 2016, and more than 1,100 of those deaths occurred in New York City.
In statements responding to The Hill's request for comment on the lawsuit, Endo and Purdue Pharma denied the allegations, Janssen Pharmaceuticals called the claims "baseless and unsubstantiated," AmerisourceBergen said it has been working closely with the DEA, and Allergan insisted that its products containing opioids were only responsible for 0.08% of the overdose deaths in 2016.
"Teva is committed to the appropriate use of opioid medicines, and we recognize the critical public health issues impacting communities across the U.S. as a result of illegal drug use as well as the misuse and abuse of opioids that are available legally by prescription," the company responded.
New York City joins more than 10 others who have filed lawsuits against Big Pharma, which started when the city of Chicago took legal action in 2014. Other major cities that have filed lawsuits include Seattle, Indianapolis, and Cincinnati. City Lab reported that the current lawsuits are hoping for a victory similar to one that occurred when attorneys from 46 states sued the tobacco industry in 1998:
"Drug companies marketed and sold too many prescription drugs to too many patients, they argue, without offering adequate and accurate information about their risks. As a result, thousands of users have become dependent, often turning to harder versions of those originally prescribed opioids.

The cities developing the lawsuits listed below are bolstering the state effort in holding Big Pharma accountable, much in the way that 46 state and local attorneys worked together to take on Big Tobacco in 1998. Then, their efforts were successful: tobacco companies ended up paying out more than $200 billion in settlements for peddling addictive, harmful drugs. The opioid industry could be next."
Five of the major pharmaceutical companies named in New York's lawsuit were also named in a lawsuit filed by the state of Ohio in June 2017. As The Free Thought Project reported, state Attorney General Mike DeWine alleged that the companies "helped unleash a health care crisis that has had far-reaching financial, social, and deadly consequences in the State of Ohio."
"This lawsuit is about justice, it's about fairness, it's about what is right. These drug companies knew that what they were saying was wrong and they did it anyway and they continue to do so," DeWine said in a statement.