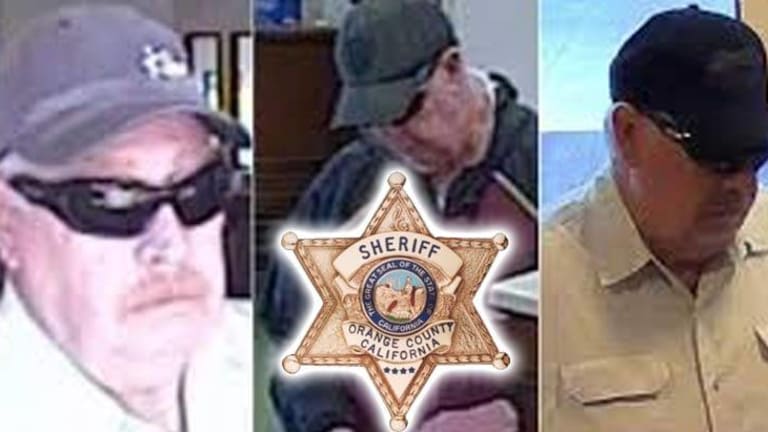 Notorious "Snowbird Bandit" Bank Robber Ousted by Family as a Retired Cop
The LAPD have apprehended a notorious bank robber known as the "Snowbird Bandit," and it turns out he was one of their own.
Orange County, CA -- For months, a thief known as the "snowbird bandit" has been robbing a number of Orange County banks, and until recently, he has been getting away with it.
He got his name because of his old age and gray hair, and he has been found to have robbed five major banks between March and July.
This week, however, the snowbird bandit was turned in by members of his own family after they saw photos of him on the news. The identity of the bandit ended up being 70-year-old Randolph Bruce Adair, a retired Los Angeles cop.
According to OCSD Lt. Jeff Hallock, Randolph retired from the police force roughly 30 years ago and has stayed under the radar since.
"It's shocking and it's unfortunate,"Hallock said, adding that "(Robbers) will indicate that a lot of time the bank robberies are as a result of some type of addiction, whether it's a drug addiction or a gambling addiction or something like that."
It is certain that Randolph used his former police training and on the job experience when planning the bank heists that he carried out. It is also a testament to Adair's character that his family would turn him in without so much as a question.
John Vibes is an author, researcher and investigative journalist who takes a special interest in the counter culture and the drug war. In addition to his writing and activist work he organizes a number of large events including the Free Your Mind Conference, which features top caliber speakers and whistle-blowers from all over the world. You can contact him and stay connected to his work at his Facebook page. You can find his 65 chapter Book entitled "Alchemy of the Timeless Renaissance" at bookpatch.com.