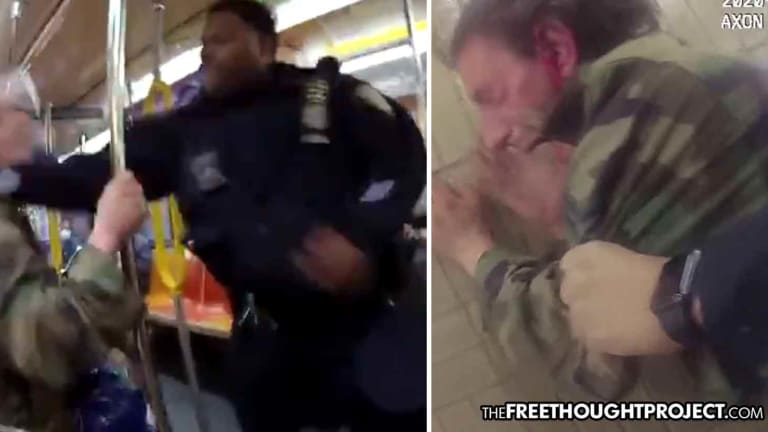 NYPD Says Cops Justified in Beating of Innocent Man for Taking Up 2 Seats on Empty Train
Despite graphic video of NYPD cops savagely beating a man for setting his bag in an empty seat on a train, top brass says cops did nothing wrong.
New York, NY — As TFTP reported last week, body camera footage showed a New York City police officer brutally assaulting a homeless man for taking up more than one seat on a near-empty subway train. Instead of immediately arresting the officers involved in his attack, Manhattan District Attorney Cyrus Vance decided to charge the homeless victim with assault, a felony charge which carries a maximum prison sentence of 7 years, obstruction and resisting. Fast forward to this week, and the NYPD announced that the cop who — without justification — began punching the man in the face, will not face punishment.
"I would agree with the mayor, the mayor, it's troublesome the video. Anytime an incident results in non-compliance or force being used and it doesn't look good," Police Commissioner Dermot Shea said, adding that the published video was "spliced."
"My analysis of the entirety of it whereas it goes on for nearly 30 minutes and officers kicked, etc., I don't see any change in duty status," Shea said, referring to the first steps in the department's disciplinary process.
"Any use of force, and this incident certainly falls within that, is reviewed," he added.
The 30-year-old homeless man identified as Joseph Troiano was charged with felony assault for allegedly kicking the officer's hand while he was being assaulted and handcuffed. However, the video shows the beginning of the altercation where the officer needlessly escalated the situation by repeatedly punching Joseph in the face and it does not show any such kicks to the officer's hand.
The kicks were simply Joseph flailing around as he was being kidnapped for the non-crime of sitting in two seats on an empty train.
According to the NY Post, NYPD Officer Shimul Saha claimed in a criminal complaint that when cops tried to pull the man off the train he began flailing his arms and kicking his legs, making it difficult to place him in handcuffs," and that Troiano had yelled, "I am not getting off the f–king train.'"
Saha says in the criminal complaint he saw Troiano "shove" Long and that he "observed the two grappling on the floor as Officer Long and I attempted to place handcuffs on the defendant."
However, according to an assistant DA, Saha changed his story multiple times and the idea of Troiano posing any threat whatsoever to the massive officer is riidiculous.
"[Arresting Officer] initially described [Long's] injury to ADA as broken arm, then broken hand, then broken finger, then broken wrist – suggested inquiry into witness's ability to describe exact bodyparts," the court papers read.
As a result, the assault and obstruction charges Troiano originally faced, have been dropped. He now only has a pending charge for resisting.
The Legal Aid Society, who is representing Troiano said the move by NYPD's top brass failing to discipline Long was not "surprising."
"NYPD Commissioner Dermot Shea's refusal to discipline the officers who brutally assaulted our client should alarm all New Yorkers," said Edda Ness, a staff attorney with Legal Aid.
"But it's not surprising, as Shea is the same Commissioner who commended his own officers for exercising 'incredible restraint' during the George Floyd demonstration despite a tidal wave of first hand accounts, social media posts, videos, and news reports showing the exact opposite."
As TFTP originally reported, the encounter took place just after midnight on May 25th, when Joseph was riding the subway after leaving a local homeless shelter that didn't have space for him. The subway was nearly empty and Joseph was tired so he laid down, taking up two spaces. Police told him to get up and leave because he was taking up more than one space, and he moved along to the next train, but the police decided to follow him.
When police confronted him a second time he said that he did not understand why they were bothering him and told them that they could not arrest him for refusing to leave a train. Officer Adonis Long put his hands on Joseph in an attempt to remove him from the train, but Joseph pulled away. As soon as Joseph pulled away, Long punched him in the face repeatedly and then kicked his belongings off the train.
This was likely when the officer hurt his knuckles, or was it his arm, wrist, or finger? The NYPD really doesn't know.
Long violently subdued Joseph and threatened him with his pepper spray as he pleaded with the officer to stop.
"I'm having a panic attack, please," Joseph called out as he was bleeding from the head and surrounded by police.
Joseph has no clue why police were so aggressive with him, and wonders if perhaps it was a case of mistaken identity.
"I feel like somebody else did something that looks like me and I'm getting the repercussions from it," he said.
Long later complained of "sustained swelling and substantial pain to the knuckles of his right hand" and was reportedly taken to the hospital as a result of injuries sustained in the struggle.
The idea of the very small Joseph inflicting injury on the massive officer Long is laughable, but enough for the predatory law enforcement system to go after him.
Joseph had broken no law and at worst, he had potentially violated an MTA code of seat obstruction which carries a $50 fine. Since the train was empty, however, the idea of him obstructing a seat is ludicrous. He had harmed no one, yet he was savagely attacked by police, who kidnapped and subsequently charged him.