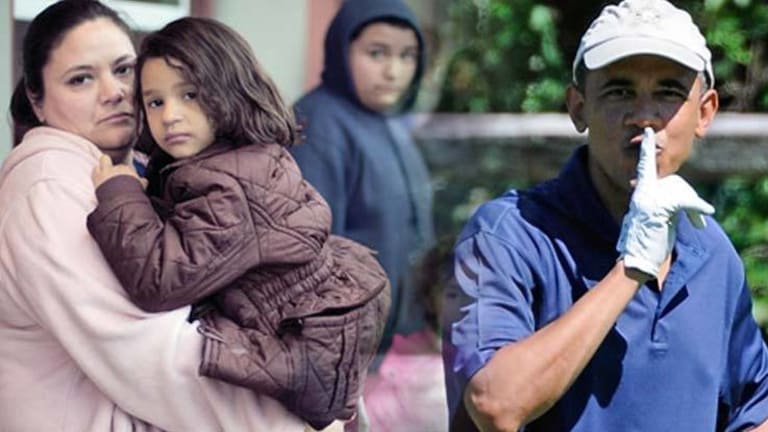 Obama Could've Ended Homelessness in DC for a Whole Year With Tax Money He Used on Vacations
In the 'Land of the Free' the citizens are fleeced by their rulers so the rulers can go on elaborate luxury vacations costing upwards of $250,000 an hour.
Like everybody else, President Obama and his family deserve to enjoy Christmas -- but not everybody else can hit up the taxpayers for that privilege. Nor do most Americans enjoy the luxury of a Christmas break lasting more than two weeks. Documents obtained from the Secret Service through a legal challenge filed by Judicial Watch show that for the Obama family's 17-day Christmas vacation the flight costs alone amounted to more than eight million dollars - a whopping $200,000 for every hour in the air.
But this is just one small portion of the total travel costs racked up by the First Family since 2009: According to the heavily redacted records provided in response to a Freedom of Information Act request, known travel costs for the Obama family amount to $70,880,035.78 -- and the meter is still running, because the most recent figures released by the "most transparent" administration in history are two years old.
It is true that Obama's aggregate vacation time has yet to exceed that of his immediate predecessor, George W. Bush, or the total downtime accumulated by Ronald Reagan -- although he has taken more time off than Bill Clinton, the only other president to serve two full terms since Eisenhower. Obama's recreational trips tend to be much more cost-intensive, however, with the added expense of independent trips taken by Mrs. Obama (often with one or both daughters) that are shielded from media scrutiny but very much look like tax-subsidized getaways, rather than official functions.
Air Force One is hugely expensive to operate (flight costs amount to $210,877 an hour), and -- what should be important, given the president's insistent posturing about "climate change" -- it has a significant "carbon footprint." An overseas presidential expedition will usually include three additional cargo planes to transport his attendants and fleet of armored vehicles: During a 2014 visit to Brussels for a European Union summit, for example, the president brought in his train a 900-person entourage, which included a platoon of Secret Service agents. On most trips the presidential helicopter, Marine One, is brought along, in addition to 45 very expensive secure vehicles (including a radar-jamming van).
Given the lamentable nature of the modern presidency -- which has become bloated beyond the worst expectations of the Framers who designed the office, and has long since slipped the constitutional restraints that once bound it -- every occupant of the Oval Office engages in wasteful and dubious ceremonial trips overseas. Profligacy in personal recreation, however, is inexcusable -- especially when one considers the "opportunity cost" inflicted by the Obama family's $71 million travel spree.
It is important to note that this $71 million was not raised through donations or through the private business ventures of the Obamas. It was stolen from the American people, under the threat of force, in the name of the greater good.
According to most estimates, there are 5,000 homeless families in the Washington, D.C. area. In one of the abundant cruel ironies generated by the ongoing explosion of federal spending that has driven up real estate prices in Washington and its surrounding counties, homelessness is on the rise because working-class people in the city cannot keep pace with ever-escalating rental prices.
Throwing federal subsidies at a problem created through bad public policy will not solve that problem, of course. Operating within Mr. Obama's premises, however, it's intriguing to consider what might have been done if the $71 million spent on presidential travel had been spent instead on alleviating homelessness in Washington, D.C. That amount would have been quite sufficient to provide each of the estimated 5,000 homeless families with a year's rent -- and money for groceries, as well.
Once again, subsidies of this kind would tend to entrench the problem, rather than alleviate it. A much better approach would be to leave that money in the productive sector to begin with, rather than using it to fuel the four General Electric CF6-80C2B1 turbofans that propel the world's most expensive vehicle to distant vacation spots.