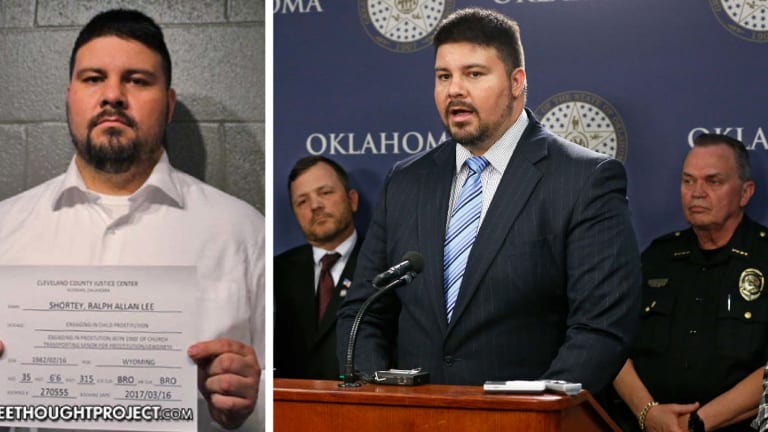 OK Senator Resigns After Being Arrested for Engaging in Child Prostitution
After caught red-handed soliciting child prostitution in a hotel, this state senator was arrested and has now resigned.
OKLAHOMA CITY (CN) — The Oklahoma state senator charged last week with felony child prostitution resigned Wednesday, though Ralph Shortey's exit will not change the balance in the Republican-dominated state Senate.
Ralph Shortey, R-Oklahoma City, was arrested last week and charged with hiring a 17-year-old boy for sex after meeting him on Craigslist.
Police charged the 35-year-old married father of four with engaging in child prostitution, engaging in prostitution within 1,000 feet of a church, and transporting a minor for prostitution — all felonies.
The Senate stripped him of his authority a week after police found him in the suburb of Moore on March 9 with a teenager at a hotel.
Shortey's bail was set at $100,000. He is to appear at an initial court hearing Friday.
"I appreciate the service the men and women of the Oklahoma Senate provide, and I recognize the need for the business of the Senate to proceed without distraction for the remainder of the legislative session," Shortey wrote in his March 22 resignation letter.
According to the criminal information charging document, Shortey offered teenager J.M. "money in exchange for sexual contact" within 1,000 feet of First Christian Church.
Police said the encounter was preceded by the boy sending Shortey an online message that he needed money for spring break.
"The defendant replied, 'I don't really have any legitimate things I need help with right now. Would you be interested in "sexual" stuff?'" according to a sworn affidavit by a Moore police officer. "JM responded 'Yes.' The conversation goes on with both discussing logistics and how and where JM and the defendant are going to meet. JM tells the defendant 'Hey keep updated cause I want you bad daddy.' The defendant responds, 'I'm gonna fuck you like a good little boy if you keep calling me daddy.' The message included a smiley face emoji after boy."
Police say they found a box of condoms in Shortey's backpack and a bottle of lotion in the teenager's backpack in the hotel room.
The boy said he's met Shortey on a Craigslist personal encounter listing and that they have known each other for a year. Police said a "strong odor of marijuana" came from the hotel room and they found a green plastic container labeled "Colorado Retail Marijuana."
Oklahoma lawmakers swiftly condemned Shortey after the charges were announced. In a 43-0 vote on March 15, senators approved a resolution accusing Shortey of "disorderly behavior."
In a statement to Oklahoma media Wednesday, Shortey asked for privacy and said he would defend himself against the charges.
Shortey, whose voting history includes support of bills targeting gay and transgender people, was re-elected in November to his fourth term.
His resignation is effective immediately.
Despite his resignation, Republicans still dominate the Oklahoma Senate, 33 to 6, with one vacancy.