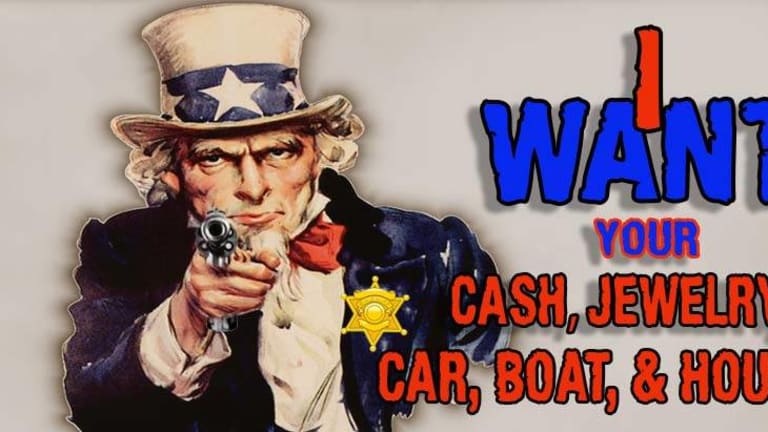 Police Fear Monger About Higher Taxes and Mass Chaos If Civil Asset Forfeiture Is Not Allowed
Sheriffs Association says they need to steal the property of innocent people or we will see mass chaos and they will have to force citizens to pay higher taxes to subsidize their bloated budgets.
Washington, DC - Earlier this month, Attorney General Eric Holder announced that the administration would be reforming the government's asset forfeiture program, and in some cases, preventing police organizations from confiscating people's money and assets.
Although the proposed "reform" was seen by many as a victory, it really doesn't even put a dent in the problem, and seems to be more of a public relations con than anything.
While asset forfeiture will be just as common under the proposed reforms as it is now, police are still concerned that this could effect their revenue.
Recently, The National Sheriffs' Association made a statement saying that they were "deeply disappointed" by the fact that asset forfeiture would be called into question in any way. The statement went on to say that the proposed reforms would "reduce law enforcement capability to respond to 911 calls," as well as "work on major crimes, drug cases, human trafficking, and other threats to public safety."
The statement then went on to suggest that the programs would be subsidized by tax increases, saying that "the result will be an impact on local taxpayers in the form of tax hikes."
"Equally troubling," the statement continues, "is that this decision puts law enforcement lives at risk by the continual barrage against law enforcement."
Although the proposed reforms would be no real actual threat to the program, just the fact that it is being brought into question is making many police departments nervous. This makes sense when considering a recent Washington Post report which found that "298 departments and 210 task forces have seized the equivalent of 20 percent or more of their annual budgets since 2008."
Police departments across the country are making threats about the level of service that their communities will receive if programs like this do not stay in place:
"Sheriffs have utilized the civil asset forfeiture program to limit the reach of criminal enterprises all over the country and with great success. These seizures often fund state and local agency participation in drug task forces and other joint efforts. The Jefferson County Sheriff's Office is involved in ten different task forces and, as a result of this change, I will be forced to cut our participation immediately by at least half. The Department of Justice has acted prematurely and the unknown impact of these changes could have crippling effects on state and local law enforcement to participate in those task forces." NSA President, Sheriff John Aubrey warned.
It is important to point out that the recent reforms are a very small part of this issue. Even according to the press release relating to the announced reforms, the area of the asset forfeiture program that will be affected only accounts for 3% of the assets that are seized from people.
The press release said that in the past 6 years, the aspect of the program that is being cancelled "accounted for roughly three percent of the value of forfeitures in the Department of Justice Asset Forfeiture Program."
John Vibes is an author, researcher and investigative journalist who takes a special interest in the counter culture and the drug war. In addition to his writing and activist work he is also the owner of a successful music promotion company. In 2013, he became one of the organizers of the Free Your Mind Conference, which features top caliber speakers and whistle-blowers from all over the world. You can contact him and stay connected to his work at his Facebook page. You can find his 65 chapter Book entitled "Alchemy of the Timeless Renaissance" at bookpatch.com.