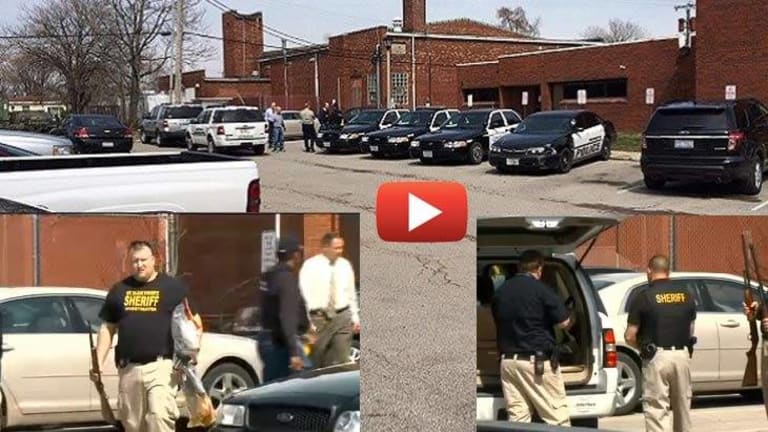 These Cops were So Corrupt, that their Entire Department was Just Raided by Multiple Agencies
When cops are raiding cops, there might be a problem.
Brooklyn, Illinois - This week, the Brooklyn Police Department was raided by a number of other law enforcement agencies, including, the Illinois State Police, and the St. Clair County Sheriff.
On Wednesday, local news crews witnessed police from different agencies carrying equipment, computers, weapons and records out of the building and driving away with them.
Local News 4 reported that the raid was connected to corruption allegations, which relate to the theft of evidence, weapons, drugs and other items from the evidence room.
Outside the Police Department, Illinois State Police Capt. James Morrisey told reporters that the raid was "in reference to some allegations received by Illinois State Police and the State's Attorney's office. No further information is available at this time."
One former officer, Chris Heatherly reportedly kept an AR-15 rifle in his car that had been stolen from the evidence room. He flaunted the rifle in a photo that was later used for a police department calendar. Other guns and drugs that were missing from Heatherly's cases have yet to be found.
The St. Clair County's State's Attorney is now refusing to prosecute any cases that Heatherly was involved in because his actions prove that he cannot be trusted as a witness. Heatherly was forced to resign after the accusations surfaced, but he is not currently facing any charges.
In a statement, St. Clair County State's Attorney Brendan Kelly wrote:
"While it appears, from the evidence available to my office at this time, Mr. Heatherly had no criminal or malicious intent, I am struck by the fact that he is a veteran police officer who knew or should have known that his actions breached the integrity of the evidence in a criminal case. Mr. Heatherly's choice to remove a rifle from evidence on a pending case constitutes a flagrant violation of fundamental police protocol and thus creates an irreparable credibility deficit."
Heatherly was the only specific name released to the public, but if the whole police department was raided, there is a good chance that more widespread abuse is suspected.