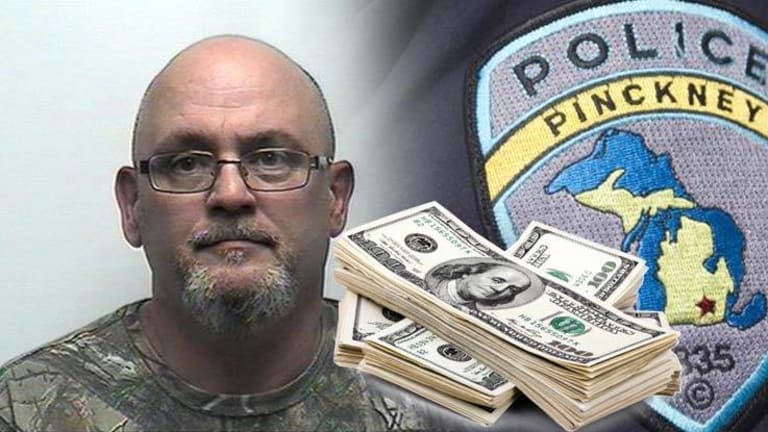 Police Chief Arrested For Stealing $20,000 -- From His Own Mother
Old habits die hard for one Tennessee cop accused of stealing over $20,000 from his sick mother.
Pinckney, TN - Former police sergeant William Cook was recently arrested for stealing $20,000 from his own mother. In addition to working as the Sergeant for Pinckney county, he also worked as a part-time police chief in a nearby county. Last year, Cook abruptly resigned from both of his police jobs and began working in a factory. Cook's co-workers found it strange that he quit his job after 16-years by sending an email of resignation and never coming back.
Meanwhile, Cook was siphoning money out of his mother's bank account and allegedly took over $20,000 from her over an extended period of time. Cook's mother has dementia and did not legally consent to allow her son to take large sums of money from her bank account.
He is being investigated by the Pinckney and Hamburg Police Department, but they have been cautious not to speak too strongly about one of their own.
Pinckney Police Chief Jeffrey Newton said that the arrest was a shock, but maintained that Cook did a great job for the county during his time as an officer.
"In those 16 years, he was a member of good standing, and always did a fine job for the village. When he left suddenly in April it was a surprise to all of us,"Newton said.
Hamburg Police Chief Rick Duffany was somewhat more up front in his comments about the case.
"They authorized a warrant for embezzlement of a vulnerable adult over $20,000 which is a felony. It was an unorthodox way of doing things to be a sergeant in one locale and a part-time chief in another. But for charges like this and a crime of this nature, we cannot help but support that and if it proves to be true, we can only state that whatever happens, he deserves," Newton said.
Cook denies the charges against him, but he has refused to speak to the media about the arrest. However, his wife Mary Sue Cook told the Detroit Free Press that he was only spending the money on expenses for taking care of his mother.
"I know he took some of her money to help pay for her medicine. It was $500 a month. I'll be damned if I was using my money to support her. He used some of her money to buy her special food she had to have; it was very expensive. Why can't we use her money for her?" She explained.
John Vibes is an author and researcher who organizes a number of large events including the Free Your Mind Conference. He also has a publishing company where he offers a censorship free platform for both fiction and non-fiction writers. You can contact him and stay connected to his work at his Facebook page. You can purchase his books, or get your own book published at his website www.JohnVibes.com.