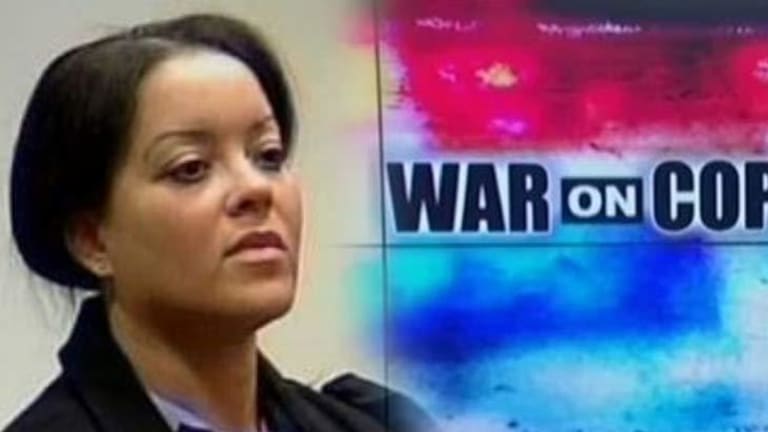 There is Indeed a "War on Cops," and the Media is Not Talking about this War at All
Crossing the blue line is an act of war in police departments across the country. The blue wall will come crashing down on all who expose its corruption, even cops.
Andrea Heath, who died three years ago after more than a decade as a police officer in Desert Hot Springs, California, was a casualty in what could legitimately be called a war on cops. However, she didn't receive an elaborate state funeral and her name is not inscribed on the Officer Down Memorial Page. This is because she fell victim to the unending war waged by law enforcement against whistleblowers within their ranks.
Heath died from a gunshot to the head on October 8, 2012 in the apartment she shared with Officer James Henson and the couple's daughter. The death was ruled a suicide. Attorney Jerry Steering, who represents Heath's family, insists that her death followed a lengthy and unremitting campaign of harassment by the police department and the Desert Hot Springs municipal government in retaliation for her involvement in a federal civil rights investigation.
"They didn't pull the trigger, but they drove her to it," Steering asserts. "She told the truth and in response they retaliated by driving her out of the department, driving her out of her mind, which led to her suicide."
In October 2011, Heath, who had been cooperating with the FBI, testified before a federal grand jury regarding criminal misconduct by fellow officers and cover-ups undertaken by their superiors. Among other abuses, Heath described incidents in which officers would "falsely arrest, beat, tase, pepper spray, and otherwise torture" people. About a month later, at age 42, she was compelled to take a "disability" retirement from the force.
Heath, who joined the department in 1996, began cooperating with the Feds in 2007. Shortly thereafter she was demoted, without explanation from investigator to "trainee." She was ostracized by her colleagues, some of whom denounced her as a "rat" and began to treat her with the same disdain they exhibited toward the general public.
"They made racial slurs, they would send her in the field and instead of sending backup no one would come, she was humiliated, she was degraded," Steering recalls. "Imagine going on a `man with a gun call' alone and not having any backup. This really happened to her. [Other officers] would drive by smiling at her."
Following her ouster from the department, Heath filed a $5 million lawsuit. Many of her allegations with confirmed in a second lawsuit filed in November 2012 by Officer Paul Tapia, who at the time was president of the Desert Hot Springs Police Officers Association. Tapia, a 22-year Navy vet with more than a dozen years of law enforcement experience and 24 commendations, claims that he, too, faced retaliation following his public criticism of official misconduct within the department.
The federal probe of the Desert Hot Springs PD yielded two prosecutions. Former Officer David Henderson received a year's probation following a guilty plea on charges of excessive force during a traffic stop. In February 2012, just months after Heath was purged from the department, Sergeant Anthony Sclafani was found guilty of two charges of excessive force and sentenced to four years in federal prison.
Sclafani "intimidated, abused and repeatedly assaulted two helpless victims who were in his custody at the jail in two separate incidents without any lawful justification," the jury found in his federal civil rights trial. "He then concocted lies that the victims were combative and physically resistant to justify his use of force."
It is commonplace for a police officer to inflict abusive "street justice" and then engage in "creative writing" to cover up his actions. The courage exhibited by Andrea Heath in "crossing the Blue Line" and telling the truth about such matters is genuinely exceptional, and the risks she faced in doing so were severe. Her career at the Desert Hot Springs PD ended after she was found "unfit for duty" because she refused to work a shift with Sgt. Sclafani.
"She was afraid he would whack her for talking to the FBI," attorney Jerry Steering explains.
Following her termination, Heath took a job with a delivery company, took care of her daughter, and invested her hope in the prospect of vindication through her lawsuit against the city. That hope was demolished in May 2013, when U.S. District Judge Philip S. Gutierrez dismissed her lawsuit. Heath's despair grew in crescendo for several months, culminating with her suicide on October 8 of that year – the day before a conference that had been scheduled to discuss a settlement with the city.
On September 28, a $30 million lawsuit was filed on behalf of Heath's children.
"Could you imagine losing your mother, her committing suicide because she exposed criminal conduct by people charged with our security and safety?" Steering asks. Although that is the advertised function of law enforcement, Steering points out that the Desert Hot Springs Police Department – like most others – is devoted first and foremost to institutional self-preservation, even when this means ruining the lives of honest, public-spirited officers.
"These people know no boundaries," Steering declares. "They will stop at nothing to get back at people."