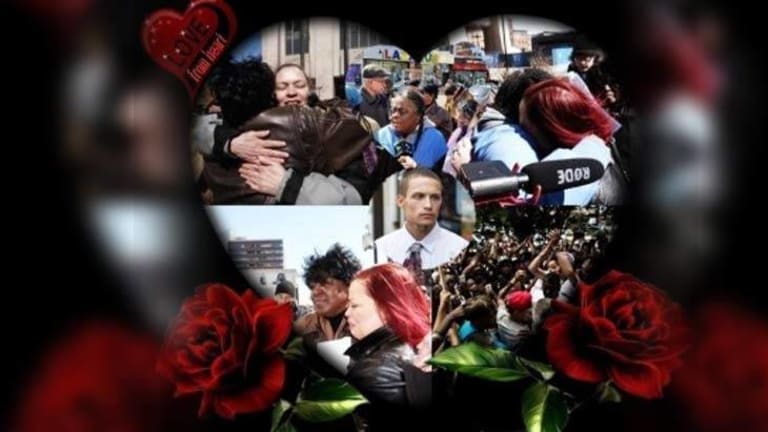 Grass Roots Effort Raises $16K Bail In a Day to Free the Man Who Filmed Eric Garner's Death
Outpouring of love and support make it possible to free Ramey Orta from horrific prison conditions after he was thrown into prison following his documentation of The NYPD killing of Eric Garner.
New York, New York - 48 hours ago, Ramsey Orta, the man who filmed the NYPD killing of Eric Garner was beginning to lose hope as he sat behind bars at Rikers prison in New York.
As a high profile police accountability activist, Orta feared for his life while in police custody, and those fears were confirmed when fellow inmates at Rikers began falling ill because their food was laced with rat poison. To protect himself from similar attacks, Orta has been refusing to eat, and has been living off of junk food from the vending machine because that is the only food in the prison that he can trust.
When Ramsey's aunt Lisa went to visit him earlier this week, she said that he was very sad, and looking malnourished due to the lack of proper food. Meanwhile, activists Danette Chavis and Nancy Lockhart were tirelessly working to get the word out about Ramsey's tragic situation. I learned through their efforts that Ramsey was still in prison after he was targeted by police for recording Eric Garner's murder, and then later arrested on trumped up charges related to an unlicensed firearm.
Ramsey's case had sadly disappeared from the media after his initial arrest, and the grave conditions of his health and safety were entirely unknown to the public. At first, Ramsey's bail was set at $100,000, but luckily in the past month his lawyers were able to get that number knocked down to $16,000 cash.
When looking into Ramsey's ordeal, I noticed that there was a fundraiser to help bail him out of jail, but the campaign had only raised $4,000 out of the needed $16,000. I knew that Ramsey had enough supporters to make this goal in no time, but, unfortunately, most of them were unaware of his dire conditions. I immediately contacted Danette Chavis, Nancy Lockhart, and Ramsey's aunt Lisa and began putting together an article about the case.
The next day, our article was published and our readers quickly began to share the story, and contribute to his fund if they had the means to do so. Amazingly, within just over 12 hours, supporters were able to meet his goal, which now allows his family and his lawyers to begin the process of getting him released. Ramsey's lawyers have advised his aunt that it will now take roughly ten days to get him out of jail. A few days are required to transfer the money from the gofundme account, and the courts need to file the paperwork, which often takes longer than necessary. However, Ramsey is in better spirits now, knowing that he will be coming home soon and that he has many people on the outside who care. Now he will be able to face his charges, and the impending legal battle from the safety of his home.
Speaking with his aunt, Ramsey conveyed the following message to his supporters: "Thank you all for supporting me when NYPD has me down and pinned, thank you for helping my aunt in this movement, I will be home soon and my camera is going to be up in the air, and as long as I have all of you by my side I know I won't be touched, Thanks!"
Ramsey's aunt also reached out to his supporters on Facebook, with the following powerful message:
I just wanted to say thank you for all the support that is pouring in for Ramsey Orta. I'm very moved by the support and the movement in this campaign. This has been such a struggle and I know it's still going to be a struggle , but with this support I really feel we are not alone anymore. Ramsey is a hero for filming a crime and murder that the NYPD committed and now he is being targeted and punished. This has been so hard on my family and today I was asked if I wished Ramsey never filmed those murdering police because of the pain my nephew is going through and his mom and I said no!! I said I'm very proud of my nephew yes it hurts to see him going through pain and yes I'm scared out my mind for him but I'm very proud of him and I support him 200%, no regrets, the only regret I have is trusting the law to protect us. I've learned we only have each other us civilians are to stand together protect each other, and not be afraid to stand up to NYPD. Like the government says: "if you see something say something," I now say if you see cops surrounding anyone, I mean anyone, take out your cell phone your camera and film, and bring it to the world because if we all stand together justice will prevail.
Far too many families are torn apart when one if it's members becomes a victim of the state, but with this family, the love between them has grown stronger.
We will continue to post updates on this story, and stay in contact with Ramsey's family as his case develops. Their gofundme page is still up, and is now taking donations for the legal fees that Ramsey will face while fighting the trumped up charges against him.
John Vibes is an author, researcher and investigative journalist who takes a special interest in the counter culture and the drug war. In addition to his writing and activist work he organizes a number of large events including the Free Your Mind Conference, which features top caliber speakers and whistle-blowers from all over the world. You can contact him and stay connected to his work at his Facebook page. You can find his 65 chapter Book entitled "Alchemy of the Timeless Renaissance" at bookpatch.com.