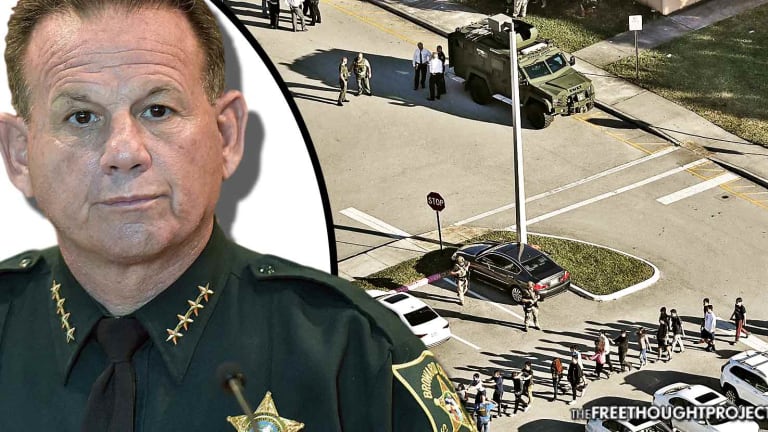 Records Show Sheriff is Deceiving Public on FL Shooter As Their Failure Virtually Let It Happen
Records obtained from the Broward Sheriff's Office reveal that the number of times police were warned about Nikolas Cruz happened far more than they are claiming.
Parkland, FL — As more information continues to come out on the utter failure of police and FBI in stopping the overt and obvious threat that was Nikolas Cruz, it now appears that the public is being deceived. According to records, obtained from the Broward County Sheriff's Office, police were told about the Florida shooter nearly twice as much as they've admitted.
According to a report by CNN, records obtained from the sheriff's office by CNN show the law enforcement agency received at least 45 calls for service relating to Cruz or his brother from 2008 to 2017, before the attack at Marjory Stoneman Douglas High School in Parkland on Feb. 14. The sheriff's office has 
In the interest of full transparency, we are making available the list of all 23 calls for service at the Cruz home. 18 involved Nikolas Cruz. None appeared arrestable under Florida law. However, two of the calls remain under internal investigation. https://t.co/JJANWVeo9q
— Broward Sheriff (@browardsheriff) February 23, 2018
" target="_blank" rel="noopener">insisted it received no more than 23 calls for service regarding Cruz or his family.

According to the report, the sheriff's office has repeatedly refused to answer questions in regard to the glaring difference in what their records show versus what they are telling the public. Instead, they have doubled down on the original number.
CNN reports:
On Feb. 15, CNN received a Broward County Sheriff's Office log based on a public records request showing 39 calls from Cruz's house over a six-year period. During CNN's town hall on the Parkland school shooting last Wednesday, NRA representative Dana Loesch confronted Sheriff Israel about those 39 calls, though she inaccurately described them as being 39 visits from police in one year.

The next day, at a press conference in the wake of growing public criticism, Israel said his agency "has been involved in 23 type calls involving the killer in some way, shape or form -- or his brother."
What's more, over the weekend, the sheriff's office again stated the lower number instead of what the actual report from their own department shows and claimed that the 39 number was not true.
"Since 2008, BSO responded to 23 incidents where previous contact was made with the killer or his family. STOP REPORTING 39; IT'S SIMPLY NOT TRUE," read the statement from the sheriff's office.
According to the department's own logs, however, which show the calls, the Broward County Sheriff's Office actually received 45 calls in the past in relation to the Cruz household.
According to the report,
The documents in question include call logs from the law enforcement agency's "computer aided dispatch" system. The records list police calls from the home at 6166 Northwest 80th Terrace in Parkland, Florida, which was the home owned by Nikolas Cruz's mother during that time period, according to property deeds.

Each listed police call has a unique identifying number, dispatch date and time, and description. The descriptions include mentions of a "mentally ill person," "child/elderly abuse," "domestic disturbance," "missing person," and more. The vast majority of the calls resulted in "no written report."
The calls about Cruz's unstable behavior have been pouring into the Sheriff's office since he was only 9-years-old. The breakdown of the total number of calls shows that his brother was just as unstable as police received calls that he hit his mother and ran away.
Calls relating to Nikolas Cruz include descriptions of fights with his brother, cursing at his mother, and throwing her against the wall for taking away his Xbox. The issues brought to the sheriff's attention worsen over time. In 2014, someone accused him of shooting a chicken with a BB gun.
As TFTP previously reported, Cruz warned that he was going to shoot up a school and kill people and the FBI did nothing. "I'm going to be a professional school shooter," A YouTube user named Nikolas Cruz commented on a video on Sept. 24, 2017. The video was posted on the channel "Ben The Bondsman," and the owner, Ben Bennight, immediately took a screenshot and submitted it to the FBI. Nothing happened.
While this is bad enough, the Sheriff's department records show that police were given this exact same warning—a year before—because Cruz had been declaring his wishes to shoot up the school publicly.
According to the records, in 2016, a neighbor warned police that Cruz posted on Instagram that he said he "planned to shoot up the school." The person who made that call came forward this week and said that she begged the sheriff's office to intervene. Instead of intervening though, police told her that they couldn't act until Cruz actually did something.
The incompetence is staggering, especially given the fact that making a direct threat of violence is illegal.
A few months after he said he wanted to shoot up the school on Instagram—because the police failed to heed this warning and the dozens of other ones—Cruz bought the rifle he would use in the shooting.
What's more, the school even warned police that Cruz said he wanted to harm himself and others and he wanted to "purchase a gun." All of this was ignored and Cruz was still allowed to buy a gun.
It gets worse.
On the day his mother died, Broward Sheriff's office received calls from family members warning deputies that he had weapons and that Cruz was a threat. They begged the deputies to "recover the weapons." Nothing happened.
Days later, yet another person called the Sheriff's office and told them that Cruz was going to shoot up the school. The caller mentioned that Cruz was "collecting guns and knives," and "could be a school shooter in the making." 
Again, instead of acting, records show Broward County "referred caller to the Palm Beach Sheriff's Office," which had jurisdiction over Cruz's temporary home with a family friend. Within days, Cruz was back south in Broward County staying with another friend's family, according to CNN.
The utter failure of law enforcement in this tragic incident proves that no matter how much police state action is in place—even when police are warned multiple times ahead of time—it can and will fail.
When asked if he takes any responsibility for the horrendous botch by his department which led to the deaths of 17 innocent children and adults, Sheriff Israel said he's done an 'amazing' job.
"I can only take responsibility for what I knew about. I exercised my due diligence. I have given amazing leadership to this agency," Israel said.