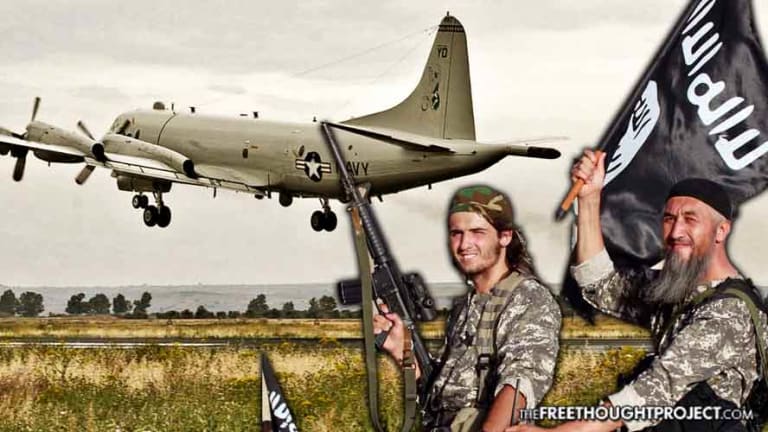 Iran News Reports US Aircraft Directly Transporting ISIS Fighters Out of Raqqa
As the death toll climbs in the city of Raqqa, the United States is now being accused of transporting ISIS fighters to safety.
As the death toll climbs in the city of Raqqa, the United States is now being accused of transporting ISIS fighters to safety, before embarking on an offensive that has included reports of cluster bombs and white phosphorus.
Iranian news agency Fars News reported that Ammar al-Assad, a senior Syrian lawmaker, said the U.S. has "allowed over 120 [ISIS] members to leave Raqqa with their weapons and go towards al-Sukhnah to create insecurity in Palmyra."
"The U.S. is highly coordinated with the Syrian Democratic Forces as some of the group's commanders are from the U.S., Britain, France and certain regional states," al-Assad reportedly said. "Actually what is happening in the battlefield is against what the media says. Many surprising events happen."
Al-Assad claimed that "three weeks ago, the US-led coalition planes staged heliborne operations in Raqqa and transferred a number of ISIL ringleaders to unknown places." He also questioned how groups such as ISIS and Syria's Democratic Forces could arrive at such an agreement, given their ideological differences.
One of the most notable things Ammar Al-Assad reportedly told Fars News was that the leaders "were not Syrian, Iraqi or Chinese, but were the western commanders" of ISIS.
Reports of the U.S.-led coalition transporting ISIS leaders out of the city of Raqqa is especially interesting, given the fact that the city they are fleeing from is the same city that has been a direct target of the coalition's wrath in recent weeks.
The Syrian Democratic Forces, an army backed by the U.S.-led coalition, began its effort to capture Raqqa on June 6, with an onslaught of airstrikes and ground troops.
As The Free Thought Project has reported, there have been multiple claims that the coalition dropped a cluster of airstrikes on Raqqa—a city housing at least 200,000 people—containing chemicals such as white phosphorus, which is illegal in residential areas.
Xinhua News, China's state press agency, reported that "Tens of civilians were killed on Thursday when the U.S.-led airstrikes targeted Syria's northern city of Raqqa with white phosphorus," citing a report from Syria's Sham FM radio.
After just one week, Paulo Pinheiro, chairman of the United Nations Commission of Inquiry, told the Human Rights Council on Wednesday that the coalition's sharp increase in attacks has led to a "staggering loss of civilian life," and has "led to 160,000 civilians fleeing their homes."
"Coalition air strikes have intensified around the city," Pinheiro said. "As the operation is gaining pace very rapidly, civilians are caught up in the city under the oppressive rule of ISIL, while facing extreme danger associated with movement due to excessive air strikes."
Karen Abuzayd, an American commissioner, told the council that the independent panel has documented around 300 deaths in the region since March.
"We have documented the deaths caused by the coalition air strikes only and we have about 300 deaths, 200 in one place, in al-Mansoura, one village," Abuzayd said.
Reuters noted that the death toll could be much greater, but because UN investigators do not have access to Syria, they are limited to conducting interviews with "survivors and witnesses in neighboring countries or by Skype with those still in Syria."
If the latest claims out of Syria are found to be true, it would mean that the United States has now been accused of transporting the leaders of the enemy it claims to be fighting to safety, and then using chemical weapons to torturing the innocent civilians of that city—which is arguably a war crime.
If these types of accusations were made against Russia or Syria, the U.S. government would band together with the mainstream media to demand WAR. However, when the claims are made against the United States, both entities fall eerily silent.