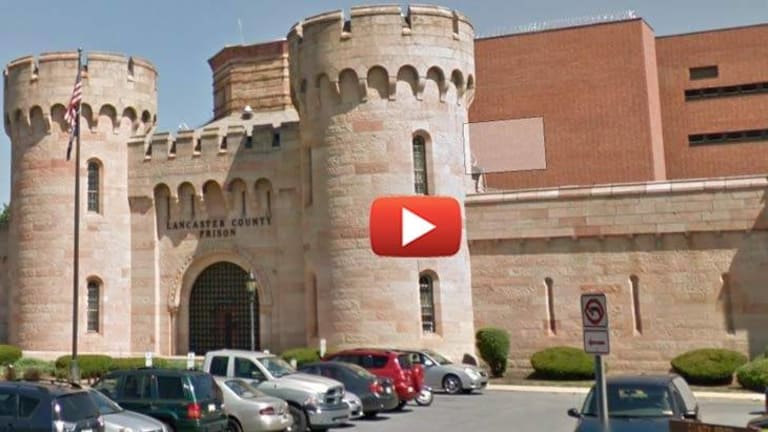 Residents Concerned After Screams Of Starving Inmates were Captured on Video
Inmates at Lancaster County Prison have been heard screaming that they are starving and being treated like animals.
Lancaster, Pennsylvania - Residents that live nearby the Lancaster County Prison have been disturbed by screams coming from the institution in recent weeks. Large numbers of prisoners have been screaming through the windows about how they are hungry and how they are being starved. Some residents have even recorded these occurrences, and a local news crew got it on camera as well.
News crew WGAL sat outside of the prison walls one evening to hear prisoners screaming "We're hungry!" and "We're locked down 23 hours a day. They treat us like animals!"
In response to the situation, the prison has made very few comments, saying only that the inmates who are caught screaming out the windows will have their windows shut, and that the inmates are over-reacting and are not actually starving.
However, Jean Bickmire, president of Have a Heart for Persons in the Criminal Justice System says that closing the windows during the summer time could be dangerous for the inmates, "because it's getting hot, and there isn't any ventilation."
According to recent reports, these inmates are being held on lockdown 23 hours per day, without adequate food and water, in a hot and poorly ventilated prison.
On Monday, Commissioner Scott Martin said the prisoners were upset because of smaller meat portions and no cheese on their sandwiches.
"I don't know why they have expectations of cake and steak in prison. If you don't like the diet, don't come to prison," Martin said.
Martin apparently doesn't realize that many people are in prison for victimless crimes. Their freedom was taken for them simply trying to self-medicate with a plant.
A comment on the WGAL facebook page by John Sean Walton, sarcastically summed up the unjust nature of this situation.
Been in that prison many times for smoking marijuana. It's a good thing they taught me a lesson by pulling me from jobs, educational training, ect. I was far too much of a threat with my cannabis use. Thank gawd they locked me up and made me think about my actions instead of being a working and productive citizen. My probation officers were so smart, they knew what was better for my health than me or my doctors. Thank goodness they insisted I use opiate pain meds instead of cannabis after my accident. Thank- you LCP and all the LEO's and POs for knowing what was best for me and punishing me with a lifetime of fines and treatment for my "problem." I'm far better off in and out of jail for cannabis than paying taxes.
Bickmire said that her organization will be looking into the conditions at Lancaster County Prison.
Below is the video taken by local residents:
Below is the video taken by WGAL:
John Vibes is an author, researcher and investigative journalist who takes a special interest in the counter culture and the drug war. In addition to his writing and activist work he organizes a number of large events including the Free Your Mind Conference, which features top caliber speakers and whistle-blowers from all over the world. You can contact him and stay connected to his work at his Facebook page. You can find his 65 chapter Book entitled "Alchemy of the Timeless Renaissance" at bookpatch.com.