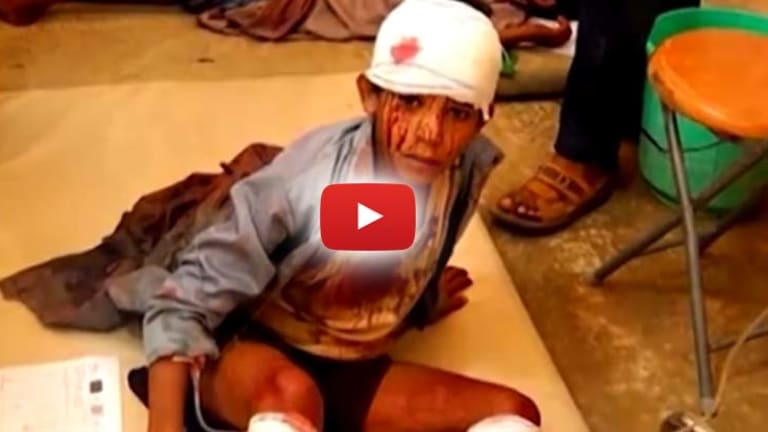 Horrifying New Low: Major US Ally Bombs School Killing Multiple Children
The United States' strongest ally in the Middle East has reportedly and purposefully struck a school in a series of airstrikes in the northwest Yemen.
Saada, Yemen -- The United States' strongest ally in the Middle East has reportedly and purposefully struck a school in a series of airstrikes in the northwest province of Saada in Yemen, according to Doctors Without Borders.
According to Al-Alam News Network, 11 children have been killed and dozens more injured in a Saudi airstrike on a school in Saada.
A disturbing video obtained by Ruptly shows numerous children with head, arm and leg wounds being carried away on stretchers with blood covered faces and bodies.
The video also provides still pictures of the bodies of children presumably killed, some with dismembered limbs and covered with dust.

There has yet to be any official word from the Saudis or the United States on the nature of this horrific attack.
Saudi Arabia started its aggression in Yemen during March of last year to supposedly bring former president and Riyadh's ally, Abd Rabbuh Mansur Hadi, back to power.
Civilians are suffering a "terrible toll" in the fighting tearing Yemen apart, with casualties now topping 8,100, nearly 3,000 of them killed, many of whom are children, amid Saudi-led coalition airstrikes, shelling by Houthi groups and other clashes, the United Nations reports.
Saudi airstrikes have also taken a heavy toll on the already impoverished country's infrastructure, destroying many reservoirs, hospitals, schools, and factories, reports Press TV.
Amnesty International said in March that the kingdom has led a "devastating" campaign of "unlawful" air strikes and bombardment of civilian targets in Yemen, according to the Independent. "Thousands have died -- many more have been injured and displaced. Yemen is now in a humanitarian crisis," they added.
The US remains completely silent on the war crimes of the Saudis while they continue to ship them massive amounts of arms. However, the murderous rampage in Yemen being conducted by Saudi Arabia and their US-backed coalition forces are becoming harder to deny.
Not only is the United States silent on the terrorist acts of Saudi Arabia, but they are also the one giving them the bombs to drop on schools.
Washington recently gave a green light to the sale of 133 tanks and 20 recovery vehicles to Saudi Arabia, while praising the Saudi Kingdom as a "leading contributor of political stability and economic progress" in the Middle East. The deal was estimated at $1.15 billion by the US Defense Security Cooperation agency in its notice to Congress.
On top of the tank deal, the Free Thought Project reported last year, that the US State Department approved a deal to sell the government of Saudi Arabia a shipment of "smart bombs" that is worth over $1.29 billion. The shipment included a total of 22,000 bombs, many of which have likely already killed hundreds of children in both Syria and Yemen.
The UK is also complicit in arming this terrorist regime.
According to the latest figures issued by the UK's Campaign Against Arms Trade (CAAT), Great Britain is also heavily involved in arms deals with the Gulf State. CAAT estimated that the UK has licensed £3.2 billion in arms sales to Riyadh since the beginning of the Saudi campaign in Yemen.
It seems that the Saudi influence is both far and wide and the supposed "leaders of the free world" are aiding and abetting that influence.
It's no coincidence that President Obama was showered with $1.3 million in gifts from the Saudi King last year. Obama is responsible for forging the largest weapons sale in American history, all of which went to Saudi Arabia -- all of which was facilitated at the behest of the military industrial complex.
[author title="" image="https://tftpstagingstg.wpengine.com/wp-content/uploads/2016/03/magorist-e1456948757204.jpg"]Matt Agorist is an honorably discharged veteran of the USMC and former intelligence operator directly tasked by the NSA. This prior experience gives him unique insight into the world of government corruption and the American police state. Agorist has been an independent journalist for over a decade and has been featured on mainstream networks around the world. Follow @MattAgorist on Twitter and now on Steemit[/author]