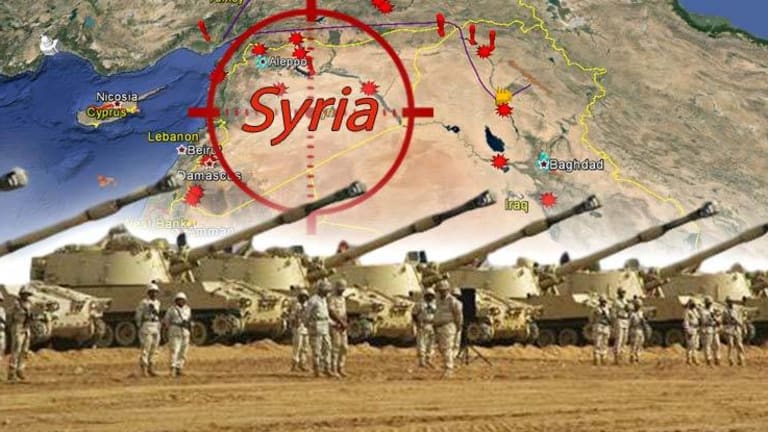 Saudi Drill or Syrian Invasion? 350,000 Soldiers, 20,000 Tanks & 2,500 Warplanes Amass Near Syria
Make no mistake that regardless of Western claims; intervention in Syria has very little, if anything, to do with ISIS
Riyadh, Saudi Arabia - Saudi Arabia has announced the launch of the most massive military drill ever staged in the Middle East; with over 20 Gulf states and other allied nations participating in the incredible display of military might.
The official Twitter account for North Thunder said the exercises were being held at King Khalid Military City in Hafr Al Batin from February 14 until March 10.
"A military exercise will be commanded by the Kingdom of Saudi Arabia with the participation of 20 countries and the Peninsula Shield force as well," the account said. "The main objective is to demonstrate the high combat readiness of the participating armed forces and their readiness and ability to function successfully in joint operations," the account said.
The drill, coined "Northern Thunder," will include up to 350,000 troops, 20,000 tanks, 2,500 warplanes and 450 helicopters, and will coordinate the use of ground forces, as well as naval and air force personnel.
The participating countries are Saudi Arabia, UAE, Bahrain, Kuwait, Qatar, Oman, Jordan, Senegal, Sudan, Maldives, Morocco, Pakistan, Chad, Tunisia, Comoro Islands, Djibouti, Malaysia, Egypt, Mauritania, and Mauritius, according to Gulf News.
The professed aim of the drill is to show that Saudi Arabia and its allies "stand united in confronting all challenges and preserving peace and stability in the region."
"It will serve to boost fighting capabilities, exchange information, benefit from experiences and expertise and enhance coordination between the participating countries," Saudi Arabia's Brigadier General Ahmed al-Assiri said.
However, the reality underpinning the drill is far more convoluted than the House of Saud is willing to admit, and has little to do with regional stability.
What has actually taken place is that the Russian intervention into the Syrian conflict has usurped the Western-backed plan of providing material assistance to rebel groups attempting to overthrow the al-Assad government.
The Russian-backed offensive in Syria has resulted in the Azaz corridor, a major supply route for 'covert' CIA weapons shipments to the so-called "moderate rebels," being shut down, which has left the U.S. scrambling for options to continue their campaign of regime change in Syria.
The New York Timesexplained:
The Russian military action has changed the shape of a conflict that had effectively been stalemated for years. Suddenly, Mr. Assad and his allies have momentum, and the United States-backed rebels are on the run…

The Russians have cut off many of the pathways the C.I.A. has been using for a not-very-secret effort to arm rebel groups, according to several current and former officials.
With the CIA-backed rebels increasingly cut off from their arms supply -- the US had to engage in new tactics to bolster the regime change strategy – escalation through client states.
Enter the Saudi coalition.
While the U.S. fears direct confrontation with Russia in Syria, due to the potential devolution of the conflict into a hot war between the two nuclear powerhouses, a proxy army raised by the Saudis would seemingly negate this potential and allow Western interests to continue their preferred strategy of regime change.
In a recent announcement, Saudi Arabia said that it had deployed U.S. made F-15s to Turkey under the auspices of fighting ISIS.
"The Saudi kingdom now has a presence at the İncirlik base in Turkey. Saudi warplanes are present with their crews to intensify aerial operations along with missions launched from bases in Saudi Arabia," Al Assiri told Al Arabiya television prior to the commencement of the military drill.
Additionally, Saudi Arabia and Turkey have both lobbied for Western approval for a ground invasion of Syria – with Turkey openly acknowledging the planning of a joint attack.
But even as the Saudis attempt to flex their U.S. purchased military hardware as a warning to the Assad regime and the Russians, reality dictates that even those within the coalition understand exactly who is in control within the Syrian theater of war.
According to a report by Defense News:
A Jordanian official confirmed that the country will not participate in any Turkish- or Arab-led Syrian invasion unless mandated by the United Nations, led by western forces and coordinated with Russia.

"Jordan is not going to send ground forces into Syria unless these troops are led by Americans and British," the Jordanian official said, speaking on condition of anonymity. "We have very long borders with Iraq and Syria which are more than 550 kilometers. Any ground troops including Jordanian forces should be sent after a UN approval and after full coordination with Russia."
Make no mistake that regardless of Western claims; intervention in Syria has very little, if anything, to do with ISIS – and everything to do with the power games of energy resources and strategic geopolitical control.
One could easily question whether this is truly a drill or the buildup of an invasion force; but could the Saudis really be foolish enough to endanger their entire regime by wading into a direct military confrontation with the Russians?
Only time will tell -- but what's certain is that a dangerous game is being played by the Western internationalists that could potentially result in a direct confrontation with Russia.
Jay Syrmopoulos is a political analyst, free thinker, researcher, and ardent opponent of authoritarianism. He is currently a graduate student at University of Denver pursuing a masters in Global Affairs. Jay's work has been published on Ben Swann's Truth in Media, Truth-Out, Raw Story, MintPress News, as well as many other sites. You can follow him on Twitter @sirmetropolis, on Facebook at Sir Metropolis and now on tsu.