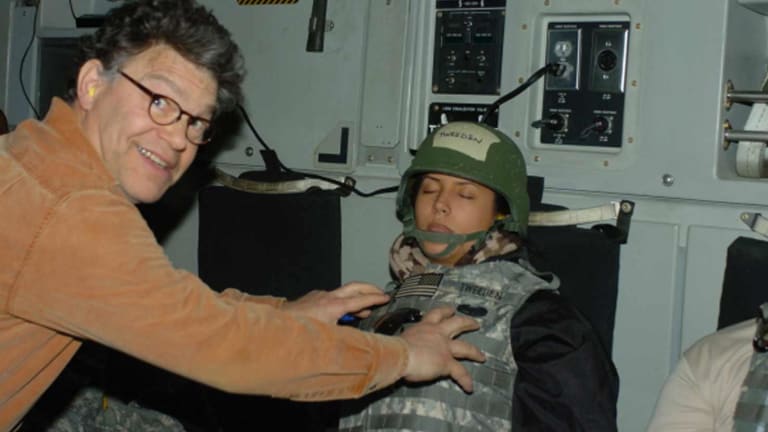 BREAKING: Photo Shows Senator Al Franken's Alleged Sexual Assault of Fmr Playboy Playmate
Senator Al Franken has been accused of sexual assault and a photo has been released which allegedly shows the assault of a news anchor and former Playboy model.
Sen. Al Franken is in the hot seat today after a photo was published online by Leeann Tweeden, who is now accusing the senator of sexual assault. The photo shows Franken reaching toward and possibly grabbing the breast area of the KABC news anchor.
The alleged assault took place during a USO entertainment tour in 2006. Tweeden says she is bringing it up now after everyone else has come forward as part of the #MeToo campaign.
As Tweeden explained in a revealing post on KABC.com, Franken had written some skits for the show and brought props and costumes to go along with them. Like many USO shows before and since, the skits were full of sexual innuendo geared toward a young, male audience.
When Tweeden returned from the tour, she found a photo on her camera in which Franken had his hands reached out to her breasts. Although she is wearing a flak jacket, Tweeden maintains that Franken "grabbed my breasts while I was sleeping and had someone take a photo of you doing it, knowing I would see it later, and be ashamed."
"I felt violated all over again. Embarrassed. Belittled. Humiliated," Tweeden wrote. "How dare anyone grab my breasts like this and think it's funny?"
Tweeden also said that Franken wrote in a skit to the show which required the duo to kiss. She says Franken repeatedly wanted to rehearse the kiss and forcibly kissed her during the rehearsal.
As Tweeden notes, the extra part of the script caught her by surprise. "As a TV host and sports broadcaster, as well as a model familiar to the audience from the covers of FHM, Maxim and Playboy, I was only expecting to emcee and introduce the acts, but Franken said he had written a part for me that he thought would be funny, and I agreed to play along," she wrote.
"You knew exactly what you were doing. You forcibly kissed me without my consent, grabbed my breasts while I wassleeping and had someone take a photo of you doing it, knowing I would see it later, and be ashamed," Tweeden wrote.
"I'm still angry at what Al Franken did to me," she added.
Responding to the news on Thursday, Franken released a statement claiming he remembers the scene differently.
"I certainly don't remember the rehearsal for the skit in the same way, but I send my sincerest apologies to Leeann," Sen. Franken said in a statement. "As to the photo, it was clearly intended to be funny but wasn't. I shouldn't have done it."
Tweeden explains that she was afraid to come out at the time over potential backlash she could've faced in her career.
"I wanted to shout my story to the world with a megaphone to anyone who would listen, but even as angry as I was, I was worried about the potential backlash and damage going public might have on my career as a broadcaster," she explained.
However, after all the other alleged victims have come forward, it now appears that she's gotten the courage to come forward.
"But that was then, this is now. I'm no longer afraid," she said.
Three years after the alleged assault, Franken would go on to be sworn in as a United States Senator from Minnesota in 2009.
As TFTP reported this week, a congresswoman has come forward and claimed that the U.S. House of Representatives alone has spent $15 million in taxpayer funds to settle sexual misconduct lawsuits of politicians in the last decade.
The claim was made by Rep. Jackie Speier, a Democrat from California, during an interview on Meet the Press Daily with MSNBC's Chuck Todd. When asked about the process sexual assault victims currently have to go through, Speier noted that they have to start by promising to stay silent.
"We really need to reform the entire Office of Compliance process," Speier said. "Right now it takes about 90 days for you to file a complaint, and before actually going through the mediation, you have to sign a non-disclosure agreement and then you are not represented by counsel, but the harasser is represented by the House of Representatives general counsel."
The congresswoman, who is a member of the House Intel Committee, then added that the sum of those taxpayer-funded settlements is not small, and has been building up over the last decade.
"We do know there is about $15 million that has been paid out by the House on behalf of harassers in the last ten to 15 years," she said.
Could some of this money have been used to silence alleged victims of Al Franken? Only time will tell.