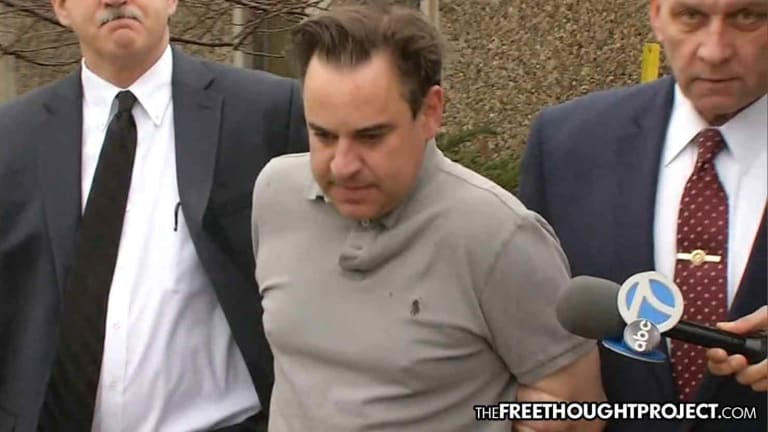 Sex Offender Judge Keeps Job for 2 Years Despite Being Caught Red-Handed Stealing Intern's Panties
A panty-thieving judge was caught red handed but was allowed to keep his position as judge for two full years following his arrest. He was then given a slap.
Long Island, NY — A Long Island judge, who was caught red-handed stealing panties from his former intern's home, has been disbarred and forced to resign from his high and mighty position as judge. Fifty-year-old now former judge Robert Cicale was caught leaving the 23-year-old's home in 2018. She had been one of his interns in court and was also his neighbor. When police searched his person they found he had stuffed several pairs of dirty women's underwear into his coat. Even though he was caught red-handed and later pleaded guilty to the crime, it took a full two years to get him off his judicial bench.
The panty snatcher pleaded guilty to a felony charge of attempted burglary in September of 2019 and was placed on probation and forced to register as a sex offender later in the year. At the time of his plea deal Michael Brown, Cicale's attorney, claimed the judge suffered from mental illness yet has "accepted responsibility for his actions."
Brown said, "He has dealt with his mental illness issues in a proactive manner and is a better person for doing so."
District Attorney Timothy Sini saw the case against Cicale quite differently saying the judge was finally held accountable for his actions and that justice was served.
Sini weighed in on Cicale's crimes in a statement writing, "He violated the law, the public's trust and the victims' sense of security."
Defense attorneys are most likely lined up to get their clients out of jail now that the judge in those cases admitted to having a mental illness and being a sexual deviant, a felon no-less, whose judgement in any case in which he sat on the bench most assuredly is flawed. We do not have any information as to how many cases have now been affected but it will likely cost the court system in Long Island untold millions of dollars in lawsuits.
No one knows exactly why the judge continued to keep his title, although he was suspended without pay as soon as his arrest occurred in 2018. Following his resignation, the judge was disbarred.
The Administrator of the Commission of Judicial Conduct, Robert Tembeckjian, had harsh words for the disgraced judge saying in a statement to the press, "[The] public cannot respect and the electorate cannot replace a judge who pleads guilty to a felony but holds on to office, despite being suspended without pay."
Some would say the judge got a sweetheart deal and that he was given a slap on the wrist for what citizens — who are not a member of the legal system — would have to do prison time for. Looking at the facts, the judge broke into the woman's home, stole her soiled undies from a laundry hamper, and got caught red-handed.
However, instead of doing any jail time whatsoever, he was given probation. We don't have time to dig into his judgments but we would seriously like to know if judge Cicale has ever sent anyone to jail for panty theft, or petty theft whatsoever.
If he did, that would conceivably make the former judge a hypocrite who is above the law, getting probation for things he sent others to jail for. At any rate, it appears the people of Long Island have been saved from a malicious panty bandit. Whew! We're sure they can sleep better now.
Another New York judge resigned at the same time Cicale did. Both judges were being investigated by the Commission of Judicial Conduct. Marc Seedorf of Westchester County, pleaded guilty to tax evasion in December 2019 after he was accused for failing to file tax returns from 2005 to 2015. He also resigned in March of this year but has not been sentenced yet as far as we are aware.
That's right America! A judge held onto his position for two years after getting caught breaking and entering a home to steal panties. And another judge was allowed to remain on the bench even though he was not paying taxes on his judicial income for a decade. The system is broken folks. And even when they catch the criminals they get off with a slap on the wrist.