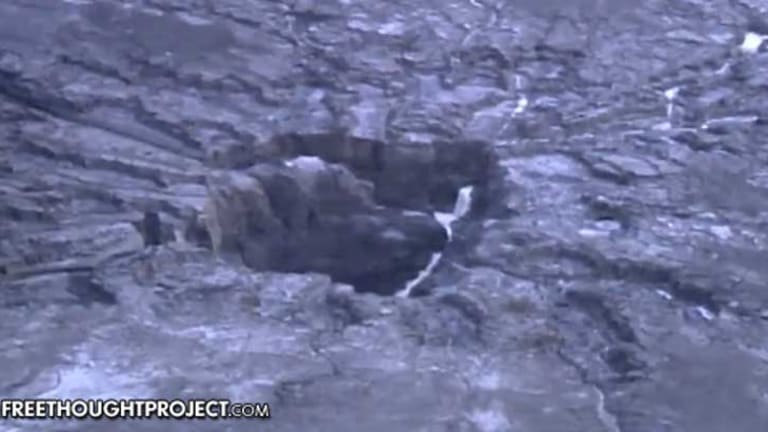 Media Silence As Massive Sinkhole in Florida Leaks Radioactive Water into the Ground
A massive sinkhole below a phosphate strip mine 30 miles east of Tampa had been releasing radioactive waste water into the Floridan aquifer.
Mulberry, FL – Last week, news broke that a massive sinkhole below a phosphate strip mine 30 miles east of Tampa had been releasing radioactive waste into the Floridan aquifer for at least three weeks. Mosaic, the owner of the mine, and state officials have known about the problem for three weeks, but failed to notify the public.
News reports indicate that the sinkhole developed below a phosphogypsum stack, which is a pile of radioactive waste hundreds of feet tall produced by phosphate mining. The massive sinkhole has allowed millions of gallons of radioactive water to pour into one of the world's most productive aquifers, potentially posing a serious threat to the drinking water of millions of Floridians.
On August 27th, crews in a containment pond at the New Wales Mosaic plant in Mulberry found the sinkhole.
A field technician found the water level had dropped at one of the ponds, and upon investigation, found a 45-foot hole with seemingly no bottom, WFTS-TV reports.

Since then, about 215 million gallons of contaminated water used to process fertilizer has drained into the hole."
Officials say, thus far, that a recovery well was built to pull the contaminated water out of the aquifer.
The Mosaic company is no stranger to controversy, as famed environmental activist Erin Brockovich pointed out in a post to her Facebook page.
Radioactive phosphogypsum is produced during phosphate mining when sulfuric acid is applied to phosphoric ore, releasing naturally occurring uranium and radium.
"Enough is enough. Florida must finally take a stand against this destructive, radioactive phosphate mining that is putting our health and environment at risk," said Jaclyn Lopez, Florida director at the Center for Biological Diversity.
"Mosaic wants to mine an additional 50,000 acres of Florida's beautiful, biodiverse lands, but this incident makes clear it can't even handle the radioactive waste it currently generates. We must come together and demand that our counties, our state and our federal government reject further expansion of this dangerous industry."
According to a report by EcoWatch:
Forty percent of the phosphate ore that's mined in Florida is shipped overseas, but 100 percent of the radioactive phosphogypsum waste that's generated remains in the United States, the majority of it in Florida, where it stays forever. That's five tons of radioactive waste for every one ton of usable phosphate.

Phosphate mining creates 60-foot-deep to 80-foot-deep open pits thousands of acres wide. Florida is home to the world largest phosphate mine, and now Mosaic wants to strip mine an additional 52,000 acres in Manatee, Hardee and De Soto counties.

This is not the first time a sinkhole has opened up below a radioactive phosphogypsum stack, nor is it the first time Mosaic has had problems with handling its hazardous waste. In 2009 a sinkhole at the PCS White Springs facility released more than 90 million gallons of hazardous wastewaters into the Floridan aquifer. In October 2015 the U.S. Environmental Protection Agency and Mosaic settled a lawsuit regarding a series of alleged violations of how Mosaic handles and stores its hazardous waste, paying civil penalties to the feds and Florida.
With so many ecological disasters across the U.S. taking place, why does the media seem to only highlight stories that promote division amongst groups of people rather than work to expose the corrupt powers complicit in the fleecing of the world, and its people, of both natural and financial resources.
The time is now for people to take a stand and protect sacred water; the very essence of life on earth.
Please share this story to help wake people up to the ecological catastrophes currently take place across the United States!