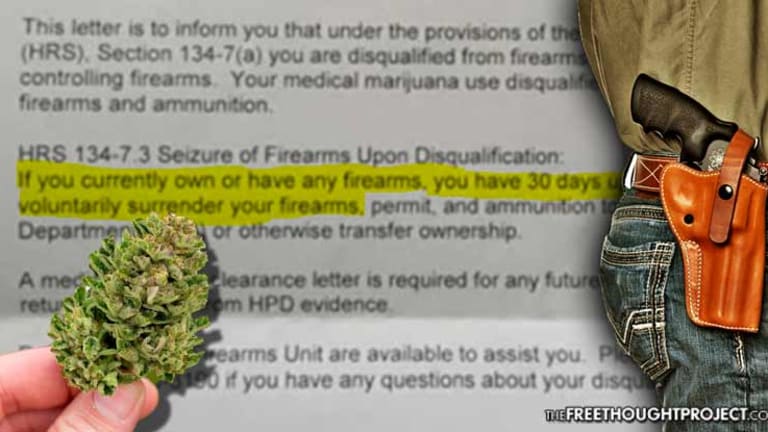 'Surrender Your Firearms' – Gov't Now Confiscating Guns from Medical Cannabis Users
Gun owners in Hawaii who legally use medical cannabis have been told they have 30 days to "voluntarily surrender" their firearms to the police.
Residents in Honolulu, Hawaii, were recently informed that if they use cannabis for medicinal purposes, they will be given 30 days to "voluntarily surrender" their firearms and ammunition before the Honolulu Police Department begins confiscation.
A series of letters were mailed out from Police Chief Susan Ballard on Nov. 13, as confirmed by a report from Leafly, which noted that the letters appear to represent "the first time a law enforcement agency has proactively sought out state-registered medical marijuana patients and ordered them to surrender their guns."
The letter from Chief Ballard starts off by claiming that its purpose is to inform the residents of a revised statute. "You are disqualified from firearms ownership, possession or controlling firearms. Your medical marijuana use disqualifies you from ownership of firearms and ammunition," Ballard wrote.
The letter references H.R.S. 134-7.3, which dictates "Seizure of Firearms Upon Disqualification." Ballard claimed that residents have until Dec. 13 to "voluntary surrender" their firearms, in order to be in compliance with the law.
"If you currently own or have firearms, you have 30 days upon the receipt of this letter to voluntarily surrender your firearms, permit and ammunition to the Honolulu Police Department or otherwise transfer ownership."
The letter claimed that "a medical doctor's clearance letter is required for any future firearms applications or returns of firearms from HPD evidence."
This order serves as another reminder of the clash between state law and federal law. While medical cannabis is legal in Hawaii and the state's first dispensary opened in August, it is still illegal under federal law. In fact, according to the United States government, the cannabis plant is one of the most dangerous drugs in existence, and has no medicinal value whatsoever—despite a wealth of evidence that proves otherwise.
Even though cannabis has been legalized for either medical or recreational use in 29 states and Washington D.C., the Bureau of Alcohol, Tobacco and Firearms sent a letter to all firearms licensees in 2011, claiming that even if individuals have state-issued medical cannabis cards, it is still illegal for them to own firearms because cannabis is still a Schedule I substance under federal law:
"Any person who uses or is addicted to marijuana, regardless of whether his or her State has passed legislation authorizing marijuana use for medicinal purposes, is an unlawful user of or addicted to a controlled substance, and is prohibited by Federal law from possessing firearms and ammunition."
As The Free Thought Project has documented, not only has pure cannabis never been found to make its user more violent, but research continues to prove its medicinal benefits. These studies include evidence that cannabis can stop HIV from becoming AIDS, that the majority of cannabis users give up prescription opiate medications, and that cannabis has a "significant" effect on killing cancer cells.
There is also a level of hypocrisy when taking into account the fact that many of the prescription drugs individuals are prescribed for illnesses and symptoms that could have been healed naturally with cannabis, contain dangerous and life-threatening side effects.
In fact, several of the recent mass shootings such as the Las Vegas shooting, which killed 58 people; and the Orlando shooting, which killed 49 people; were carried out by suspects who were under the influence of psychotropic drugs, which can cause aggressive or violent behavior.