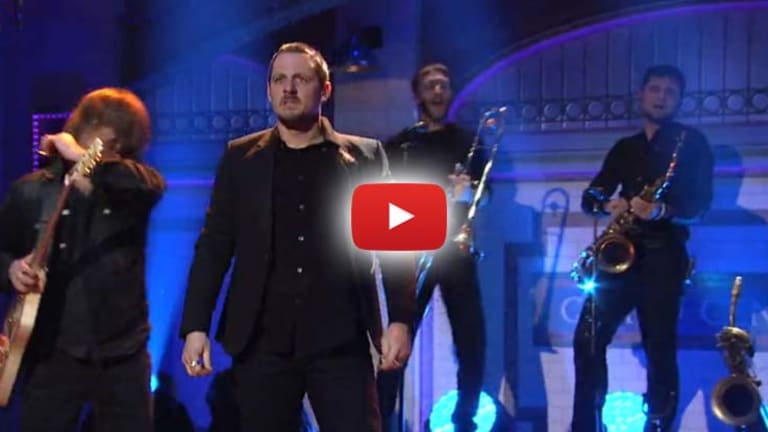 Country Singer Goes on SNL, Exposes Afghan Heroin Trade and No One Even Noticed
Country music singer Sturgill Simpson went on SNL last Saturday and exposed the military industrial complex — and nobody noticed.
Sturgill Simpson is one of the most under-appreciated, under-aired, unknown, and immensely talented musical artists around. Up until last month, in fact, most Americans have never heard of him — because he's entirely too truthful to be on the radio.
To his devoted fans, this author included, Sturgill Simpson is a pioneer in the realm of music — and activism. For years, Simpson has been enlightening his listeners, not only through his band's amazing sounds but also through his activism.
Sturgill Simpson is unafraid of being unpopular for telling the truth, and it has reflected in his music for more than a decade since the days of Sunday Valley. For Simpson, nothing is taboo — up to and including his antiwar stance.
While he's best known for being the country singer who sounds like a mix of Conway Twitty, Waylon Jennings, and Merle Haggard -- and the one who sings about the mind-expanding powers of hallucinogens like 'Marijuana, LSD, Psilocybin, and DMT' -- Sturgill also loves to blast the military industrial complex.
His music and band are so powerful that many people may miss what he's saying, but not us.
With his newfound success and popularity from the Grammy nomination and appearances on Joe Rogan's podcast, Sturgill was recently asked to play on Saturday Night Live (SNL).
Shockingly enough, the producers, either through carelessness or intention, allowed Sturgill to play one of his most powerful antiwar songs from all of his albums — Call to Arms. The song is ironically titled as it is a call to arms against the US military rather than a call to arms for them.
In the song, Simpson, who is also a US military veteran, calls out not only the brutal nature of military and war, but the fact that Western profiteers are making a figurative killing off of heroin for the literal killing of people in Afghanistan.
A former British Territorial Army mechanic, Anthony C Heaford released a report two years ago, and a series of photos, which he says proves that British and American troops are harvesting opium in Afghanistan.
It is also no secret that Afghanistan opium production has increased by 3,500 percent, from 185 tons in 2001 to 6,400 in 2015, since the US-led invasion.
However, mentioning this on television is virtually unheard of — but not for Sturgill Simpson.
After playing Keep it Between the Lines, Simpson went on to drop truth to the millions of viewers — and most of them had no idea.
As the song starts out, Sturgill Simpson calls out both oil and heroin and notes how the troops are used as pawns in these wars for profit.
I done Syria, Afganistan, Iraq, and Iran
North Korea tell me where does it end
Well the bodies keep piling up with every day
How many more of em they gonna send

Well they send their sons and daughters off to die
For some oil
To control the heroin
Well son I hope you don't grow up
Believing that you've got to be a puppet to be a man

Well they cut off your hair and put a badge on your arm
Strip you of your identity
Tell you to keep your mouth shut boy and get in the line
Meet your maker over seas
The second part of the song actually addresses why no one even caught the fact that he just exposed war for profit on SNL.
Wearing that Kim Jong-il hat
While your grandma's selling pills stat
Meanwhile, I'm wearing my 'can't pay my fucking bills' hat

Nobody's looking up to care about a drone
All too busy looking down at our phone
Our ego's begging for food like a dog from our feed
Refreshing obsessively until our eyes start to bleed
They serve up distractions and we eat them with fries
Until the bombs fall out of our fucking skies
For an unknown reason, the last verse of the song was omitted, possibly because of all the swearing. But it is still very powerful.
Turn off the TV
Turn off the news
Nothing to see here
They're serving the blues
Bullshit on my TV
Bullshit on my radio
Hollywood telling me how to be me
The bullshit's got to go
The band then launched into an incredible 2-minute jam. At the end of the song, Sturgill throws down his guitar and looks out at the crowd with an inspiring anger. And, just like that, truth got leaked out on to mainstream television.
Below is the performance from Saturday.
If you've never heard of Sturgill Simpson, we highly recommend you try it out. You can do so here, at his website.
[author title="" image="https://tftpstagingstg.wpengine.com/wp-content/uploads/2016/03/magorist-e1456948757204.jpg"]Matt Agorist is an honorably discharged veteran of the USMC and former intelligence operator directly tasked by the NSA. This prior experience gives him unique insight into the world of government corruption and the American police state. Agorist has been an independent journalist for over a decade and has been featured on mainstream networks around the world. Follow @MattAgorist on Twitter and now on Steemit[/author]