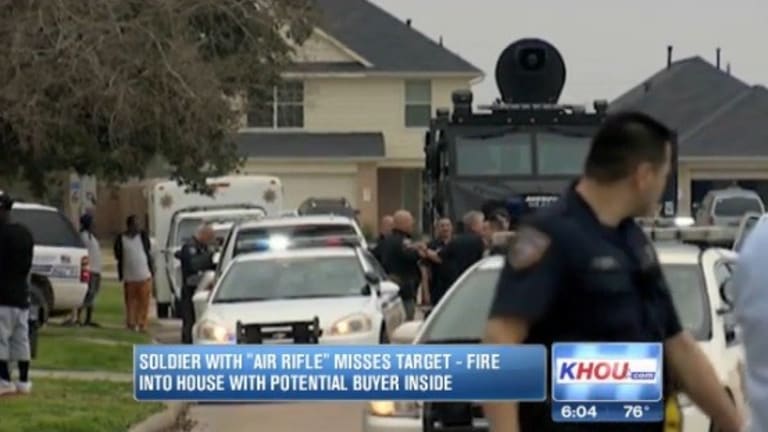 SWAT Team Storms Soldier's House for Shooting a Pellet Gun in his Backyard
Societal fear and law enforcements' tendency to escalate violence has reached a new high this week as a full on SWAT raid, including snipers, were dispatched to a man's house for playing with his pellet gun.
Dozens of cop cars and a police tank descended on the house of a Harris County man because he accidentally broke a window in a newly constructed house, with his air rifle.
An off-duty Homeland Security agent – and potential buyer -- just happened to be inside that house when the glass shattered right next to him.
According to KHOU news, the DHS agent looked out and saw the soldier holding what he thought was a telescopically high-powered rifle so he called the sheriff.
"An "active shooter" call dropped," said Captain Jay Coons with the Harris County Sheriff's Office.
Eickenroht and Hoyland elementary schools were placed on lockdown until 25-year-old Ramon Hooks was taken into custody.
Hooks, an active-duty soldier, now faces criminal mischief charges.
It is a good thing this man wasn't filled with lead by over-zealous cops thirsty for blood. The Harris County SWAT team deserves a bit of recognition for not shooting first and asking questions later.