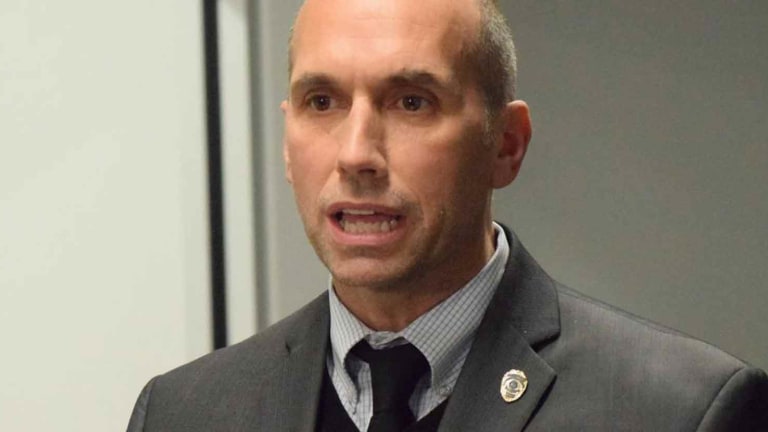 Top Cop Arrested, Charged with Multiple Felonies for Stealing Asset Forfeiture Funds
A Michigan prosecutor was arrested, along with his Chief Operations Officer, for embezzling $600,000 in Civil Asset Forfeiture funds over the period of 8 years.
Detroit, MI — Macomb County Prosecutor Eric Smith resigned after having spent 25 years as a prosecutor and assistant prosecutor. Smith has been at the center of a Michigan State Police investigation over how the prosecutor's office spent civil asset forfeiture funds from drug and alcohol forfeitures. To be clear, civil asset forfeiture, according to police accountability activists, is legal theft by law enforcement of citizens' personal financial assets because no crime has to have been committed or proven for law enforcement to steal your property.
Civil Asset Forfeiture starts when a citizen gets stopped by police in a traffic stop for example. If drugs are found on the citizen, the police may impound the vehicle and confiscate any cash found on the citizen's person. The vehicle can be sold at auction, and the money gets entered into evidence in any court case against the citizen.
Later, if the citizen is found guilty, the police can keep the money, often turning a portion of the money over to the prosecutor's office to be used as discretionary funds. Unfortunately for Smith, the very people who are experts at seizing other people's assets, the Michigan State Police, charged Smith with illegally using those funds in inappropriate ways.
Smith was charged last week with 10 criminal counts by the Michigan Attorney General's Office in a nearly yearlong probe of how his office spent the funds. Smith and his former Chief of Operations (COO), Benjamin Liston, were released on $100,000 personal bonds for allegedly embezzling $600,000 from drug and alcohol forfeiture funds going all the way back to 2012.
Yes, that's right America, Macomb County's most powerful law man got charged for spending other people's stolen assets. That's pretty much how jacked up the legal system is in the good ole U.S. of A. And it's not an isolated incident. Police Departments all across the United States, instead of giving people back their funds, cars, boats, houses, bank accounts, will actually take it and it's all legal. Well, not quite.
The Supreme Court of the United States ruled in 2019 that police departments should not take more from accused citizens than the penalty for the crime would allow. In other words, if getting caught with drugs in Indiana would lead to a criminal fine of $1,200, the police department should not also take the suspect's car worth $42,000 for example.
In the SCOTUS case the defendant got caught with a small amount of heroin and the police claimed his Land Rover as well, worth over $40,000. The ruling forced the police to give back what they took from him. Unfortunately, police departments are now apparently dependent on forfeiture funds, actually including them as line items in their yearly budgets. In an article written by the New York Times:
Law enforcement agencies have resisted efforts to curtail civil forfeiture, saying they rely on the proceeds for sorely needed equipment. It is difficult, if not impossible, to calculate the total value of civil forfeitures by local police departments and prosecutors, but a significant portion comes from joint operations with federal law enforcement and is tracked by the Justice Department.
As we have reported, the SCOTUS' ruling won't stop police departments from stealing people's stuff. It just means they now have legal grounds to claim the seizures were excessive and potentially can get their assets back.
The federal government also employs civil asset forfeiture as well. And when the feds do it, they distribute the funds seized throughout the country to various police departments in a program called "equitable sharing". In 2018, for example, the federal government distributed over $400,000,000 to various governmental entities.
In Smith's case, he and his COO were accused of spending the seizures "to buy flowers and makeup for select secretaries, a security system for Smith's residence, garden benches for staffers' homes, country club catering for parties, campaign expenditures and more,. According to the Detroit Free Press:
Smith, 53, is charged with five counts of embezzlement by a public official and one count each of conducting a criminal enterprise, official misconduct in office, tampering with evidence in a civil proceeding, accessory after the fact to embezzlement by a public official and conspiracy to commit forgery, the Attorney General's Office said.
So, to put it into perspective. The man whose job was to ensure criminals were afforded unbiased due process in a court of law now stands accused of being a criminal for over 8 years.
If he is convicted, every case the prosecutor's office has pursued during that time period should logically be challenged in court by defense attorneys seeking to set their clients free. After all, if the man prosecuting you is a crook, you ought to be set free.
Then will come the civil court challenges from those whose convictions have been overturned. Surely the Michigan taxpayers will have to dole out millions of dollars in lawsuits if Smith is found guilty of being a crook.