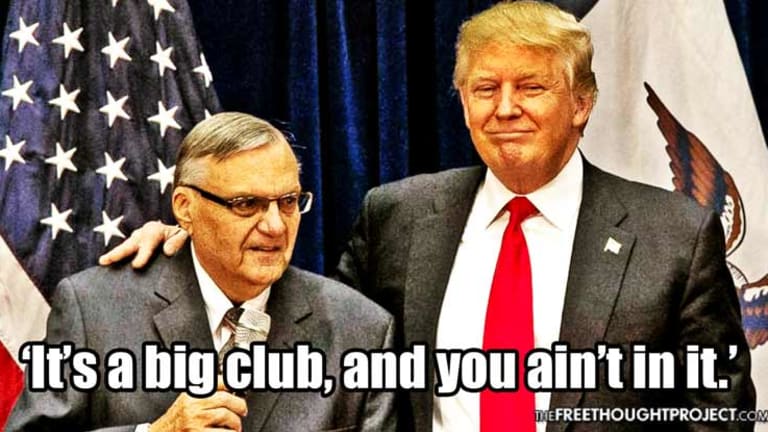 Trump Chooses 'Lawlessness Over Justice'—Pardons Convicted Sheriff Joe Arpaio
President Donald Trump has pardoned former Maricopa County, Arizona sheriff Joe Arpaio, after he was finally convicted this year.
(RT) — President Donald Trump has pardoned former Maricopa County, Arizona sheriff Joe Arpaio, who was awaiting sentencing after being convicted of contempt for targeting illegal immigrants.
A Friday evening statement from the White House said, "Today, President Donald J. Trump granted a Presidential pardon to Joe Arpaio, former Sheriff of Maricopa County, Arizona."

The statement lauded Arpaio's public service, including his military enlistment after the outbreak of the Korean War, and concluded: "Sheriff Joe Arpaio is now eighty-five years old, and after more than fifty years of admirable service to our Nation, he is worthy candidate for a Presidential pardon."
Arpaio was convicted of misdemeanor criminal contempt, which carries a maximum six-month prison sentence. He was due to be sentenced in October. Arpaio acknowledged disobeying US District Judge Murray Snow's order to stop targeting immigrants, but Arpaio said it was not his intention to violate the judge's order. "I'm very appreciative of what the president has done," Arpaio told NBC News. "Right now, I have to thank the president for standing by me and standing by law enforcement. And I'm very humbled." The pardon was condemned by the American Civil Liberties Union, which tweeted: "President Trump has chosen lawlessness over justice, division over unity, hurt over healing."

There is no constitutional restriction on a president's power to pardon, save for impeachment cases.
Still, so-called "political pardons," especially high-profile ones, almost never occur without embroiling controversy. Critics of this pardon of Arpaio point out that it did not go through the ordinary Department of Justice process, which is a complicated one, and the department's pardon office has not yet been appointed a leader under Trump.
Arpaio and Trump are longtime political allies, even before Trump entered politics. They aligned on the "birther" issue, which called into question former President Barack Obama's legitimacy to hold the office. In July 2012, during Obama's reelection campaign, Trump tweeted a congratulatory message to Arpaio for his Cold Case Posse investigation into Obama's birth certificate, which they alleged was fake.
Arpaio spoke at the 2016 Republican National Convention and championed Trump's campaign, especially on the issue of illegal immigration enforcement.