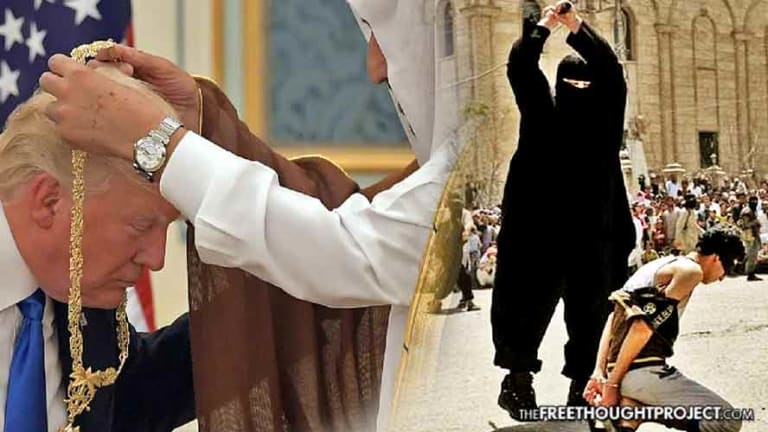 Trump Just Promised $350 Billion to a Country That's Beheading a Blind Man for Peacefully Protesting
In an act of criminal negligence, Donald Trump is ignoring the overt human rights abuses and outright terror of the Saudi regime.
The same country that was just promised over $350 billion in weapons deals over 10 years by President Trump after it became the first stop on his inaugural trip overseas, is set to behead a 23-year-old disabled man for the heinous crime of… protesting peacefully.
Saudi Arabia is set to execute Munir Al Adam, a deaf and blind man who was arrested after a wave of political protests in 2012. The decision came after a secret trial carried out in the country's infamous Specialized Criminal Court, which has a reputation for being used to silence political dissidents.
A spokesperson for the human rights group Reprieve told The Independent that while Al Adam was charged with violent acts at a protest, he was tortured by police, the disabilities listed on his medical records were ignored, and "no evidence was produced at his trial other than the signed confession—made under duress."
"Munir's case is utterly shocking," Reprieve Director Maya Foa said. "The White House should be appalled that our Saudi allies tortured a disabled protester until he lost his hearing then sentenced him to death on the basis of a forced 'confession.'"
Al Adam's initial sentence was determined in November 2016, and it was recently confirmed by an appellate court. Due to the country's strict laws, Al Adam was only given one chance to appeal the sentence before Saudi King Salman signs off on his death warrant.
In a statement, Reprieve noted that Al Adam "was forced to write his own defense after he was prevented from speaking to a lawyer," and that while one of the charges he faced was using his mobile phone to organize protests, Al Adam told the court he "comes from a poor family and had never even owned a mobile phone."
At the time of Al Adam's sentence, three juveniles—Ali Al Nimr, Dawood Al Marhoon and Abdullah Al Zaher—were also sentenced to death for charges related to protesting the government.
The latest decision in Munir Al Adam's case comes as President Trump signs the "single largest arms deal in U.S. history," worth around $350 BILLION, with the same country that is responsible for violating human rights and using extreme methods to silence political opposition—Saudi Arabia.
In a speech at the Arab Islamic American Summit on May 21, Trump noted that the agreement includes a $110 billion "Saudi-funded defense purchase."
"Yesterday, we signed historic agreements with the Kingdom that will invest almost $400 billion in our two countries and create many thousands of jobs in America and Saudi Arabia," Trump said. "This landmark agreement includes the announcement of a $110 billion Saudi-funded defense purchase—and we will be sure to help our Saudi friends to get a good deal from our great American defense companies."
As The Free Thought Project has reported, Trump's newfound love for Saudi Arabia seems to have taken the place of his campaign rhetoric, which held the country responsible for its involvement in 9/11.
In 2016, Trump was on the campaign trail, promising his supporters that if he was elected, they would "find out who really knocked down the World Trade Center."
"Who blew up the World Trade Center?" Trump questioned during an interview with Fox and Friends. "It wasn't the Iraqis, it was Saudi—take a look at Saudi Arabia, open the documents."
In addition to ignoring that promise, Trump's cozy relationship with Saudi Arabia also serves as a reminder that he appears to have no problems with the blatantly obvious record of human rights violations that has made Saudi Arabia the subject of international scrutiny.
The egregious death sentence given to Munir Al Adam for allegedly protesting the Saudi government is not the first time the Trump Administration has looked the other way in the face of a clear human rights violation. As The Free Thought Project reported in April, Saudi Arabia sentenced Ahmad Al Shamri to death by beheading for charges of atheism and blasphemy, after he allegedly renounced Islam on social media.
While Trump's quick turn-around on his rhetoric towards Saudi Arabia has taken U.S.-Saudi relations to new heights, it is not unprecedented. Instead, he is simply following in the footsteps of his predecessors, and guaranteeing that the U.S. will continue to support the kingdom's questionable choices—even when it comes to beheading peaceful protesters without due process.