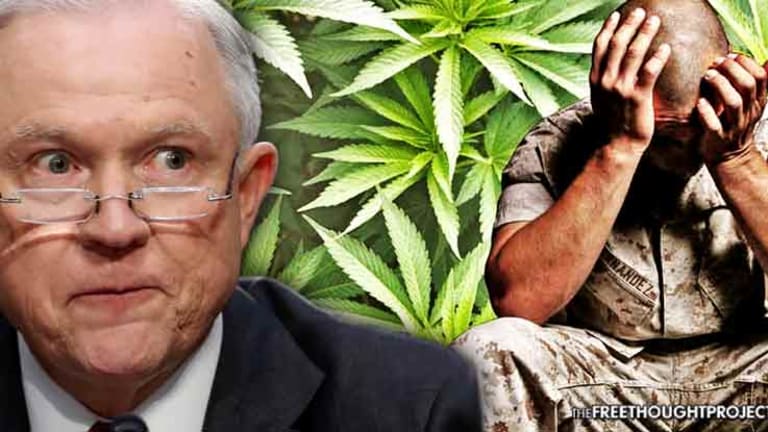 Hypocrisy: Trump Signs Veterans' Mental Health Bill as Jeff Sessions Declares War on Their Medicine
The Trump Administration is now making it easier for veterans to access the same drugs that are already increasing suicide rates.
President Trump signed an executive order that was presented as an effort to improve veterans' mental health treatment, just days after reports claimed that Attorney General Jeff Sessions plans to wage war on their medicine by rescinding a policy that keeps federal prosecutors from aggressively enforcing federal law in states where cannabis is legal.
Trump signed an executive order titled, "Supporting our Veterans during their Transition from Uniformed Service to Civilian Life" on Jan. 9. The order calls for the Secretary of Defense, the Secretary of Veterans Affairs, and the Secretary of Homeland Security to work together to provide "seamless access to mental health treatment and suicide prevention resources for transitioning uniformed service members in the year following discharge, separation, or retirement."
The measure is intended to improve reintegration into civilian life and to prevent suicide if at all possible. But the type of mental health services Trump is asking for almost certainly do not involve using cannabis for PTSD, depression, or chronic pain. That is because the U.S. Attorney General just rescinded the Cole memo, allowing state Attorney Generals to go after legal weed.
As The Free Thought Project has reported on numerous occasions, legal cannabis and access to it is not supported by VA hospitals. In fact, we interviewed one veteran who suffers from PTSD and lives in Phoenix. For privacy reasons we will call him "Jeremy."
Jeremy told TFTP that his disability benefits are directly connected to his blood tests. If his blood does not demonstrate a measurable level of psychotropics then the VA will end his disability benefits. In other words, if he does not take dangerous antidepressants and antipsychotics then he loses his monthly cash benefit.
While Trump's executive order will guarantee 100 percent of veterans will now be able to get mental health benefits (whereas only 40 percent were able to get them before), what veterans really want is access to legal weed. So do the majority of Americans. They also do not want to be forced to take psychotropics, drugs that have actually caused the very suicides the executive order has stated it is attempting to combat.
Jeremy is a budtender at a Phoenix-area marijuana dispensary. He said he loathes being forced to take psychotropics but cannot part with the significant disability payouts each month. So he takes as little as he possibly can and throws away the rest. He says weed works much better and he would use it exclusively if he could.
Sessions' move to rescind the Cole memo follows months of similar actions by the government. As TFTP reported in July, the House Rules Committee blocked an amendment called the "Veterans Equal Access," which would have allowed the VA to discuss cannabis as an option for veterans' treatment in VA hospitals. The amendment did not pass largely because cannabis is still classified as a Schedule I narcotic (purely for political and Pharma-Cartel reasons) much to the dismay of a majority of Americans, including veterans advocacy groups, like the American Legion, who want cannabis made available to veterans.
Veterans who choose to go against the VA and to use cannabis as a viable mental health protocol not only face the loss of financial benefits, they run the risk of prison time as well. Kristoffer Lewandowski is an honorably discharged veteran of the USMC was arrested in Oklahoma for personal possession of marijuana. He says the VA had him taking 18 different medications daily for his PTSD, which included deadly opiates. At one point, he was taking 180 Percocets per month, but the drugs were killing his liver.
After finding that cannabis worked better, Lewandowski quit taking his prescription pills. Because Oklahoma does not have medical marijuana, he began growing a few plants for his personal use and treatment of PTSD. The police discovered the plants and arrested him.
Lewandowski was charged with cultivating marijuana, and the police confiscated the ounce of cannabis they found. They charged his wife as well and took their children away. After getting approval from the OK district attorney, the family bonded out of jail and moved to California. But Lewandowski's freedom was short-lived. After missing an appointment at the Veterans Administration's psychiatric hospital, he was arrested again. Later, he accepted a plea deal and was allowed to stay in California to continue taking the plant he says saved his life.
While Trump's executive order sounds like a great idea by giving all veterans access to mental health services, what veterans really need and want is universal access to cannabis as a natural treatment for depression, PTSD, and pain. Instead, they are given prescription pills, which are needlessly driving up the suicide rate among veterans.
Ironically, one of Trump's campaign promises was for veterans was that they would be able to bypass the VA and go wherever they wanted for treatment. That promise has yet to be fulfilled and almost certainly did not mean going to the marijuana dispensary for their medicine.
It's time for Congress to act on behalf of all veterans and Americans to legalize marijuana across the nation. Too many people are in jail, are going to jail, and are being charged with felonies for a plant—one that has demonstrated the power to treat pain, depression, addictions, and to prevent suicide.