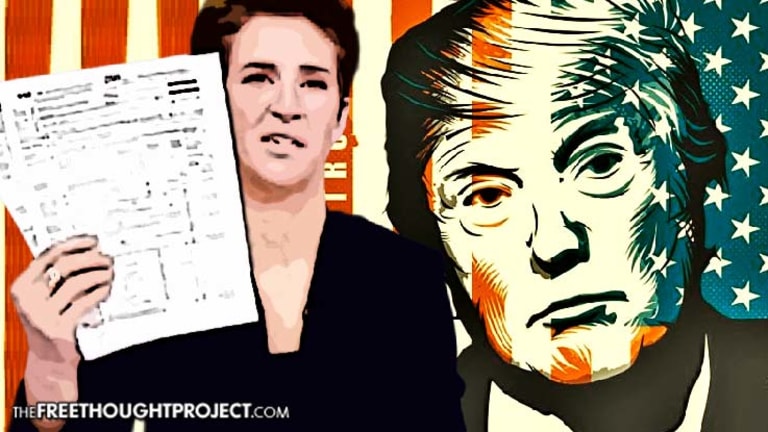 7 Stories Far More Important than Trump's Tax Returns
Trump's tax returns weren't the bombshell many imagined, but they are being used to distract Americans from far more serious issues.
MSNBC's Rachel Maddow detonated an explosive social media backlash upon the release of two of President Trump's sought-after IRS documents from 2005 on Tuesday evening had been predicted by many to evince fraud or corruption — but, instead, proved the billionaire business mogul paid a higher percentage in taxes than Mitt Romney or even socialist-leaning, Bernie Sanders.
With the American corporate press now fixated on Trump and his taxes — and whether or not the president personally mailed the fraught papers to Pulitzer Prize-winning journalist, David Cay Johnston — it would appear the only issue of import concerns an analysis of personal finance.
And while tax records can indeed expose unethical behavior and questionable dealings, the publicity surrounding Maddow's ostensively damaging report belied the mundanity printed in black and white for all to see — Trump's tax returns truly aren't that interesting, much less damning.
In fact, the imperious witch hunt to condemn the new president over taxes — an almost expected vein of contention for U.S. leaders in the 21st Century — recklessly forgets the number of explosive actions and revelations of the past several days.
This isn't to say Trump's tax history should not be fastidiously inspected, but with the following seven items abruptly dismissed by mainstream presstitutes — whose corporate sponsors would prefer the spotlight shift away from their wrongdoing — upon the airing of Maddow's paper tiger, a refresher on what else happened this week is imperative.
7. Cannabis Proves Yet Again It Could Solve the Opioid Epidemic
A recent study in a rapidly amassing body of evidence found states where medical cannabis has been made legal experience drastic reductions in the number of people hospitalized for opioid-related issues.
"Medical marijuana legalization was associated with 23% and 13% reductions in hospitalizations related to opioid dependence or abuse and [opioid pain reliever] OPR overdose, respectively; lagged effects were observed after policy implementation,"wrote the researchers from the University of California, whose study was published in the journal, Drug and Alcohol Dependency.
"This study demonstrated significant reductions on OPR- (opioid pain reliever) related hospitalizations associated with the implementation of medical marijuana policies. … We found reductions in OPR-related hospitalizations immediately after the year of policy implementation as well as delayed reductions in the third post-policy year."
Additionally, researchers learned upon studying data in hospital administrative records from 1997 through 2014, hospitalizations from cannabis-related maladies did not increase when weed became legal in those areas — contrary to what anti-marijuana, drug warrior officials want you to believe.
6. Yes, Fracking Can Contaminate Drinking Water
A former oil field worker, his father, wife, and daughter suffered serious injuries when a buildup of methane caused their pump house to explode in a fireball in 2014 — so the traumatized Texas family filed a lawsuit and set out to determine the precise cause of the blast.
Researchers commissioned by attorneys for Cody Murray and his family performed several studies of the incident, with an eye to the fracking industry and a nearby well — and discovered chemicals and gases from hydraulic fracturing can, indeed, travel through subterranean fissures and taint clean water.
"It's really incontrovertible,"asserted Murray family attorney Christopher Hamilton of the results of the studies. "Sometimes the science just overwhelms."
"The timing is undeniable, the location is undeniable, the chemistry of the gas is undeniable," Hamilton told local station WFAA. "This is not naturally occurring gas. This is gas that came from 4- to 6-thousand feet below the ground."
Although the controversial practice of fracking has been directly linked to relatively local increases in seismic activity — but the connection between drilling and contamination with gases, particulates, and chemicals had not been substantiated until these privately-funded analyses.
5. Trump Gave the CIA Permission to Use Drone Strikes
After the previous administration stifled the militaristic powers of the CIA — recently exposed by Wikileaks to be up to much more than simply spying on foreign agents — Trump reversed course and put the remote-controlled trigger back in the clandestine agency's eager hands.
On Monday, the Wall Street Journalreported the president gave the CIA "secret new authority to conduct drone strikes against suspected terrorists, U.S. officials said, changing the Obama administration's policy of limiting the spy agency's paramilitary role and reopening a turf war between the agency and the Pentagon."
Terming the new powers a "significant departure" from prior policy, the WSJ reported the move pertained primarily to military operations in Syria — but could expand to include other theaters.
Beyond proffering broad permissions for drone usage to the CIA, the "Trump administration is also giving the military more authority to conduct operations on its own without first getting a signoff from the Pentagon or the White House," the WSJ noted.
Wikileaks founder Julian Assange weighed in on the startling changes, tweeting,
"By handing unilateral power to the CIA over its drone strikes at this time White House signals that bullying, disloyalty & incompetence pays."
Considering massive expansions to the executive branch under Obama — specifically, the ability granted to U.S. presidents to order drone strikes against American citizens anywhere on the planet — a parallel increase in powers given to agencies as secretive as the CIA are anything but welcome.
4. Child Trafficking Rings Involving Government Officials Go Ignored
"It is a huge network of NGOs, nursing homes, doctors and middlemen dealing in illegal adoption and baby trafficking that the police have busted," explained Rajesh Kumar, Additional Director General for India's State's Criminal Investigative Department (CID).
An intricate networks of officials and others dealing in tragic commodity of children was exposed by authorities recently in India — but for as sickening as details of the case have been, American corporate media largely declined to cover the story.
As The Free Thought Projectreports, "Abortion clinics in the area were convincing mothers to give birth to their children in exchange for money ranging between $1,400 and $4,500 USD. Other birthing centers told mothers their children were stillborn, when they weren't, allowing the clinic to steal the babies for sale on the black market. The children were transported in bread baskets to nursing homes in the area where they would remain until they were sold into servitude, as sex slaves, or brothels [...]
"Additionally, investigators believe foreigners were buying the children. Currency from other countries was found at the same time the children were discovered. Several corpses and skeletons of infants were also unearthed in the raided businesses."
In Niger, a second trafficking operation was found to be supplying the nation's barren and impotent elite with children stolen from others to falsely claim as their own — being childless in Niger isn't culturally desirable.
From theories about "Pizzagate" to the fraught parental anecdotes of kidnapping by U.S. Child Protective Services, child trafficking, sexual exploitation, and pedophilia continue evidencing the ribald underbelly of the world's elite — but no matter how grievous the facts, you won't hear them from corporate media.
3. The Deep State Coup to Supplant Trump with Pence
Wikileaks founder Julian Assange suggested on Twitter Tuesday unspecified players have unhatched a plot to oust the new president in order to install Vice President Mike Pence in the Oval Office.
"Clinton stated privately this month that she is quietly pushing for a Pence takeover. She stated that Pence is predictable hence defeatable," Assange tweeted, adding,
"Two IC officials close to Pence stated privately this month that they are planning on a Pence takeover. Did not state if Pence agrees."
Some critics write off the idea of a Deep State as the stuff of tinfoil, basement theory — but Assange joins a number of former U.S. officials and government whistleblowers calling attention to the slow-paced but decisive coup fomenting just outside public purview
Zero Hedge aptly summarized of the rumored takeover by Pence that the American people now stand at a fork in the road:
"The first path involves Trump giving in and adopting an anti-Russian agenda, as is already apparent in his decision to send more ground troops to Syria alongside Saudi troops, who will intentionally oppose the Syrian regime (a close ally of Russia). The second involves the possibility of another direct coup within the Trump administration, this time one that may ultimately force Trump out of the White House so he can be replaced by Mike Pence, a war hawk who will be more than happy to do the job Hillary Clinton wanted to do."
Pence denied the allegation as 'absurd.'
2. Monsanto Secretly Authored Studies Giving RoundUp Safe Reviews
Agrichemical behemoth Monsanto's flagship weedkiller, RoundUp — whose primary ingredient, glyphosate, is deemed a probable human carcinogen — remains the most pervasive agrichemical on the planet, and is the subject of a class-action lawsuit by several people who say they developed non-Hodgkin's lymphoma from its use.
While the mega-corporation insists its star product presents no threat to humans, animals, or the environment, newly revealed internal documents show Monsanto ghost wrote critical studies — erasing any neutrality in analyses of RoundUp.
"The court documents included Monsanto's internal emails and email traffic between the company and federal regulators," the New York Timesreported. "The records suggested that Monsanto had ghostwritten research that was later attributed to academics and indicated that a senior official at the Environmental Protection Agency had worked to quash a review of Roundup's main ingredient, glyphosate, that was to have been conducted by the United States Department of Health and Human Services."
Court documents also revealed bitter infighting at the EPA over glyphosate and the credibility of certain studies.
Although the World Health Organization and many others have warned against RoundUp's active ingredient for years — especially concerning its probable cancer link — debate rages on, driven largely by Monsanto's deep pockets and interest in keeping the herbicide on the shelves.
1. … And Yes, We're Still Marching Toward War
Recently, the U.S. military began bombing Yemen again for the first time since the death of Navy SEAL William 'Ryan' Owens — and the aggressive campaign shows heightened use of military powers by the new president.
Syria, where the U.S. has been bogged down for months on end in proxy wars fighting to depose the administration of President Bashar al-Assad, will now see at least 1,000 additional American boots on the ground.
Russian and American troops now occupy the streets of the same Syrian city, as intense anti-Russian hysteria continues spewing from the mouths of politicians in Washington, who seem eager to spark World War III — no matter the deadly consequences.
In fact, the morass in the Middle East is perhaps only paralleled in complexity and the need for caution as the steely face-off among several nations over the disputatious waters of the South and East China Seas.
U.S. defense systems have now been deployed to South Korea, as that nation fears encroachment from North Korea — but ballistic missile tests by Pyongyang have also sounded alarm bells for nearby China, whom Taiwan now views as a growing threat.
So fraught are both regions of conflict, a sufficient explanation for either could not possibly be provided in one article — but it would be wise to note the U.S. often achieves large scale troop deployments by sending smaller numbers to their destination at a time.