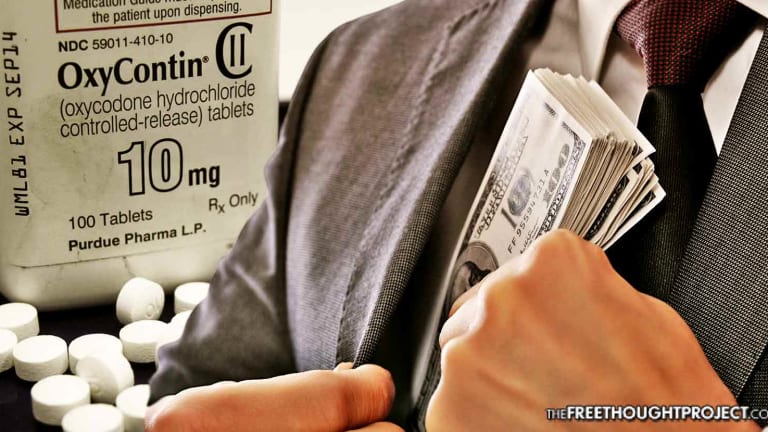 Trump's Drug Czar Pick Exposed For Being on Big Pharma's Payroll
President Trump's choice for U.S. drug czar is opposed to cannabis and CBD, and is known for his unscrupulous ties to the pharmaceutical industry.
President Donald Trump's reported choice to serve as Director of the Office of National Drug Control Policy has raised alarm concerning conflict of interest, as his top pick has been criticized for protecting and benefiting from the pharmaceutical industry.
The ONDCP is responsible for most of the shaping of U.S. drug policy and will also be "providing administrative support" for Trump's newly-created special commission to combat the opiate crisis. Trump's top choice, Pennsylvania Congressman Tom Marino, is expected to resign from Congress to become the country's "drug czar."
For those who seek to genuinely hold the pharmaceutical industry accountable for its role in the country's opiate crisis, Marino is a perilous choice. The International Business Times has uncovered troubling background of Marino's relationship with the pharmaceutical industry, particularly regarding donations.
According to IBT, Marino "would come to the job after pulling in big money from an industry that is producing and distributing the nation's most deadly legal drugs. Marino has received more than $150,000 in donations from the pharmaceutical industry in his political career, including $71,000 for the 2016 election, according to records at Maplight.org and Opensecrets.org. The data show Marino has received more money from the pharmaceutical industry than any other sector."
While he has yet to comment on his reception of those hefty donations, Marino is also responsible for establishing the Ensuring Patient Access and Effective Drug Enforcement Act, which essentially hinders the DEA's ability to go after drug companies that have made profits in the midst of the opiate epidemic.
Before its passage, DEA Deputy Assistant Administrator Joseph Rannazzisi was vocal about his opposition to the bill, warning that if the bill "passes the way it's written we won't be able to get immediate suspension orders, we won't be able to stop the hemorrhaging of these drugs out of these bad pharmacies and these bad corporations."
Following Rannazzisi's criticisms, Marino sought to have the Justice Department investigate Rannazzisi and "whether Rannazzisi had tried to 'intimidate' members of Congress," according to IBT. The Los Angeles Times reported that the bill "allows companies accused of failing to report suspicious orders of dangerous drugs to submit a 'corrective action plan' to persuade the Drug Enforcement Administration to postpone or abandon proceedings against them. The law also raises the bar for the DEA to temporarily suspend their licenses."
The Los Angeles Times added that this bill was well supported by "manufacturers, wholesalers and pharmacy chains, including some targeted by the DEA in recent years for not doing enough to keep drugs from addicts and drug dealers."
It's quite clear that Marino has benefitted from big pharma's large donations and has experience in helping shape drug policy that effectively protects the industry.
In addition to his political cordiality with the industry, Marino has shown through his time in Congress that he is opposed to pro-cannabis legislation. "In Congress, Marino voted multiple times against a bipartisan measure to prevent the Justice Department from going after state-legal medical marijuana businesses," The Cannabist reported.
"Similarly, he voted against a measure to allow Veterans Affairs doctors to recommend medical marijuana to their patients, as well as against a separate measure to loosen federal restrictions on hemp," the publication noted, and "also voted against a measure that would loosen some restrictions on CBD oil, a non-psychoactive derivative of the cannabis plant that holds promise for treating severe forms of childhood epilepsy." Marino has been quoted as showing support for continued research of cannabis, but ignorantly remains opposed to legalization without "a really in depth-medical scientific study."
Maj. Neill Franklin (Ret.), a 34-year Baltimore and Maryland State Police Department veteran and the executive director of Law Enforcement Action Partnership, offered the following statement in response to Marino's tentative appointment: "Any drug czar in-step with the majority of Americans would end the War on Drugs and invest in treatment and harm reduction. Our top priority should be funding supervised injection facilities and heroin maintenance programs, and making treatment and other harm reduction services widely available and affordable. If done properly, it'll be cheaper and more effective than any drug enforcement efforts of the past 50 years."