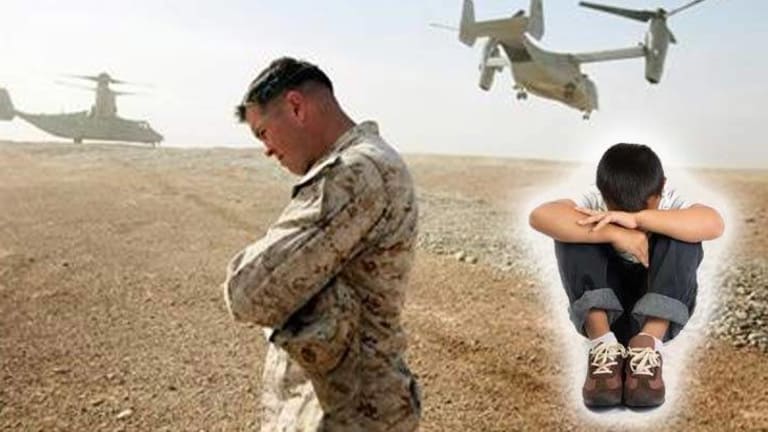 Soldiers Told they Must Accept Sexual Abuse of Boys by US-Backed Allies, or Face Punishment
U.S. soldiers in Afghanistan who witnessed horrific pedophilia and brutal sexual assaults on children are being told by their superiors to keep their mouths shut.
Kabul, Afghanistan – According to a bombshell report by The New York Times, U.S. soldiers stationed in Afghanistan often witnessed acts of sexual abuse committed by Afghan commanders against local boys. If that's not horrifying enough, it's been revealed that they were told to look the other way and keep quiet about it.
Scores of witnesses have come forward to report the rampant sexual abuse committed by their Afghan allies. One of these soldiers, Lance Cpl. Gregory Buckley could hear Afghan boys being sexually abused by Afghan police officers at night on his military base in southern Afghanistan.
"At night we can hear them [Afghan boys] screaming, but we're not allowed to do anything about it," Lance Corporal Gregory Buckley Jr. reportedly told his father prior to his death in 2012.
Gregory Buckley Sr. told his son to report the depraved sexual violence to his commanders, to which his son told him that due to cultural considerations he was told to ignore the abuse.
"My son said that his officers told him to look the other way because it's their culture," Buckley Sr. told the Times.
Another U.S. solider spoke to the NYT on the condition of anonymity.
"I'm not a hundred percent sure what was happening under the sheet, but I have a pretty good idea of what was going on," the former Lance Corporal said.
Former Special Forces Captain Dan Quinn bluntly questioned the credibility of the entire U.S. mission in Afghanistan in light of the character of those we put into positions of power.
"The reason we were here is because we heard the terrible things the Taliban were doing to people, how they were taking away human rights…But we were putting people into power who would do things that were worse than the Taliban did — that was something village elders voiced to me," Quinn told the Times.
He raised extremely poignant realities of the American legacy being left in Afghanistan in light of these horrific abuse stories. He claims to have witnessed numerous cases of local boys and girls being abused by Afghan militia forces aligned with the U.S. government.
Quinn was relieved of his command after a fight with a U.S. backed militia leader that had been keeping a young boy chained to his bed as a sex slave.
According to the exclusive report by the New York Times:
Rampant sexual abuse of children has long been a problem in Afghanistan, particularly among armed commanders who dominate much of the rural landscape and can bully the population. The practice is called bacha bazi, literally "boy play," and American soldiers and Marines have been instructed not to intervene — in some cases, not even when their Afghan allies have abused boys on military bases, according to interviews and court records.

The policy has endured as American forces have recruited and organized Afghan militias to help hold territory against the Taliban. But soldiers and Marines have been increasingly troubled that instead of weeding out pedophiles, the American military was arming them in some cases and placing them as the commanders of villages — and doing little when they began abusing children.
The fact that decorated commanders are having their careers ruined for standing up against the sexual abuse of children boggles the mind.
The military is currently attempting to forcibly retire another Special Forces member, Sgt. First Class Charles Martland, who participated in the assault on the Afghan commander with Captain Quinn. Martland now has political defenders coming to his aid.
"The Army contends that Martland and others should have looked the other way (a contention that I believe is nonsense)," California Representative Duncan Hunter, wrote last week to the Pentagon's inspector general.
While there is a certain amount of validity to being conscientious of local cultures and customs, there are also certain practices that are simply unacceptable, such as forced sex with children. Furthermore, many dispute that this is even a cultural practice, and claim that it is simple and outright sexual abuse done under the guise of a cultural practice.
According to the Times report:
But the American policy of treating child sexual abuse as a cultural issue has often alienated the villages whose children are being preyed upon. The pitfalls of the policy emerged clearly as American Special Forces soldiers began to form Afghan Local Police militias to hold villages that American forces had retaken from the Taliban in 2010 and 2011.

By the summer of 2011, Captain Quinn and Sergeant Martland, both Green Berets on their second tour in northern Kunduz Province, began to receive dire complaints about the Afghan Local Police units they were training and supporting.
Regardless of the cultural history the U.S cannot tacitly approve of pedophilia and sexual slavery. Some actions cannot be allowed to continue to exist in the modern world.
While some would argue that this is Western cultural imperialism, the reality is that stopping violent authoritarian aggression against defenseless children takes moral precedence over some archaic cultural tradition.
Jay Syrmopoulos is an investigative journalist, free thinker, researcher, and ardent opponent of authoritarianism. He is currently a graduate student at University of Denver pursuing a masters in Global Affairs. Jay's work has been published on Ben Swann's Truth in Media, Truth-Out, AlterNet, InfoWars, MintPressNews and many other sites. You can follow him on Twitter @sirmetropolis, on Facebook at Sir Metropolis and now on tsu.