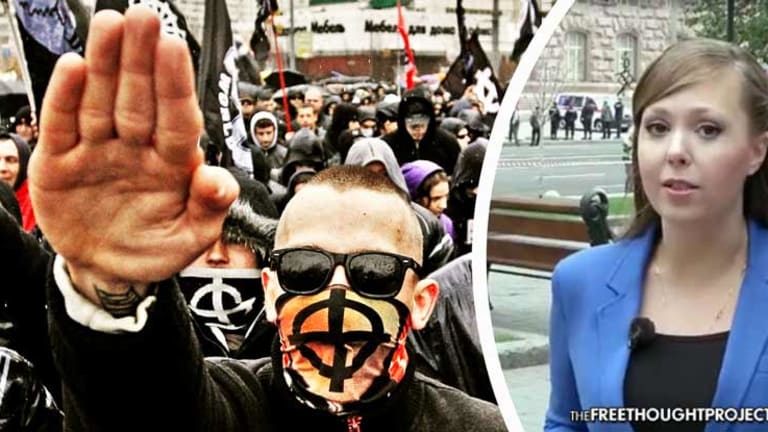 US-Backed Neo-Nazis Kidnap Journalist in Broad Daylight for Reporting on Gov't Corruption
The kidnapping and deportation of a journalist in Ukraine exposes the extreme lack of democratic values in the US-backed neo-Nazi regime.
Kiev, Ukraine – In yet another glaring example of the lack of democratic values present within the US-backed neo-Nazi Ukrainian puppet government, Anna Kurbatova, a reporter for Russia's Channel 1, was kidnapped off the streets of Kiev in broad daylight by Ukrainian security services.
The journalist was then forcefully deported from Ukraine and barred from entering the country for three years for "smearing" the Ukrainian government, according to a security service spokesman. Kurbatova was "grabbed by unknown assailants, forced into a car and driven away," according to a Channel 1 spokesperson.
Russia was quick to condemn the actions of the US-backed Ukrainian neo-Nazi government, as the Russian Foreign Ministry noted that they are closely monitoring the situation.
"At the moment we don't have information, but, undoubtedly, we'll do our best to clarify the situation," Russian presidential spokesman Dmitry Peskov told reporters.
"The abduction of the Channel 1 journalist Anna Kurbatova in Kiev on August 30 and her compulsory deportation to Russia is clearly not an accidental occurrence, but a deliberate provocation launched by the Ukrainian law enforcement and nationalist radicals," the Russian Foreign Ministry's information and press department said in a statement.
Additionally, the Russian Foreign Ministry pleaded with international human rights organizations to closely monitor the repressive state of freedom of the press in Ukraine.
"We draw the attention of international human rights organizations and other structures, designed to protect freedom and independence of the media, to the disgraceful attitude towards journalists in Ukraine. We hope for their appropriate response and practical steps regarding the outrageous actions of the Kiev authorities."
According to international human rights organization, Human Rights Watch:
In just over a month, the Security Services of Ukraine (SBU) have expelled or denied entry to at least five foreign journalists – three from Russia and two from Spain – for allegedly engaging in anti-Ukrainian "propaganda."

"The Ukrainian government's practice of accusing journalists of anti-Ukraine bias, then expelling them or denying them entry, is a serious violation of its international human rights commitments," said Tanya Cooper, Ukraine researcher at Human Rights Watch. "Barring journalists is short-sighted and vindictive, and undermines Ukraine's pledges on democratic reforms and the rule of law."
Mind you, the term neo-Nazi, when referring to the Ukrainian regime, is not a simple euphemism – but an actual assessment of belief systems. The BBC gave a nuanced look at the phenomena of neo-Nazis within the Ukrainian government:
This hyper-sensitivity and stonewalling were on full display after President Petro Poroshenko presented a Ukrainian passport to someone who, according to human rights activists, is a "Belarusian neo-Nazi."

Among the recipients was Serhiy Korotkykh, a Belarusian national, to whom Mr Poroshenko awarded Ukrainian citizenship, praising his "courageous and selfless service."

Experts who follow the far right have strongly objected to President Poroshenko's decision. They say Korotkykh was a member of the far-right Russian National Unity party and also a founding member of the neo-Nazi National Socialist Society (NSS) in Russia.

According to Ukrainian academic Anton Shekhovtsov, the NSS's main goal "is to prepare for a race war".

Shekhovtsov said the Belarusian had been charged for involvement in a bombing in central Moscow in 2007, and was detained in 2013 in the Belarusian capital Minsk for allegedly stabbing an anti-fascist activist. He was later released for lack of evidence.

As Korotkykh's case demonstrates, the ultra-nationalists have proven to be effective and dedicated fighters in the brutal war in the east against Russian-backed separatists and Russian forces, whose numbers also include a large contingent from Russia's far right.

As a result, they have achieved a level of acceptance, even though most Ukrainians are unfamiliar with their actual beliefs.

The volunteer Azov Battalion is a case in point.

The Azov battalion seems to enjoy the support of several top officials

Run by the extremist Patriot of Ukraine organisation, which considers Jews and other minorities "sub-human" and calls for a white, Christian crusade against them, it sports three Nazi symbols on its insignia: a modified Wolf's Hook, a black sun (or "Hakensonne") and the title Black Corps, which was used by the Waffen SS.

Azov is just one of more than 50 volunteer groups fighting in the east, the vast majority of which are not extremist, yet it seems to enjoy special backing from some top officials:

Interior Minister Arsen Avakov and his deputy Anton Gerashchenko actively supported the parliament candidacy of Andriy Biletsky, the Azov and Patriot of Ukraine commander.

Vadim Troyan, another top Azov official and Patriot of Ukraine member, was recently named police chief for the Kiev region.

Korotkykh is also an Azov member.
Are you starting to get the picture yet?
Essentially, the Ukrainian government's political terror machine—backed with the support of the United States—is moving to crush any free thinking small shoots of independent opinion and any evaluations of current events, made on their own by political parties, public organizations, journalists or writers. Hiding behind the cover of slogans about European values, democracy and the rule of law, in reality, the institutions of state power in Ukraine are acting through law enforcement agencies and neo-Nazi battalions, to carry out a systematic destruction of any dissidence.
Not only did the Ukraine admit to these crimes but they openly bragged about kidnapping others who dare criticize the state.
A Security Service of Ukraine (SBU) spokesman confirmed that the Kurbatova was detained by the organization's operatives, and will be deported from Ukraine to Russia, while threatening similar treatment for anyone who dares speak the truth about the Ukrainian neo-Nazi regime.
"Russian propagandist Anna Kurbatova will be forcibly returned to the Russian Federation. Ukraine is a constitutional state, its security services operate strictly within the legal framework. All necessary documents for her deportation are being prepared at the moment. It will happen to everyone who dares to smear Ukraine," the spokesperson said in a Facebook post.
Russian Human Rights Commissioner, Tatyana Moskalkova, contacted her Ukrainian counterpart, following the snatch and grab of Kurbatova, to determine whether the security services are operating within the rule of law.
"I've just sent a request to my colleague Valeria Lukyanova asking her about the location [of the journalist], her health condition and the consular visit, i.e. whether all the conventions are being observed if she has been detained by law enforcement," Moskalkova told Interfax.
"I'm outraged and deeply worried about the treatment of journalists. Freedom of speech is protected not only by states' constitutions, but also by international legal acts, journalists worldwide are independent and have immunity."
An SBU spokesperson later confirmed that the Russian journalist had been forcibly deported.
"Russian propagandist Anna Kurbatova, against whom a decision of forcible deportation from Ukraine was made, has crossed the Ukrainian-Russian border. She is barred from entering the territory of our country for three years," an SBU spokesperson added.
Prior to her kidnapping and deportment, Kurbatova had received death threats connected to her reporting and was placed on a list of "enemies of Ukraine" on a website that lists journalists the neo-Nazi regime accuses of "anti-Ukrainian propaganda" and "manipulating socially-important information."
Additionally, just prior to her being snatched by the SBU, Kurbatova had been working on a report highlighting the ill-treatment of journalists in Ukraine, which has not yet aired.
As noted previously, in early August, another journalist, Tamara Neresyan, reporting for the All-Russia State Television and Radio Broadcasting Company (VGTRK), was deported following a very similar incident.
"I was detained in the street and promptly brought to the main SBU office, where I was questioned for three hours. They confiscated my phone, it was done very roughly, nearly breaking my arms. Following the questioning they read me a resolution of the SBU that I would be deported and barred from re-entry for three years," Neresyan told Rossiya 24 TV channel.
Make no mistake that the US is willing to fund and arm anyone that forwards their geopolitical interests, whether neo-Nazis in Ukraine or al-Qaeda's army in Syria, Jabat al-Nusra. Under the guise of spreading democracy and freedom, the US continually supports some of the most extremist elements in the world.
The US obviously operates under the treatise of "the enemy of my enemy is my friend," in a continual struggle to embolden American hegemony, while attempting to propagandize their own citizens into supporting these radical elements by calling them freedom fighters or moderate rebels.
Please share this important information to wake others up to the dangerous game of supporting extremists elements being played by the United States government!