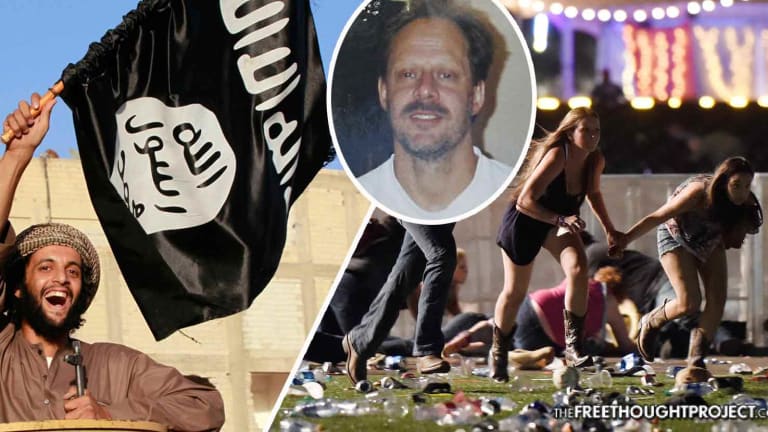 WATCH: Congressman Says He Has 'Credible Evidence' 'Terrorists' Involved in Vegas Massacre
A GOP lawmaker has come forward to note that he has "credible evidence" the US southern border was infiltrated in relation to the Vegas Massacre.
The Vegas massacre, which is now being referred to as 1 October, has only gotten stranger as things progress. As TFTP reported on Thursday, the police have just entirely contradicted themselves and released information that there are multiple suspects in the shooting. Adding even more mystery to the already muddy waters of this tragedy, however, on Thursday, Republican lawmaker Scott Perry (R-PA) told reporter Tucker Carlson he has evidence ISIS may be involved in the deadly attack.
During the interview, Perry said that he was recently given credible evidence to suggest that Islamic State forces infiltrated the southern US border and were somehow involved in this incident.
"Recently I've been made aware of what I believe to be credible evidence regarding potential terrorist infiltration through the southern border regarding this incident… Twice before the attack ISIS warned the United States they would attack Las Vegas. In June and August. And then after the attack claimed responsibility four times… Something's not adding up… I'm just telling you I have received what I feel to be and believe to be credible evidence of a possible terrorist nexus..."
As TFTP noted in October, the day after the shooting, the Islamic State immediately claimed responsibility for the violence.
According to the Independent:
A statement published by the group's Amaq propaganda agency claimed the attacker was a "soldier of the Islamic State".

"The Las Vegas attacker is a soldier of the Islamic State in response to calls to target coalition countries," it said.

In a second statement, Isis claimed the gunman "converted to Islam several months ago".

The wording of the release is similar to other attacks that have been inspired, rather than directed, by Isis.

The claim, which cannot be independently verified, came days after Isis released a speech purporting to be from the group's leader.
Adding to the credibility of the ISIS claim, the group released a propaganda video last year, calling for lone wolf attackers—and featuring footage of the Las Vegas Strip, that they took in 2015.
The 44-minute long video called on its supporters to conduct attacks with any weapons they could find. It also featured footage of New York City and Washington D.C.
As TFTP reported in November, the predictions of attacks in New York also took place.
The video's release prompted police in Las Vegas to go on high alert. This alert was still ongoing when the shooting took place.
As Newsweek reported, the FBI's Las Vegas field office told Fox News in a statement following the video's publication that it was working with "international law enforcement, intelligence, and security services agencies to share information and intelligence."
A spokesperson for the Las Vegas Metropolitan Police Department said: "We are always concerned when Las Vegas is mentioned by groups or individuals who subscribe to the idea of committing violence to further their cause.
"Our city has been mentioned in similar videos and publications but this most recent video should serve as a reminder to remain vigilant and to report any suspicious activity."
Naturally, this claim by ISIS could very well be lies and propaganda as an attempt to sew discord as they use this senseless violence to their advantage. However, when an actual Congressman comes forward, it may be time to pay attention.