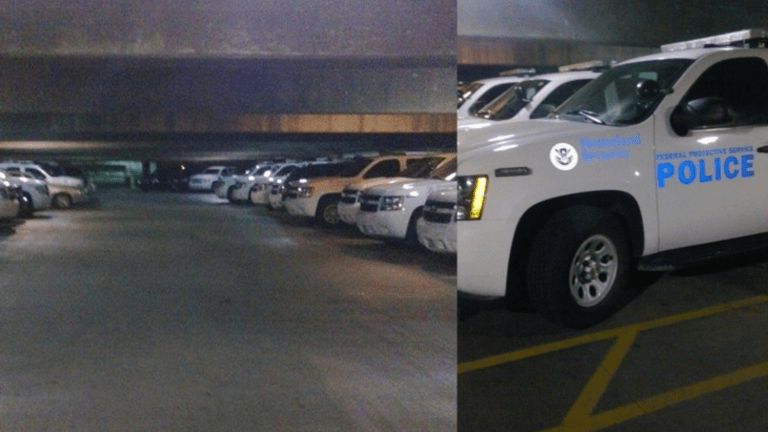 Veteran Fired And Called A Terrorist For Photographing Homeland Security Vehicles Near Ferguson
Chesterfield, Missouri - Earlier this week, 28-year-old Mark Paffrath was fired from his job at the Drury Plaza Hotel in Chesterfield because he photographed hundreds of Department Of Homeland Security vehicles that were parked in the hotel parking garage.
Paffrath has been working at the Drury Plaza Hotel as a Houseman for over a year, and before that he had spent a number of years in the Middle East with the US military.
When Paffrath went into work on Thursday, he noticed that the parking garage was filled with government vehicles, and he found this to be a bit strange, especially considering the recent tensions in the nearby town of Ferguson.
Paffrath then took two photographs and one short video of what he was seeing, and posted the evidence to his Facebook page with a caption that said "why are all the cop cars here...I wonder if it has anything to do with Ferguson."
The next day,Paffrath was called into his manger's office and was told that he had to remove the posts from his Facebook page. Paffrath complied with his manager's demands and thought that the issue was over. However, the very next day he was called into the office again, but this time, his manager was joined by Jim Bohnert, Director of Security for the Drury Hotels Company.
Paffrath was told by Bohnert that the Hotel company has a $150,000 contract with the Department of Homeland Security, which was put into jeopardy by Paffrath's Facebook posts.
Mark said that he was then fired, and was told by Mr. Bohnert that he was a terrorist, and that he "dishonorably served his country" by posting the photos and video. Bohnert then allegedly threatened Paffrath with arrest if he decided to go back and repost the videos.
After Paffrath was fired, management wrote a post on the staff white-board that said "The Department of Homeland Security Group: Confidential in nature, which means brag to your family about it after they check out".
Below you can see the photos that Paffrath took in the parking garage:
Post by Mark Paffrath.
Post by Mark Paffrath.
Below is an interview with Mark Paffrath just after he was fired for making the posts:
John Vibes is an author, researcher and investigative journalist who takes a special interest in the counter culture and the drug war. In addition to his writing and activist work he is also the owner of a successful music promotion company. In 2013, he became one of the organizers of the Free Your Mind Conference, which features top caliber speakers and whistle-blowers from all over the world. You can contact him and stay connected to his work at his Facebook page. You can find his 65 chapter Book entitled "Alchemy of the Timeless Renaissance" at bookpatch.com.