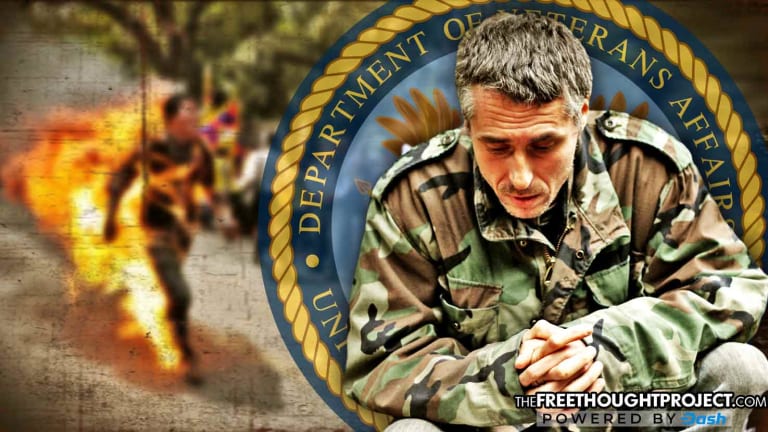 Veteran Sets Himself on Fire In Front of Capitol to Protest Horrific Treatment by the VA
A veteran protesting the VA, burned 90 percent of his body when he strapped homemade incendiary devices to himself and covered himself in flammable liquid.
Atlanta, Georgia – In a horrific scene that was meant to raise awareness about the cruel treatment he endured from the Department of Veterans Affairs, an Air Force Veteran used a combination of fireworks and gasoline to set himself on fire.
John Michael Watts, 58, approached the Georgia Capitol in downtown Atlanta around 10:45 a.m. on Tuesday and within minutes, he was engulfed in flames that burned 90 percent of his body.
Georgia State Patrol Capt. Mark Perry told the Atlanta Journal-Constitution that Watts appeared to have attached "homemade incendiary devices and firecrackers" to his body and covered himself in "some kind of flammable liquid" and then "attempted to set himself on fire."
"Almost simultaneously, one of the Capitol Troopers saw what was happening and came out, and actually had a fire extinguisher and was able to douse him pretty quickly," Perry said. "The subject has now been transported to Grady [Memorial Hospital] via EMS."
A witness to the event, Kent Beasley, told Fox 5 Atlanta that the flames erupted suddenly, and it seemed as though Watts had been planning to make it to the top of the Capitol's steps before he lit himself on fire. "By the time he got up to the Capitol, try to go up the steps he couldn't make it. So I guess the cigarette fell over in the fireworks and it started exploding and I look back over there and he was on fire," he said.
In his report of the incident, Director of Georgia Public Safety, Col. Mark McDonough said, "We have somebody who claims to be a veteran that is disgruntled with treatment by the VA. He was protesting that to the extent, that he caused bodily harm to himself."
While Watts' demonstration has garnered national media coverage because of the extensive burns he suffered, and the dramatic scene it caused in Atlanta as police searched for other explosives, his message should not go unnoticed.
The details of Watts' personal experience with the VA may not be public right now, but he is just one of the hundreds of thousands of veterans who have been denied proper treatment by the VA. In 2015, a leaked document showed that more than 238,000 veteransdied waiting for treatment, according to the Department of Veteran Affairs' backlog.
"VA wants you to believe, by virtue of people being able to get health care elsewhere, it's not a big deal. But VA is turning away tens of thousands of veterans eligible for health care. VA is making it cumbersome, and then saying, 'See? They didn't want it anyway,'" Scott Davis, a VA program specialist who leaked the documents, told the Huffington Post.
Even if veterans are not in need of urgent care, thousands are still suffering from extreme poverty and homelessness. According to estimates from the Department of Housing and Urban Development, nearly 50,000 veterans are homeless on any given night.
The number of veterans who turn to suicide to end their suffering after they return from war with crippling cases of PTSD, depression, and anxiety, is only getting worse. According to recent reports from the VA, although they only account for 8 percent of the total population in the United States, veterans make up more than 14 percent of all suicides, and "veterans are twice as likely as civilians to die by suicide."
"In 2015, an average of 20.6 active-duty service members, nonactivated Guard or Reserve members, and other veterans died by suicide each day," the report said.
All the while, the VA continues to prescribe pharmaceutical drugs with alarming and dangerous side effects, while denying access to the natural medicine that has saved many veterans from ending their lives.
John Michael Watts did not attempt to harm anyone other than himself, and the idea that he would risk burning himself to death, just to raise awareness about the pain and suffering he has endured at the hands of a government agency that has failed veterans across the country, serves as a reminder that it is up to Americans to start speaking up about ending the biggest wars that have harmed countless veterans for decades—the War on Drugs and the War on Terror.