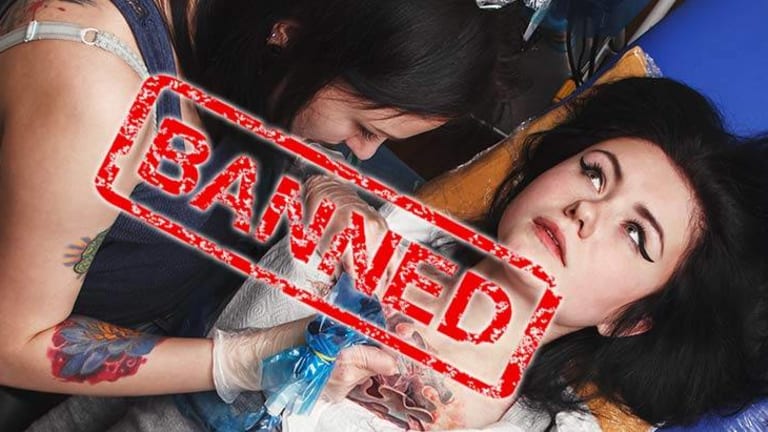 The Department of Health in D.C. is Quietly Outlawing Tattoos and Body Piercings
Tattoo artists and piercers are fighting back against new regulations that effectively outlaws their industry.
Washington, D.C. -- Tattoo artists and piercers in the Washington D.C area are fighting back against new regulations that would effectively outlaw their industry. In addition to putting sweeping restrictions on the type of work they can do, and the type of equipment that they can use, the proposed legislation would also force body artists and the companies that make their equipment, to register with the Washington D.C. Department of health.
However, many D.C. area artists have pointed out that there are very few suppliers that are actually from the D.C. area, which means that a company who supplies equipment or needles from another state or country would not be legally allowed to sell to artists in D.C. Furthermore, the artists also say that there is currently no way for them to actually register with the health department, meaning that it would be impossible for them to do their work legally.
One part of the legislation states that:
"601.1 No person shall furnish or offer to furnish body art equipment, devices, inks, pigments, or supplies, in the District without a valid body art service provider registration issued by the Department.

601.2 No operator shall use a body art supplier or manufacturer unless the supplier or manufacturer possesses a valid body art supplier or manufacturer registration issued by the Department as specified in Subsection 601.1.

601.3 No operator shall purchase disposable, single-use, pre-sterilized instruments and supplies in the District from a vendor without a valid medical supplier's registration issued by the Department as specified in Subsection 312.1(b)."
A recent petition posted by D.C. area artists explains why this a problem:
The problem is that there are no suppliers registered with the DOH and there is no method of registration available.

Let's take, for example, a tattoo machine builder who lives and works in Europe - he has decades of experience and produces high quality working tools for the professional tattooist.
His machines are illegal to use in Washington D.C.

The largest tattoo and piercing supply companies in the world are not registered in D.C. and the equipment and supplies they furnish to the professional body artists in the city are now illegal to use.

The Department of Health has effectively outlawed tattooing and body piercing in The District of Columbia.
According to the petition, the new rules would force artists to use lower quality equipment that is produced locally in the Washington D.C. area if they wanted to operate legally. Last year, the government in D.C. attempted to pass a law that would require tattoo artists to wait 24 hours before working on a customer, but the proposal was abandoned because there was a massive public backlash against the idea.
The public comment period will be open for the next month, but will end on November 8th 2015. The artists who are standing against the proposal are asking supporters to send their comments to Angli Black of the D.C. Health Department, at (202) 442-5977 or email at [email protected]
John Vibes is an author, researcher and investigative journalist who takes a special interest in the counter-culture and the drug war. In addition to his writing and activist work, he organizes a number of large events including the Free Your Mind Conference, which features top caliber speakers and whistle-blowers from all over the world. You can contact him and stay connected to his work at his Facebook page. You can find his 65 chapter Book entitled "Alchemy of the Timeless Renaissance" at bookpatch.com.