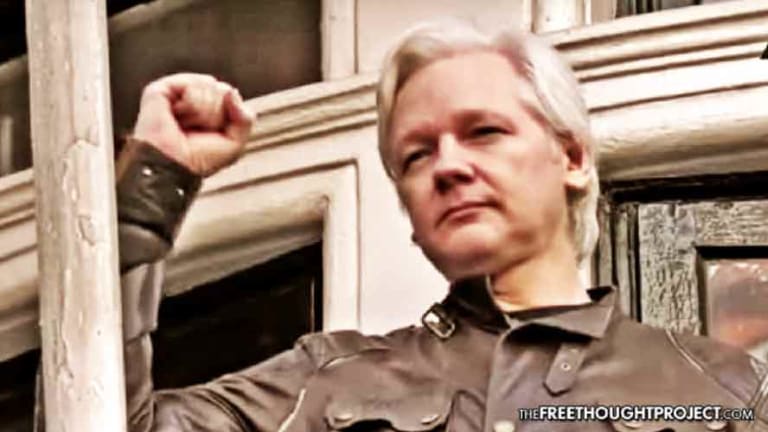 WATCH: 'I will not forgive or forget': Assange Speaks for First Time Since Charges Dropped
Assange, while he is happy that the charges have been dropped, has noted that we still have a long way to go and that he does not forgive.
London, UK - On Friday, WikiLeaks founder Julian Assange addressed the public for the first time since rape charges were dropped by Swedish authorities. Since 2012, Assange has been living in the Ecuadorian Embassy in London under asylum, understanding that the Swedish arrest warrant was simply a pretext to a subsequent extradition to the U.S. under a secret sealed indictment.
"Today is an important victory for me, and for the UN human rights system. But it by no means erases seven years of detention without charge – in prison, under house arrest, and almost five years here in this embassy without sunlight," Assange said from the balcony of the Ecuadorian embassy.
"Seven years without charge, while my children grew up without me. That is not something that I can forgive, it is not something that I can forget.
"The inevitable inquiry into what has occurred in this moment of terrible injustice is something that I hope will be more than just about me, and this situation, because the reality is, detention and extradition without charge has become a feature of the EU.
"A feature which has been exploited, yes, in my case, for political reasons, but for other cases have subjected many people to terrible injustices."
Assange stated that "while today was an important victory, an important vindication," the "the war is far from over."
He says, "WikiLeaks will continue publication," but noted that he was happy to engage in dialogue with the U.S. Department of Justice.
"While US has made extremely threatening remarks, always happy to engage in dialogue over what has occurred."
"My staff, my legal staff, have contacted the UK authorities and we hope to engage in a dialogue about what is the best way forward.
"To some extent the UK has been exploited by the process it entered into with the EU, where it agreed to extradite people without charge.
"That is to extend a forced position the UK has been put into. And, the first part of that is over. The UK refuses to confirm or deny at this stage whether a US extradition warrant is in the UK territory."
Assange went on to thank "Ecuador, its people, and its asylum system. They have stood by my asylum in the face of intense pressure."
He then took the opportunity to comment on the release of Chelsea Manning.
"We have had an even more important victory this week [and] that is the release of Chelsea Manning after seven years in military prison."
Assange also gave thanks to the UN human rights system as a last resort for people "bound up by our legal circumstances" dealing with the politics or geopolitics of states.
As the Free Thought Project previously reported, Julian Assange, for the last six years, has been persecuted and held captive because of rape allegations; allegations that we have now found out are entirely fabricated by police.
In December, Assange went public with his version of events surrounding the rape allegations for which he was arrested in 2010.
"Six years ago today, on 7 December 2010, I was handcuffed and locked into Wandsworth prison by order of a Swedish prosecutor, Marianne Ny," Assange explains in a testimony released on Wednesday. "I had not and still have not been charged with an offence. The claimed grounds for my arrest and extradition without charge were so that Ny could question me. But it was not until six years later - three weeks ago - that I was questioned for the first time. I have decided to release my responses."
In November, Assange was finally questioned aver a two-day period. However, as Assange points out, "my Swedish lawyer was excluded from the room in yet another breach of my basic rights." In spite of this unlawful questioning, today's dropped charges reveal the police never had a case in the first place.
In a 19-page statement, also released in December, Assange details the events leading up to his persecution, including being railroaded by the American, Swedish, English and Australian governments. The sentiment then was the same as it was today.
You have subjected me to six years of unlawful, politicized detention without charge in prison, under house arrest and four and a half years at this embassy. You should have asked me this question six years ago. Your actions in refusing to take my statement for the last six years have been found to be unlawful by the UN Working Group on Arbitrary Detention and by the Swedish Court of Appeal. You have been found to have subjected me to cruel, inhuman and degrading treatment. You have denied me effective legal representation in this process. Despite this, I feel compelled to cooperate even though you are not safeguarding my rights. I refer you to my statement where all these questions were answered.
Not coincidentally, all of these allegations of Assange's alleged sexual misconduct came after he began exposing the war crimes of the US government, after being leaked information by the heroic Manning.
Assange's victory today is a major one. But, like he said, we still have a long way to go to make truth the norm.