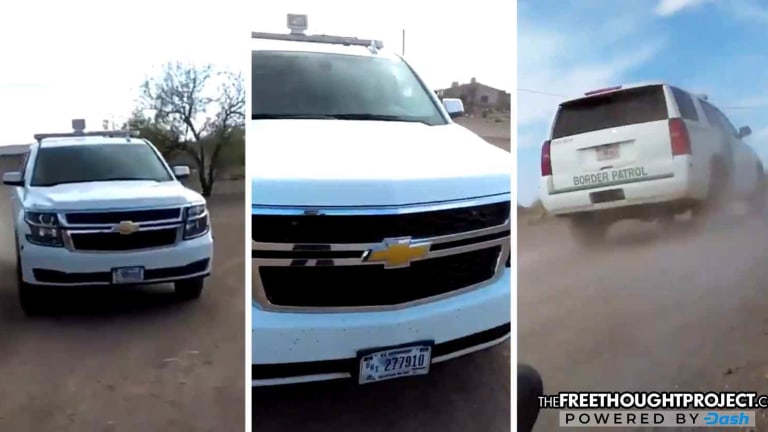 WATCH: Border Patrol SUV Runs Over Innocent Native American and Drives Off
Shocking video shows a US Border Patrol agent commit a hit and run, mowing down a Native American man and then speeding off.
Tucson, AZ — When a government wants its enforcers to carry out atrocious acts of violence and brutality against another component of humanity, that part of society or culture is dehumanized to the point that the enforcers can and will cause them grave harm with no regret. One such example of the harm caused by the dehumanization of another culture comes out of Arizona this week—in which a Native American was run down by U.S. Border Patrol—and it was captured on video.
A U.S. Border Patrol agent was caught on video apparently running down an innocent unarmed man with his SUV and, instead of stopping to help the man out, they drove off. The victim, a native American man, identified as Paulo Remes recorded the entire attempted vehicular homicide on his cell phone.
The shocking 37-second clip shows the border patrol agent speeding toward Remes as he walks down a dirt road. Instead of veering away, or slowing down, however, the unnamed border patrol agent rams him and drives off.
Remes is heard on the video reading off a series of letters and numbers that appear to be the identification numbers on the SUV.
"They just ran me over, bro. Yeah, they just ran me over, dude," Remes said. Although the video doesn't show what happened before Remes was run over, it appears to be entirely unjustified.
On Friday, Border Patrol officials responded to the video, noting that they are aware of it and are looking into it. The Tohono O'odham Police Department (tribal police) is also looking into the circumstances regarding the hit and run of a seemingly innocent pedestrian by a border patrol agent.
"We stress honor and integrity in every aspect of our mission," the statement from U.S. Border Patrol said. "We do not tolerate misconduct on or off duty and will fully cooperate with all investigations of alleged unlawful conduct by our personnel."
As AZ Central reports,
In addition, the Border Patrol said its internal watchdog office, the U.S. Customs and Border Protection Office of Professional Responsibility, is also investigating the incident and that more information would be released at a later time.

The clip was uploaded on Thursday to Twitter and Facebook, where it was widely shared.

The video also elicited largely critical responses from Tohono O'odham Nation residents, many of whom have frequently complained of Border Patrol harassment and increased militarization throughout the southern Arizona tribal nation, which includes 62 miles of international boundary.
Remes is a member of the Tohono O'dham tribe and is not an illegal alien. The tribe has about 34,000 enrolled members who live in a territory between the United States and Mexican border. They control about 2.8 million acres in Arizona.
Tribal members pointed out that this is the second such time a border patrol agent has run down one of their fellow Native Americans. In that instance, Border Patrol agent, Cody Rouse ran over and killed a Tohono O'odham teenager, Bennett Patricio—and he did so with impunity. In 2006, a federal judge cleared Rouse of any wrongdoing in the 2003 incident.
If history is any indicator, it appears that this case will play out in the exact same manner.
Below is the deeply disturbing video showing what happens when government teaches its enforcers to only respect the lives of others if they tell them to.