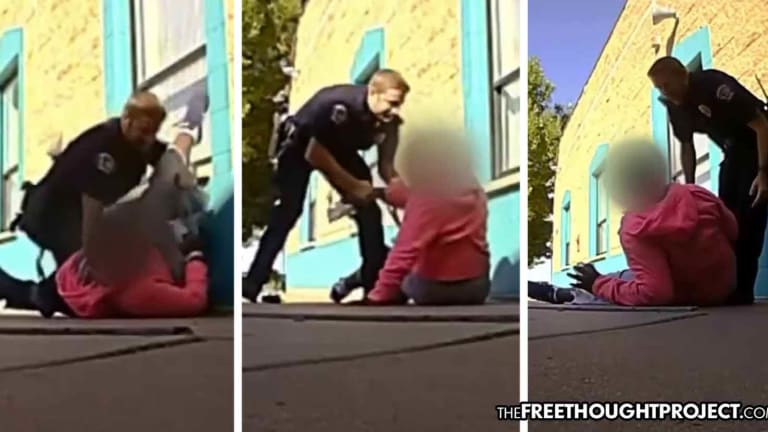 WATCH: Cop Beats Up 11yo Special Needs Girl, Claims 'She Was Stronger than Me' — NO JAIL
Despite pleading guilty, a school cop avoided jail this week for savagely attacking an 11-year-old girl with special needs, claiming she was stronger than him.
Farmington, NM — A veteran Farmington police officer was allowed to quietly resign in a move to escape accountability after horrifying video footage showed him attacking an 11-year-old girl with special needs. At the time, he likely thought he got away, but thanks to pressure from accountability activists, former Farmington police officer Zachary Christensen was found guilty for his crimes in November. However, as TFTP often points out, even when cops are found guilty, they seldom see the inside of a jail cell, and Christensen was sentenced to probation.
In November, Christensen pleaded no contest to a felony charge of child abuse and a misdemeanor battery charge after roughing up an 11-year-old student at school. As part of a plea deal, two other battery charges were dropped. He was facing a maximum sentence of three years behind bards.
In a virtual hearing this week, prosecutors called for that maximum sentence, albeit, entirely unsuccessfully, according to KOB.
"[Christensen] classified this as an underserved hardship… an underserved hardship brought upon him by the callous AG's office. It is not at all undeserved. He chose… to commit this attack," said Assistant Attorney General Zachary Jones.
Christensen then publicly explained himself during the sentencing hearing, blaming his actions — of attacking a small child with special needs — on his training as a cop.
"Everybody makes mistakes and I'm willing to admit that I made mistakes," said Christensen, adding later: "I'm not a social worker and the way I was trained was how I responded."
But this was simply not true. An internal investigation found that Christensen violated multiple department policies including "violating use of force policy" and "unsatisfactory performance."
"I lost my career. I lost the ability to ever get a law enforcement job again… we had to move because of death threats," said Christensen. "This is a one-time incident that I'm not proud of but it's never going to happen again."
Despite prosecutors pushing for the maximum, the judge bought the abusive officers sob story and sentenced him to probation instead.
"I don't believe that to be appropriate under all the facts and circumstances," said Judge Curtis Gurley, instead placing Christensen on a three-year period of conditional discharge suspension "under which time he'll be under the standard conditions of probation."
New Mexico Attorney General Hector Balderasm, whose office prosecuted the case, expressed his disappointment in the judge's decision.
"We were able to secure a conviction in this case, but this sentence is highly disappointing. By allowing a conditional discharge, this defendant will have admitted to abusing a young minority special needs child in a school and can effectively walk away like it never happened," said Balderas.
Indeed. Had Christensen not been granted a badge and authority, rest assured, he would be behind bars right now.
As TFTP reported, the incident unfolded on August 27, 2019 but the officer's lapel camera video wasn't released until later. It is nothing short of disturbing as it shows the officer, who is much bigger than the girl, slamming her down on the concrete while abusing her.
According to school officials, the girl had misbehaved in class and was waiting for her mother to come pick her up from school. As she waited in the lobby of the school, the officer wrongly accused her of assault and then attacked her. She was accused of taking two milks instead of one.
"This morning, she went straight to the cafeteria. She took more milks than she was supposed to. She threw a milk on the ground," said Officer Christensen in the lapel camera footage.
After savagely attacking the small girl, Officer Christensen attempted to claim in his report that "the child assaulted two school employees that morning." He claimed that one assault occurred when the girl walked past the assistant principal and brushes past him and the second occurred when the girl attempted to open the door and walked past the principal.
However, none of these charges against the girl would stick as the officer lacked any evidence of them.
Despite the girl not posing any threat to anyone, the officer attacked her anyway. As the video shows, he grabs the 11-year-old girl with special needs by the backpack and throws her to the ground. He then jumps on top of her, pinning her down for over six minutes as she screams in horror.
The entire time, the officer is yelling "stop resisting," as if this has any effect on a special needs child being attacked by a man twice her size.
The situation became so unnerving that a school official was forced to step in and tell the officer to let the girl stand up.
"Officer Christensen – she is not a threat to yourself or others at this moment," said the school employee.
"No, she is!" Christensen replied, claiming the girl, half his size, is a threat to an armed man in a bullet proof vest.
Laughably, the cop would go on to write in his report that the 11-year-old girl "was very strong, stronger than I was."
After the altercation lasted several more minutes, the school employee then demanded that the officer stop his attack, even using the term "excessive force."
"We're not going to use excessive force," the school employee said.
Naturally, the officer replied that "It's not excessive!"
But as the video shows, it was definitely excessive.
"She's an 11-year-old girl and it's a shock to the system to see that this is a thing that can occur at a school by a certified peace officer," attorney Mark Curnutt said.
Curnutt then pointed out the fact that the officer attempted to accuse the girl of committing multiple felonies, none of which actually took place.
"When you have a situation where there's a report that says a felony is committed, another felony is committed, another felony is committed -- and then you review the factual documentation you have of that through the video and it doesn't add up, there must be a level of accountability," Curnutt said.
Sadly, that accountability came in the form of no jail.