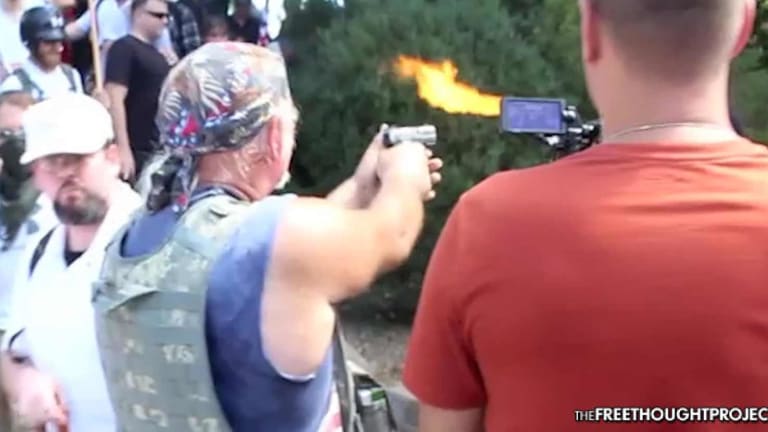 WATCH: Cops Do Nothing as White Supremacist Fires Gun at Black People, Walks Away
Damning new video shows a white supremacist fire off his gun at a group of people all the while police do nothing as he simply walks away.
Charlottesville, VA — As conspiracy theories about the deadly protests in Charlottesville earlier this month abound, a new video released by the ACLU adds some serious credence to some of these claims. In the video, we see a man wearing a bullet proof vest pull out a pistol in front of dozens of police officers, fire off a round and not a single cop budged.
"Hey, nigger!" the crazed racist says right before he fires his gun. Whether he was firing at a specific person or simply trying to terrorize the crowd was unclear. He appeared to be firing in the direction of Corey Long who was in an altercation with another group of people and had made a makeshift flame thrower with an aerosol can. However, what was entirely clear was the reaction from police—there wasn't one.
"We all heard it and ran — I know damn well they heard it," said Rosia Parker, a community activist in Charlottesville when speaking about the police. "They never moved."
The man who fired the shot was never arrested that day. In fact, not until two weeks later did police act. On Saturday, Richard W. Preston, 52, was arrested and charged with discharging a firearm within 1,000 feet of a school during the so-called "Unite The Right" rally on Aug. 12. He is in custody in Towson, Maryland.
Now, many people are wondering why police never acted when the shooting originally happened.
As the NY Times reports, residents are still demanding to know why officers did not act in real time as heavily armed people fought and a car sped toward a crowd, killing a woman. So stark was the police failure to intervene, many participants in the protest and counterprotests believe it was by design.
Corrine Geller, a spokeswoman for the Virginia State Police, told the NY Times that they couldn't hear the gun being fired several feet in front of them because the crowds were too loud.
"Had any one of our troopers witnessed that incident they would have immediately acted just as they did for the other four arrests made during the weekend," Geller told the Times.
However, anyone who has ever fired a gun knows that the sound of a round firing off will stand out over any immediate noise in the area, especially if you are only a few feet away.
As the Free Thought Project reported last week, even though the man who fired the gun was eventually arrested, FBI sources have confirmed that it's extremely unlikely that leaders of the radical white nationalist and Antifa groups that squared off in violent clashes in Charlottesville, VA will face prosecution due to their being federal law enforcement assets.
The report indicates that intelligence assets from the FBI have infiltrated the full spectrum of radical groups, and unless the crimes committed by them rose to an extreme level, such as police officers being killed as part of the demonstrations, they would likely not be charged.
Whether or not the police didn't act as a result of these informants being in place is unknown. However, the result is the same.
In fact, despite all the violence captured on video that day—instigated from both sides—only eight people were arrested, one of whom was James Fields, a 20-year-old white supremacist who killed 32-year-old Heather Heyer and injured dozens of others when he rammed his car into a group of counter-protesters.
When watching the video below, ask yourself this question, had this happened at any other event such as a concert or other large and loud gathering, would police have reacted the same?