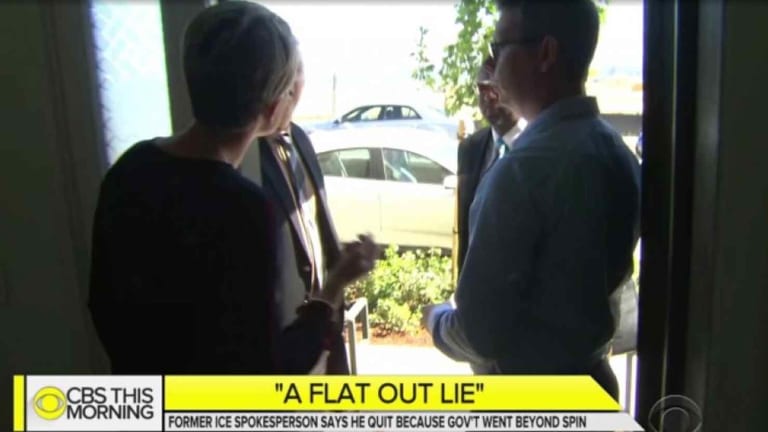 WATCH: DHS Agents Interrupt CBS Interview with ICE Whistleblower to "Intimidate" Him
"This video of government officials interrupting CBS as they interview an ICE whistleblower *in his home* should disturb every single person living in the United States, regardless of political affiliation."
As millions watched, on a nationally televised incident, federal agents from the Department of Homeland Security (DHS) Inspector General's Office interrupted an interview with a former ICE spokesperson-turned whistleblower—to intimidate him.
James Schwab resigned from his position within ICE last March because he says he could no longer perpetuate lies on behalf of the organization. This week, he was scheduled for a sit-down interview with CBS to explain his story. However, as the interview began, government agents moved in.
"This is intimidation," Schwab told CBS reporter Jamie Yuccas after the agents left his doorstep. "And this is why people won't come out and speak against the government."
As Common Dreams reports, Schwab, who began working for ICE in 2015, left the agency after he refused orders to echo the lie that more than 800 undocumented immigrants avoided arrest during a February sweep in Northern California because of Oakland Mayor Libby Schaaf's public warning ahead of the massive raid.
Schwab claims that the DHS agents who "ambushed" the interview in their attempt to intimidate him wanted to know if Schwab was the person who tipped off the Oakland mayor about the planned raids.
"I've never met her before. I never contacted Libby Schaaf," Schwab told Yuccas.
Schwab says he came forward to inspire other government employees to push back against pressure to spread false information.
"That's one of the most important reasons that I'm doing this is that—so that people hear that someone else stood up, that someone else said, 'No,'" Schwab said. "To actually prepare and stand out in front of the public and perpetuate something that you know is absolutely false is not okay. And no special agent from the Department of Homeland Security is gonna stop me from saying that."
Apparently, DHS actually was going to try to stop him. In the clip below, we see a scene that should shock the conscience. Government agents had no problem interrupting a nationally syndicated television show to intimidate a former employee knowing full well it would likely air.
As the activist group, People for Bernie pointed out in a tweet on Thursday, "this video of government officials interrupting CBS as they interview an ICE whistleblower *in his home* should disturb every single person living in the United States, regardless of political affiliation." Indeed, it should.
The immigration situation is swarming with controversy and horrifying accusations. However, in spite of the left's rhetoric and in spite of Trump's current atrocities, it has been going on well before Trump took office.
It is important to note that the Trump administration's "Zero-Tolerance" policy was announced on April 6, 2018 which treated illegal border crossings as a criminal infraction versus a civil infraction. However, as TFTP pointed out last week, children were being separated from their parents before Trump was president.
What's more, a shocking lawsuit claims that many of these children who were taken from their parents were forcibly injected with psychotropic drugs as far back as 2013.
An ongoing class-action lawsuit revealed that immigrant children separated from their parents—during both the Obama and Trump administrations—were allegedly held down and forcibly injected with powerful psychiatric drugs while being held at the Shiloh Treatment Center, a government contractor south of Houston that houses undocumented immigrant minors.
The children, in sworn affidavits, described how they were told the drugs were vitamins, and that they would not be allowed to see their parents or leave the facility unless they complied and took the medications.
One child recalled being forced to take pills, which they were told were vitamins, in the morning, at noon and night, stating: "the staff told me that some of the pills are vitamins because they think I need to gain weight. The vitamins changed about two times, and each time I feel different."
Sadly, as long as people give in to the left/right paradigm, little will change in regard to how these children are treated. We can expect to see more DHS agents intimidating whistleblowers and more children suffering.
As TFTP has reported, the "solutions" posed by both the left and the right do nothing to solve the problem of why people are fleeing Central and South American countries to seek refuge in the United States.
The reality of the situation is that the recent spike in immigrants coming into the United States from the Southern border are fleeing the inevitable results of the bipartisan policy carried out by multiple federal agencies on a global scale. The overwhelming majority of migrants coming from countries like El Salvador, Honduras and Guatemala are fleeing violence created by the US federal government's own war on drugs.
Unfortunately, neither the left nor the right is able to see this and take proper action. Until we overcome this massive hurdle of state and corporate sponsored prohibition, we can expect to see more children being taken from their parents and thrown in cages and more cartels which in-turn will keep increasing illegal immigration—adding to the vicious and inhumane cycle of violence and bureaucracy.
You can watch the full CBS interview below.