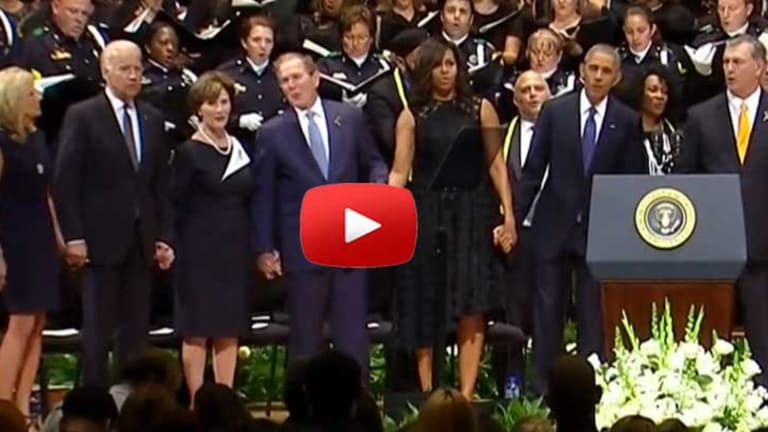 WTF?! Watch George Bush Dance, Laugh at Memorial for Murdered Dallas Police
The former president could hardly contain his joy at a funeral for murdered cops. the Battle Hymn of the Republic made George Bush dance.
Dallas, TX -- On Sunday, President Barack Obama and former President George W. Bush spoke at a memorial service for the five police officers killed in last week's shootings. Thousands of law enforcement officials and political leaders filled the Morton H. Meyerson Symphony Center for the service.
Raw video footage from the service for the officers murdered last week is jaw dropping as it shows George Bush and the Obamas laughing and dancing.
Kicking off the 'celebration' was George W. Bush as the choir began singing the Battle Hymn of the Republic. Apparently overjoyed, the former president simply couldn't contain himself -- so he began smiling and dancing.
As Bush begins dancing and celebrating, his joy spreads to the Obamas who then join in -- either out of peer pressure or awkwardness. The resultant video is nothing short of offensively creepy.
Either Bush has lost his mind, or the former president is ecstatic that his father's dream of a "New World Order" is finally coming to fruition.
Either way, the video below shows how utterly disconnected the power elite are from the rest of society.
Only a person who would start illegal and unjust wars leading to the deaths of hundreds of thousands of innocent people would feel the urge to dance at a funeral for murdered law enforcement.
While the video below is certainly shocking, we should expect nothing less from this insane group of sociopaths.
Sadly enough, some people still fail to see how depraved our 'leaders' are as people took to Twitter to defend his insanity.
This is not the first time Bush has laughed about death and destruction either.
In 2004, Bush sparked a political firestorm after making a tasteless and ill-judged joke about the failure to find weapons of mass destruction in Iraq.
A slide showed Bush in the Oval office, leaning to look under a piece of furniture. "Those weapons of mass destruction have got to be here somewhere," he told the audience, drawing applause.
Another slide showed him peering into another part of the office, "Nope, no weapons over there," he said, laughing. "Maybe under here," he said, as the crowd of warmongers cheered him on.