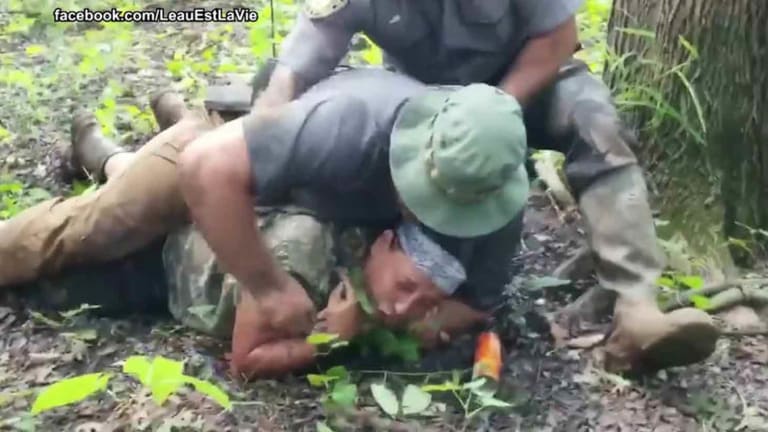 Standing Rock 2.0: Native American 'Water Protectors' Violently Arrested at Peaceful Pipeline Protest
Native American 'water protectors' are attempting to block a pipeline in Louisiana that will tie directly into the DAPL pipeline running through Standing Rock.
St. James Parish, LA — A smaller version of Standing Rock is unfolding in Louisiana this year and videos are surfacing showing just how violent it has become. However, the turnout is much smaller thanks to a law signed by Louisiana governor John Edwards earlier this year that cracks down on protesters.
In Louisiana a pipeline by Energy Transfer Partners (ETP), the same people behind the Dakota Access Pipeline (DAPL) is currently under construction. Named the Bayou Bridge Pipeline (BBP), this project is receiving a similar reaction by activists attempting to protect the water ways of Louisiana from the spills associated with their construction and use.
Over the last month, several arrests have been reported along areas of the pipeline construction. Activists are sitting in trees or blocking bulldozers clearing a path for the pipeline. For those who remember the notorious DAPL protests, enforcement and removal of protesters began with private security. It appears the same is happening in Louisiana, but to a different scale.
Ken Pastorick, a spokesman for the Louisiana Department of Public Safety and Corrections, said the arrests were conducted by off-duty officers who were working for Hub Enterprises, a private security company. The officers were in their public uniforms and armed at the time, but they were working for the private company.
The arrests follow a recent bill signed into law in May but only recently went into effect on August 1.
Dozens of bills and executive orders have been enacted across the country which criminalize—including felony charges—the activities carried out by activists attempting to block fossil fuel projects.
On Tuesday, the enforcement of the new law came to a head and was captured on video as four "water protectors" were violently arrested for what they considered peaceful protest on public property.
As Democracy Now reported:
And in Louisiana, police arrested four people Tuesday as they held a peaceful sit-in protest at a construction site for the 163-mile Bayou Bridge pipeline. The pipeline is being built by Energy Transfer Partners, the same company behind the controversial Dakota Access pipeline. All four of those arrested Tuesday face felony charges under a harsh new anti-protest law signed by Louisiana's governor earlier this year. This is water protector Cherri Foytlin, speaking as she was tackled and arrested by police.
The protest was led by Cherri Foytlin, who according to the Nation is Din'e, Cherokee, and Latina, the mother of six children ages 10 to 21, and lives in Rayne, Louisiana. She is one of a council of four indigenous women who lead an activist camp here called L'Eau Est La Vie (Water is Life).
Over Labor Day weekend, over 50 people, mostly Native Americans turned out to protest the construction of the BBP. For the most part, the protesters had little to no interaction with police. However, on Tuesday, all that changed.
As the group conducted a sit-in at a construction site for the 163 mile long pipeline, police moved in and arrested four of the people involved. One of them was Foytlin whose disturbing arrest was captured on video.
As the video below shows, fellow protesters are pleading with police or private security to "stop choking her."
Just before the video ends, the camera zooms in on Foytlin's face who issues a call to action for other potential activists:
"We need you here now. We need you now! Help!"
Bayou Bridge pipeline protesters arrested, tackled

Police tackled and arrested peaceful protesters in Louisiana Tuesday as they conducted a sit-in at a construction site for the 163-mile Bayou Bridge pipeline. All four of those arrested Tuesday face felony charges under a harsh new anti-protest law in Louisiana. http://ow.ly/eeSU30lIqn6

Posted by Democracy Now! on Thursday, September 6, 2018