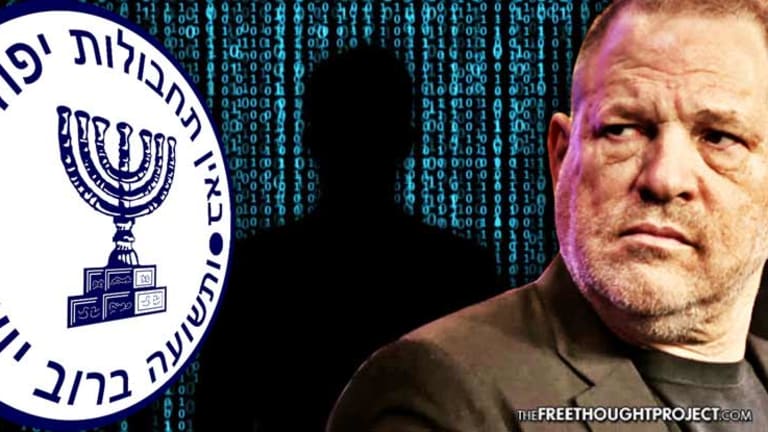 Report Reveals Weinstein Hired Fmr Mossad Agents to Spy on Victims and Journalists Exposing Him
Harvey Weinstein is being accused of employing spy agencies made up of ex-Mossad agents to monitor and control his victims and those reporting on his abuse.
Hollywood film mogul and accused rapist Harvey Weinstein reportedly went to great lengths to silence his accusers and cover-up his alleged sexual crimes, even going so far as to hire ex-spies to gather information on his accusers.
According to a report from the New Yorker by award-winning investigative journalist Ronan Farrow, Weinstein hired private investigators, including ex-Mossad agents, for the purpose of interviewing, harassing and tracking the comments and movements of actresses who may speak up about their encounters with Weinstein, and to silence journalists who dared to cover the stories.
The intelligence company Weinstein's lawyers used to dig up dirt on his accusers is called Black Cube and consisted of Israeli private investigators, "run largely by former officers of Mossad and other Israeli intelligence agencies," Farrow wrote.
"Black Cube, which has branches in Tel Aviv, London, and Paris, offers its clients the skills of operatives 'highly experienced and trained in Israel's elite military and governmental intelligence units,' according to its literature."
One of Weinstein's many accusers (now approaching 100), Rose McGowan, was a target of Black Cube's operations. Farrow described their activities, showing they had gotten close enough to the actress to know her every move.
"Two private investigators from Black Cube, using false identities, met with the actress Rose McGowan, who eventually publicly accused Weinstein of rape, to extract information from her. One of the investigators pretended to be a women's-rights advocate and secretly recorded at least four meetings with McGowan."
The craft, skill, and expertise necessary to befriend, gain trust, and interview the A-list actress did not go unnoticed. And journalists were not immune from the stealthy ex-spy able to conceal his/her identity, even from those whose job it is to get at the truth. Farrow continued:
"The same operative, using a different false identity and implying that she had an allegation against Weinstein, met twice with a journalist to find out which women were talking to the press. In other cases, journalists directed by Weinstein or the private investigators interviewed women and reported back the details."
The New Yorker's explosive report detailed the specific purpose for hiring all those ex-spies—not only was there an attempt to silence whistle-blowers, but great lengths were taken to keep the story completely under wraps. Farrow described the nefarious intentions of one of the world's most successful film producers:
"The explicit goal of the investigations, laid out in one contract with Black Cube, signed in July, was to stop the publication of the abuse allegations against Weinstein that eventually emerged in the New York Times and The New Yorker."
But Weinstein didn't have to get his own hands dirty with the contract's details. Instead, he used his high-profile attorneys to get the job done. Weinstein's lawyer, David Boies, who represented Al Gore in the 2000 Presidential-election dispute, "personally signed the contract directing Black Cube to attempt to uncover information that would stop the publication of a Timesstory about Weinstein's abuses," wrote Farrow.
The spies got so close to McGowan, if Weinstein had wanted her dead, and the ex-spies were willing, it could easily have been done some could say. One of the Mossad agents identified herself to McGowan as "Diana Filip" and said she was the deputy head of sustainable and responsible investments at Reuben Capital Partners, a London-based wealth-management firm.
She passed herself off as a "women's rights advocate," said she was investigating discrimination in the workplace against females and prodded the actress for information. To get her to open up, she met with McGowan several times over several months, often discussing at length her experiences as an A-list actress in Hollywood working with Weinstein, and which journalists she may have spoken with. In what likely proved to be a chilling revelation of the lengths at which Filip went, after she found out McGowan had been speaking with Farrow, she wrote an email to the journalist attempting to get an interview with him.
Farrow said he did not respond to her attempts to meet. But that did not stop the free enterprise of corporate spying. It continued at a feverish pace. Filip continued grooming McGowan. She wrote her in an email:
"Hi Love...How are you feeling?...Just wanted to tell you how brave I think you are."
The extraction of information continued with McGowan being passed off to other Black Cube operatives for low-key interrogation, without the actress' knowledge she was being played, so to speak.
By this time, Farrow had put two and two together, and figured out who Fillip actually was. And the investigative journalist himself recalls how he broke the news to McGowan. He wrote:
"In fact, 'Diana Filip' was an alias for a former officer in the Israeli Defense Forces who originally hailed from Eastern Europe and was working for Black Cube, according to three individuals with knowledge of the situation. When I sent McGowan photos of the Black Cube agent, she recognized her instantly. "Oh my God," she wrote back. "Reuben Capital. Diana Filip. No fucking way."
Farrow then turned the tables on the spy agency. After the investigative journalist asked Black Cube to explain its actions, the company responded to his concerns in a statement:
"It is Black Cube's policy to never discuss its clients with any third party, and to never confirm or deny any speculation made with regard to the company's work. Black Cube supports the work of many leading law firms around the world, especially in the US, gathering evidence for complex legal processes, involving commercial disputes, among them uncovering negative campaigns. . . . It should be highlighted that Black Cube applies high moral standards to its work, and operates in full compliance with the law of any jurisdiction in which it operates—strictly following the guidance and legal opinions provided by leading law firms from around the world."
The entire narrative serves as an example of the great lengths the accused will go to, to hide their crimes, vilify their accusers, and use controversial means to do so. Not only were there lawyers involved, but it now appears dangerous spy games were being played, all in an attempt to silence accusers, control the story, and protect the image of the wealthy sex-abusing elite.