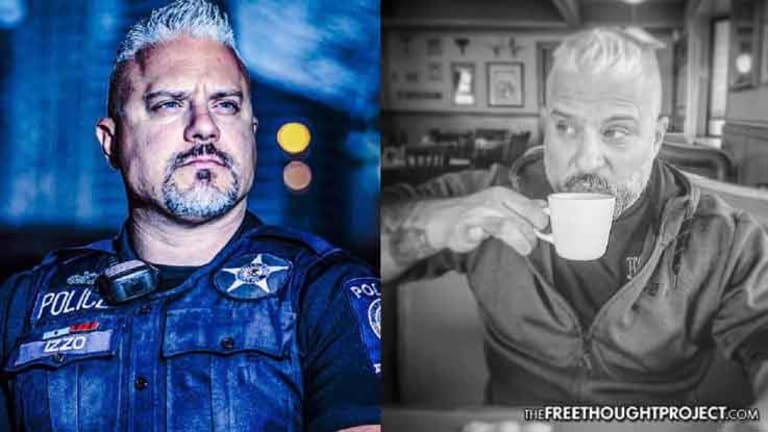 Whistleblower Cop Who Wants Legal Pot, Running for Sheriff of Nation's 2nd Largest County
Whistleblower cop and advocate for ending the war on pot, Dominick Izzo, now wants to be the sheriff of the nation's second most populous county.
When Dominick Izzo first approached The Free Thought Project, he knew consenting to the interview would cost him his job as a police officer for the Round Lake Park, Illinois Police Department. After blowing the whistle on his boss, Police Chief George Filinko, his employment was terminated. However, that didn't stop Izzo from continually criticizing a man he believed to be inept, unqualified, and undeserving of his position as chief.
Not content with sitting on the sidelines, Izzo has now set his sights on a new mission; becoming the Police Chief of Cook County, Illinois in 2018, the same county where Chicago is located.
In a Facebook announcement Friday night, Izzo made the following statement, which one could say is quite confident.
Decision made.
I'm running for Sheriff....
And I'm going to win.
Izzo for Cook County Sheriff 2018
Izzo successfully outed his boss as a heavy-handed and unethical police chief whose department spied on its officers using their own police-issued body cameras. But more importantly, he brought awareness to police corruption at the highest levels of a small-town police department, exposing how the PD, and county, sent an innocent woman to jail and arrested whistleblowers, like the coroner, who dared question their arrests and prosecutions.
Flipping the script, Izzo now sees big-city issues as something he thinks he can solve, on a county level. Taking on the responsibility of being the sheriff of Cook County, IL is no small endeavor. The county is home to 3.2 million residents, second only to Los Angeles County, and rife with what Izzo calls political corruption.
Izzo has gone against the grain of trendsetters like sitting Attorney General Jeff Sessions, by saying weed really hasn't hurt anyone, has been used for years to fill jail cells and arrest quotas. In his post, he wrote about reducing the number of those in jail.
I WILL CREATE A REDUCTION IN INCARCERATION, BENEFITING BOTH THE COUNTY RESIDENTS AND THE INMATES THEMSELVES VIA EMPOWERING OFFICERS AND CORRECTING THE BEHAVIOR OF THOSE WHO BREAK THE LAW.
Izzo' decision to run for Cook County sheriff seems to be due, at least in part, to the recent beating of two Cook County corrections officers. Izzo said the inmates stopped short of killing the officers, because they knew their limits, but the incident appeared to weigh heavy on his mind. He wrote:
They're not "pre-trial detainees" they are inmates.
Remove political correctness, call those who err what they are, and create an incentivized stigma for them to not error again.
The goal of county holding / jail is to created a corrected, learned behavior through an environment of discipline and respect of those who run the facility, the Corrections Officers, so that a person will want to improve in society by learning to respect themselves and NEVER want to return again.
In true, in-your-face fashion, Izzo promises to end corruption in Cook County, if elected. It's still unclear how he intends to do so, but believing whistleblowers will likely be a start. Since his testimony of what was happening at the Round Lake Park Police Department was largely ignored by the majority and the village, this police officer promises to shake things up when and if he wins. He wrote:
Last night's statement was no impulse. It was fact.
I'm putting all the corrupt of Cook County on notice... you have no clue the kind of war I'm bringing your way.
You've never seen a candidate like me before.
And you'd best get ready for the Sheriff I will be and the Warriors I will work for.
#izzoforsheriff2018
Izzo is also outspoken against the war on drugs and revenue generation by cops.
Izzo understands that the war on drugs creates criminals by making their personal choices illegal. According to Izzo, his courageous posts about the truth of the drug war on social media have led to numerous threats against him. Unfortunately, some officers cannot handle the truth.
Izzo is also outspoken against certain police tactics that lead to the unnecessary deaths of so many unarmed people in America. But this cop not only talks the talk, he walks the walk. In 2015, Izzo was awarded Round Lake Park's Exceptional Duty medal for the way he handled an extremely dangerous situation.
On April 19, 2015, Izzo was confronted by an aggressive and distraught man armed with a knife -- a situation in which other cops would almost instantly resort to deadly force. But not Izzo.
When Izzo attempted to calm the man down, the man pulled a knife and approached him in a threatening manner. Instead of killing him, Izzo courageously disarmed the man without injury to either of them. A true hero indeed.
Below is one of these videos in which Izzo blows the war on drugs and revenue collection wide open.
The Free Thought Project is an apolitical organization which is more concerned with libertarian issues than who decides to run for political office. And while we respect Izzo for being a whistleblower and turning in his boss as a corrupt individual, we do not endorse Izzo for sheriff. We do, however, think it's pretty cool that a whistleblower could go from being rejected by his fellow boys in blue to potentially winning an election for sheriff of the nation's second most populated county. That's the kind of stuff which makes headlines.