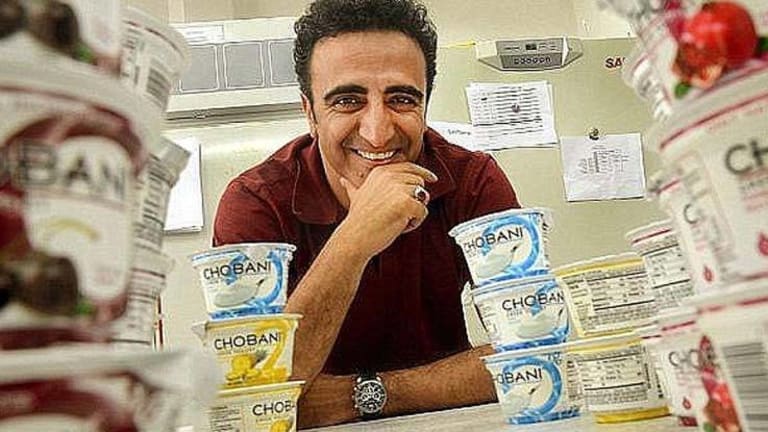 Yogurt Billionaire Says, "Government is Broken" Begins Hiring Refugees to Help Immigrant Crisis
Instead of fear mongering that they may be "terrorists" this yogurt billionaire opened up his factory doors to refugees, trained them and pays them.
The founder of the billion dollar Chobani yogurt company, Hamdi Ulukaya, is not your average business tycoon. Whereas many of the mega-corporations around the world rely heavily on the government to prop them up by creating barriers of entry for their competition or granting them a full on monopoly, Ulukaya takes a different approach.
Instead of using the government to benefit himself personally, like so many corporations do, Ulukaya acts outside of the state. Ulukaya accepts that government as we know it, is broken. His acceptance the government is broken is illustrated in the way he is seeking positive change, in an old-fashion, non-mandated way -- voluntarily.
In May, Ulukaya announced that he would be giving most of his personal wealth to help refugees from all over the world. But donating money is only half of Ulukaya's way of providing a benefit to those in need. For years, Ulukaya has been accepting refugees into his factory, training them, and providing them with jobs.
"From the start, I wanted Chobani to be committed to making better food for more people—and to stand for something even bigger than the natural food we made," Ulukaya said. "Since day one, we have given 10% of our profits to charity through the Chobani Foundation and stayed true to our mission to make food the right way, and make it available to all. Building Chobani, I found that the real power of entrepreneurship was the impact you can have on communities. Ultimately, Chobani's journey proved that if you have the right mindset, the sky is the limit."
"In the decade since I started Chobani, dramatic changes have occurred around the world. One result has been a shocking increase in the number of people made homeless by the conflict. Today, more than 50 million people—most of them women and children—are living as refugees or displaced people, robbed of life's opportunities by war, persecution, and natural disasters," Ulukaya explains.
Instead of complaining about the influx of immigrant refugees, or running for political office to change the system from within, Ulukaya took action. His action has changed the lives of countless refugees.