If you've gone on the internet this week, you've likely seen that 16-year-old climate activist Greta Thunberg was chosen as Time Magazine's Person of the Year for 2019. Congratulations Ms. Thunberg. This is a huge accomplishment, especially at the age of 16, which is a record for the youngest person ever to receive this honor.
If Thunberg's activism actually wakes people up to pollution and incites a peaceful and a voluntarily implemented environmental benefit — without ushering in a tyrannical climate change police state — we fully support her endeavors. Wanting to save the world is a noble cause and if children want to try to do that, by all means, have at it—just don't take away anyone's life or liberty in the process.
Thunberg's activism has sparked a movement of millions of children yelling at their parents to clean up their acts and start caring about the world they leave behind. This is a great thing. Older generations need to be aware of their actions and the impact it has on this planet. In fact, the idea is so good that it's actually been around for centuries. The Great Law of Iroquois Confederacy is a an ancient Iroquois philosophy which says in part that the decisions we make today should result in a sustainable world seven generations into the future. Thank you Ms. Thunberg for reminding us of this principle.
But does travelling around the world and scolding adults — telling us that we "have stolen my dreams and my childhood" — really amount to the person of the year? Or, are Americans so easily influenced by pedophrasty, that picking Thunberg was the simplest choice? We believe it is the latter.
The term pedophrasty is a relatively new word — not currently accepted by an official dictionary — but that has a powerful meaning in today's political and media environment. Pedophrasty is an "argument involving children to prop up a rationalization and make the opponent look like an asshole, as people are defenseless and suspend all skepticism in front of suffering children: nobody has the heart to question the authenticity or source of the reporting. Often done with the aid of pictures." We have seen this tactic employed by both the left and the right sides of the political spectrum and it is, unfortunately, highly effective.
No one here at the Free Thought Project are climate scientists, so we will abstain from commenting on Ms. Thunberg's agenda. However, neither is she. The political and mainstream media machine's exploitation and parading around of Thunberg, however, is a perfect example of pedophrasty.
Showing how highly effective it is, it the fact that everyone oohed and aahed when Ms. Thunberg was meeting with the former warmonger and chief, Barack Obama — whose policies murdered countless brown children Greta's age while facilitating deadly pollution on a global scale.
Barack Obama advocated for, approved, and oversaw eight wars in various different countries which brought death and destruction to millions of innocent people. Under his watch, tens of thousands of war heads fell all over the Middle East ensuring a lifetime of pollution and suffering for the people who managed not to be blown up by them. What's more, under his (and yes, Trump's too) presidency, the US military contributed more pollution to the planet than 140 countries, combined. This has made the United States military the largest polluter on the planet. We'd be remiss if we didn't point out the irony of Ms. Thunberg fist bumping the man whose policies facilitated and sustained the largest polluter on earth.
That, and there's her not-so-little carbon footprint and the fact that had she not been paraded around by politicians and celebrities, no one would really know who she is as she hasn't really contributed anything other than scolding adults and rabble rousing her fellow classmates into a strike.
But enough on Thunberg, the decision has been made and she is 2019's Person of the Year. Instead of verbally lambasting a child for being angry over the climate, TFTP would like to point out other folks who we thought deserved this honor a smidgen more than Ms. Thunberg.
Instead of flying all over the world on carbon-producing airplanes to demand government fix the climate, Fionn Ferreira, another foreign teenager who cares about the climate, starting taking action at home. When Ferreira began learning about the plastic pollution that is plaguing the world's oceans, he didn't grab his bullhorn and yell at adults to fix it. He started thinking of a way to fix it himself.
"I was alarmed to find out how many microplastics enter our wastewater system and consequently the oceans," he wrote in his project.
Instead of telling us all that we've stolen his hopes and dreams, Ferreira decided to start researching and developed a non-harmful way to extract these microplastics from water using vegetable oil and rust powder. Fionn left top scientists and engineers in awe as he was named the Grand prize global winner of the Google Science Fair 2019 and award winner at the Intel International Science and Engineering fair.
He is currently working on building a prototype for his extraction equipment which he is aiming to have implemented in wastewater treatment and shipping in the near future.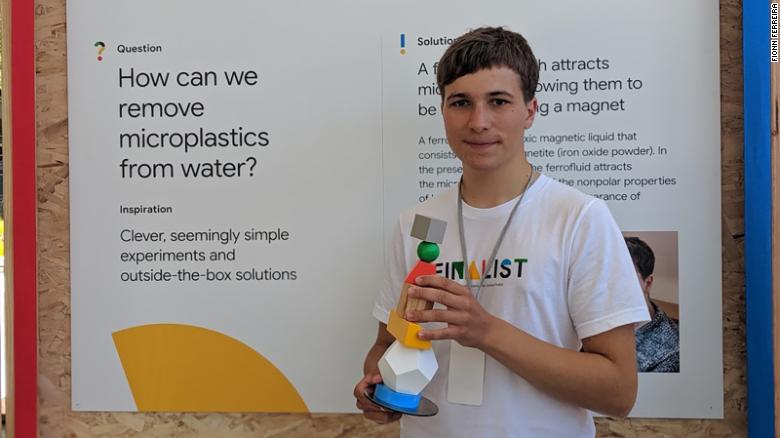 As TFTP has reported, plastic in the world's oceans is a huge problem and a threat to countless species. That's why Boyan Slat, at the young age of 17, founded Ocean Cleanup. In 2013, Boyan came up with an idea that would help remove plastics and other garbage from the oceans quickly, and for less money than it usually costs.
After engineering the process over the next 6 years, Slat's project just went live in October of this year and it worked. As Grist.org reports, now that it finally has working technology, the Ocean Cleanup project hopes to scale up its fleet of 2,000-foot long, plastic-capturing, floating booms. The goal is to remove 50 percent of the Great Pacific Garbage Patch in the next five years, and 90 percent of ocean plastic by 2040, an effort it estimates will require around 60 devices.
Our ocean cleanup system is now finally catching plastic, from one-ton ghost nets to tiny microplastics!

Also, anyone missing a wheel? pic.twitter.com/Oq0rkXO3TH

— Boyan Slat (@BoyanSlat) October 2, 2019
It's not just environmentalists who implemented working technologies that are serving to clean up the planet who deserve more recognition than Thunberg, it's lovers of freedom too. The next person who should have received the honor of person of the year is not really a person, but a group of people. The Hong Kong Protesters were actually listed in Time magazine's top five but lost out the Ms. Thunberg.
As TFTP has reported, China is a despotic technocracy who gives citizens social credit scores and locks them in concentration camps for practicing religion. China also happens to be the largest emitter of carbon on the planet, and we've yet to hear Ms. Thunberg weigh in on that issue. But then again, climate activists in China don't simply yell at the state to fix it, they take to planting trees.
When Thunberg was nominated as a candidate for the Nobel Peace Prize, on WeChat, a popular social media app in China, one person wrote: "She (Thunberg) is just a performing artist. I'd like to say to her don't talk, show some action. In the western part of China, many people have planted trees to save the planet. They are more entitled to receive the Nobel Prize than her."
Other activists in China took to protesting the police state that has been closing its grip on the Chinese people for decades. Despite being shot at with rubber bullets, beaten, gassed, and tortured, millions of Chinese lovers of freedom remained in the streets to seek peaceful change. It takes far more courage to face down an army of violent cops who will kidnap you and steal your organs than it does to ride on a luxury solar-powered yacht to yell at old people.
Speaking of courage, that brings us to our fourth candidate who deserves this notoriety more than Thunberg—Julian Assange.
Julian Assange is a hero. His actions helped to expose horrifying crimes carried out by the US government, including mowing down innocent journalists with a .50 cal. His persecution by the UK and the US is retaliation and punishment for exposing these crimes and their actions. Through WikiLeaks, Assange has helped to wake up millions of people to the rampant corruption in government and their murderous and devious ways. This is the same government, by the way, who Thunberg is begging to fix the environment.
Nevertheless, this hero is rotting in a cage and has been left in isolation so long that he is going crazy and doctors think he may die any day. 
Speaking of rotting in a cage, that brings us to our fifth candidate, Chelsea Manning.
As president Trump pardons war criminals, war crime-exposing heroes like Manning are rotting in cages. As WSWS writes, Chelsea Manning has been in prison at the Tisdale Federal Detention Center in Alexandria, Virginia since May on contempt charges for refusing to testify against Assange before a grand jury. Manning had already served seven years in federal prison for leaking to WikiLeaks the documents known as the "Iraq War Logs", the "Afghan War Diary" and "Cablegate" that exposed the war crimes and diplomatic intrigues of US imperialism.
While Ms. Thunberg's intentions are certainly noble, her fame is due largely in part to the same people who are responsible for keeping Manning, Assange, and another major hero, Edward Snowden behind bars.
It's true, our planet is being devastated by human actions. From the clear cutting of rain forests in the Amazon to the pollution in our oceans, mother Earth is in dire straits. But scolding people and using fear tactics to incite the change we need, will never and has never worked. Ironically, Ms. Thunberg is using the very tactics of the old people she's complaining about.
Real change comes from ingenuity, transparency, and innovation — not fear, mandates, and tyranny.
Sponsored Content:
Or, if you would like to help us by subscribing to our sponsor, Legalshield — and have an attorney in your pocket 24 hours a day for just $24.99 a month — you
can click here for details.