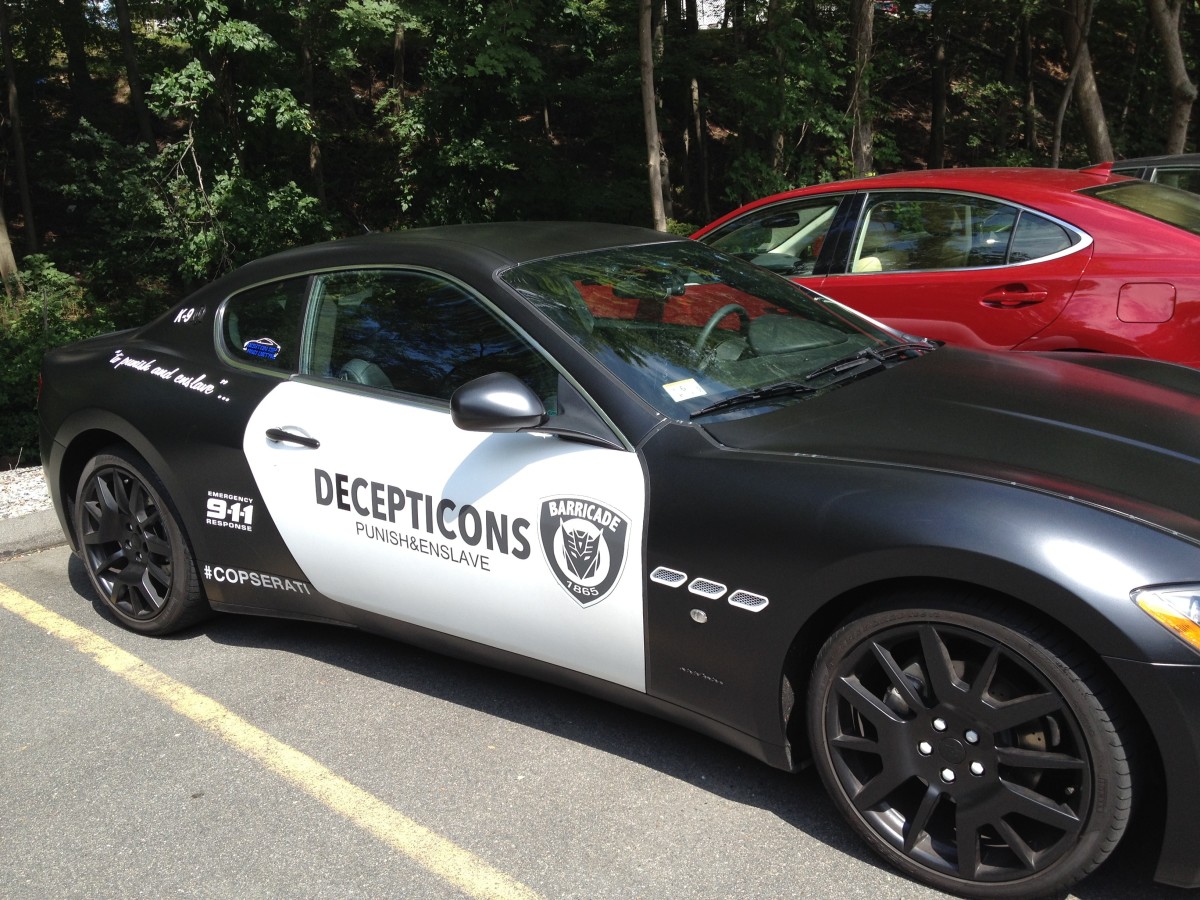 Is it a crime to decorate your car like a vehicle from one of your favorite movies? This case is definitely  "more than meets the eye."
Or maybe less.
My client accused of impersonating a police officer for decaling his Maserati to look like Barricade from Transformers.
On August 9th, my client was pulled over not far from his home in Braintree and questioned by 3 police officers. He was driving his very distinctive 2010 Maserati GranTurismo that was decorated as a character from the movie Transformers. The character takes the form of a police car.
After consulting with his Lieutenant, Officer Blake Holt of the Braintree Police department issued my client a summons to appear in court on a charge ofImpersonating a Police Officer.
The Clerk Magistrate's Hearing will be held on Thursday, Sept 4 in Quincy District Court.
Just a few days before being stopped, my client had "dipped" his Maserati to appear as Barricade, one of the evil Decepticon robots from the movie Transformers.
Plasti-dip, or rubber dip is a removable rubber spray that you can apply to your car like decals. My client has applied several different dip color changes to his car before deciding to deck out his car in homage to the Transformers character Barricade.
Here is an image of the character in car form, and a clip of Barricade from the movie. He has the quote "to punish and enslave" on the car.
The Facts of this Case
My client was issued a criminal citation and will appear at a Clerk Magistrate's Hearing on Thursday, Sept 4 in Quincy District Court. The clerk will hear the facts and determine whether there is enough evidence to open a formal criminal complaint on a charge of Impersonating a Police Officer.
I believe the facts will show that my client did nothing that meets the criteria for this charge.
At no point did he represent himself as a police officer.
At no point did he attempt to pull anyone over.
My client does not and has never carried a gun or a badge, or dressed as a police officer.
The car itself, while certainly distinctive, did not have any blue lights like an actual police car. Despite decoration that make it look similar to a police car, it does not bear any official town or state seal of any police department.
The statute for impersonating a police officer MGL Chapter 268 Section 33 states that a person must "acts as such or requires a person to aid or assist him in a matter pertaining to the duty of such officer".
My client did none of these things. Therefore the clerk magistrate should drop this case, and I believe that is what should happen at our upcoming court date next month.
On September 4th, the case was dismissed at a clerk magistrate's hearing!
The police prosecutor wanted the charge to go forward, and argued strenuously that my client was a legitimate threat to public safety, and had criminal intent.
I argued that my client did absolutely nothing wrong, and certainly did nothing that met the criminal statute.
Fortunately, the clerk magistrate did not accept the argument of the police officer prosecuting the case, and also did not think that decorating your Maserati in a fashion similar to a police car met the statute for impersonation of a police officer. Dress up is not impersonation.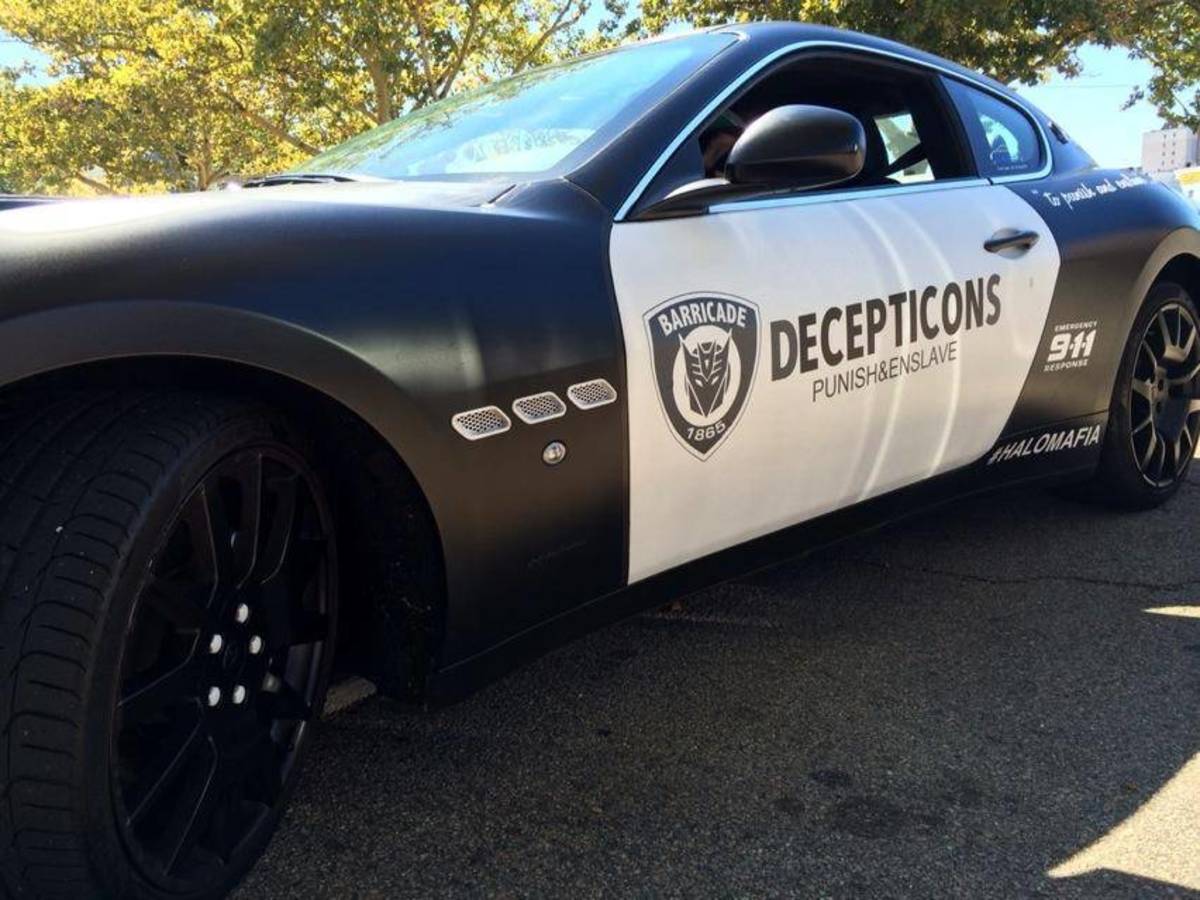 This is the best possible outcome for the client. A case dropped at a clerk magistrate's hearing (a show cause hearing) means that no criminal complaint was ever formally issued, and the client will have no record.
And this is a victory for common sense over police authority.
---
Russell Matson is a recognized authority on criminal and DUI law in Massachusetts. He has been a practicing criminal defense law for almost 20 years. He has been quoted in the Boston Globe, Boston Herald, Patriot Ledger, and been seen on Fox25 News, Channel 7 News, Channel 5 News, Channel 22 in Springfield, and many other media outlets.
DASH cryptocurrency and The Free Thought Project have formed a partnership that will continue to spread the ideas of peace and freedom while simultaneously teaching people how to operate outside of the establishment systems of control like using cryptocurrency instead of dollars. Winning this battle is as simple as choosing to abstain from the violent corrupt old system and participating in the new and peaceful system that hands the power back to the people. DASH is this system.
DASH digital cash takes the control the banking elite has over money and gives it back to the people. It is the ultimate weapon in the battle against the money changers and information controllers.
If you'd like to start your own DASH wallet and be a part of this change and battle for peace and freedom, you can start right here. DASH is already accepted by vendors all across the world so you can begin using it immediately.