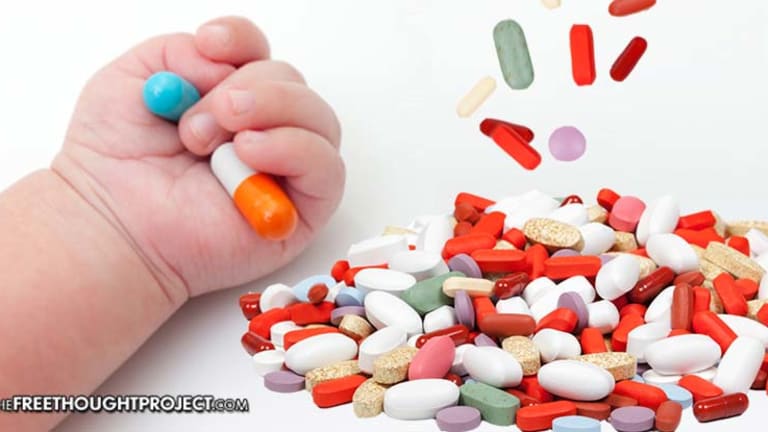 Big Pharma Insanity -- Antidepressants Prescribed to a 1-Year-Old Boy
Big pharma is using the government to push its antidepressants on children. An inspection revealed that a 1-year-old baby was given these dangerous meds.
(RT) -- A one-year-old boy was prescribed antidepressants by Britain's National Health Service (NHS), it has emerged.
NHS Tayside in Dundee, Scotland, prescribed the medication to the child in 2014, according to figures obtained by the Dundee Evening Telegraph.
The Trust prescribed anti-depressants to 450 children over a five-month period between January and May this year.
Figures reveal the most common age group to be given antidepressants were children aged between 14 and 17 and that girls are more likely to be prescribed the drug than boys.
Although very young children are sometimes prescribed antidepressants for problems including bed-wetting and chronic pain, NHS guidelines state that under 18s should not be given the drug.
"Antidepressants are a type of medication used to treat clinical depression, or prevent it from recurring. However, they can also be used to treat a wide range of medical conditions, such as chronic pain and anxiety disorders," a spokesperson for NHS Tayside said.
"If appropriate for individual patients, antidepressants are prescribed and often used in combination with therapy to treat more severe depression, or other mental health conditions caused by emotional distress.
She added: "Alternative treatments for depression include talking therapies, such as cognitive behavioral therapy and counseling. Regular exercise has also been shown to be useful for those with mild depression."
Nearly half of all Britons are taking prescription medication on a regular basis according to figures produced by the Health and Social Care Information Centre (HSCIC).
According to the HSCIC, 50 percent of women and 43 percent of men are taking specialized drugs to combat physical and mental illnesses, with cholesterol-lowering statins and antidepressants among the most common drugs taken.