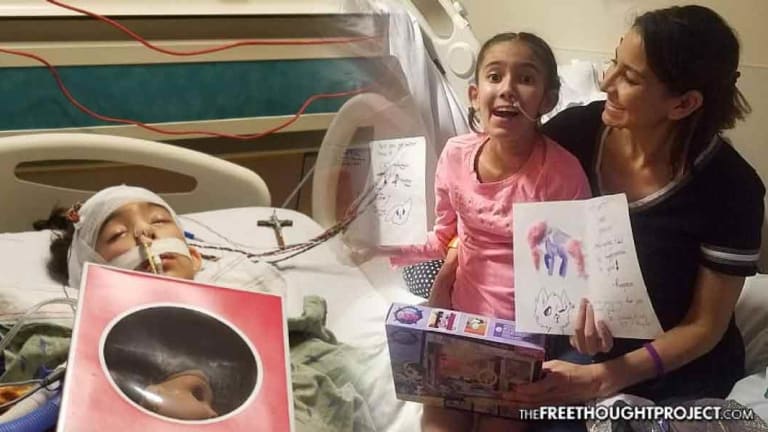 Used as a Last Resort, Doctors Cure 12yo Girl's Fatal Disease with Cannabis, In Only 3 Doses
After pharmaceutical options failed and she was put in a medically induced coma, cannabis was the drug that saved this 12-year-old girl's life.
A 12-year-old girl from Arizona has become the latest example of the healing power of cannabis, after her family discovered that CBD oil was the answer to combatting a rare brain syndrome.
Annalise Lujan was diagnosed with infection-related epilepsy syndrome, or FIRES, in April. The rare disorder came on suddenly, and caused Lujan to have continuous seizures. The condition, which has been known to lead to brain injury or even death, prompted doctors to put Lujan in a medically-induced coma until they found a method to prevent the seizures.
"One day, she was just a healthy young lady, going to school, participating in her community and her gymnastics, and the next day—fighting for her life," Maryann Lujan, Annalise's mom, told the NBC affiliate in Tucson.
After 18 days on a ventilator at a local hospital, Annalise was airlifted to Phoenix Children's Hospital, where doctors suggested using cannabidiol, a non-psychoactive extract of cannabis, to treat her seizures.
"CBD oil saved her life," Maryann Lujan said, noting that less than 48 hours after the first treatment, Annalise's seizures had stopped.
Cannabis was legalized for medicinal use in Arizona in 2010. A measure that sought to legalize it for recreational use, Proposition 205, was put to a vote in November 2016, and defeated by a margin of 51 percent to 49 percent.
Although medical cannabis is legal in the state, because it is still listed as a Schedule 1 drug at the federal level, the doctors working with Annalise Lujan had to receive expedited approval from both the Food and Drug Administration and the Drug Enforcement Administration before they could begin treatment.
Lujan was fortunate that one of the doctors working on her case, Dr. Angus Wilfong, was part of a team of doctors who published a study researching the effectiveness of using cannabidiol to treat FIRES just last year.
Another doctor who co-authored the study, Dr. Eric Marsh, told the Arizona Daily Star the study concluded that the use of CBD oil helped to reduce the frequency and duration of seizures, and assisted patients in weaning off of other medications.
"This stems from the whole medicinal marijuana craze that is out there," Marsh said. "There are lots of anecdotes that were on social media that suggested that marijuana high in cannabidiol and very low in THC could be anti-epileptic."
Although the FDA has hindered the plant by keeping it on the list of the most dangerous drugs in the country, the studies that have put cannabis to the test have found its value in curing a number of illnesses.
As The Free Thought Project reported in April 2016, three clinical trials conducted over a 5-month period found medical cannabis to have an extraordinary impact on treating epilepsy in children. One study found that Epidiolex, which is almost pure CBD, "significantly reduced seizures in severely epileptic children, according to a landmark study conducted in part at Lurie Children's Hospital of Chicago."
After witnessing the incredible effectiveness of CBD oil in treating her daughter's rare illness, Maryann Lujan told the Arizona Daily Star that she has become an advocate for medical cannabis, and she hopes Annalise's story will give hope to families like hers who weren't aware of the option.
GoFundMe accounts have been set up to help Annalise's family with both medical and therapy expenses.